If you have persistent infestations of stinging insects or other pests, you might want to consult a pro and address what's attracting them to your yard.
©iStockphoto/Thinkstock
Advertisement
Your backyard might be a nice place for your family to relax, but it's also probably a home to all sorts of wildlife. In some geographical areas, insects and snakes are a spine-tingling danger that can result in a hospital stay or abrupt death.
Allergic reactions to stings and bites are common. For people who are really sensitive, a severe reaction can be difficult to counter alone. If someone in your home has known allergies, be sure to have a plan of action in place, such as understanding where an epinephrine injector pen is located at all times. And if someone is allergic, clear your yard of foliage that attracts stinging creatures.
The same goes for other critters. If venomous insects, spiders or snakes love your yard, figure out why. By altering the habitat just slightly, you may be able to drive off these creatures without having to kill them using chemicals and traps.
If you can't get a handle on poisonous critters in your yard, don't hesitate to call in a professional. A pro can help you understand the causes behind the problem and offer long-term strategies for reclaiming your property.
Your backyard is supposed to be a safe and fun environment. With just a bit a planning and thought, you can reduce or eliminate some of the most common hazards, lessen worry and get more joy out of your outside time.
Author's Note: 10 Everyday Backyard Hazards and How to Fix Them
There's no need to sensationalize backyard hazards. The potentially horrifying effects of routine yard work and leisure time should be enough to keep any sensible person aware of their surroundings at all times. If you really need an example, perform an Internet search for Ireland Nugent. In 2013, two-year-old Ireland was accidentally run over by a riding lawnmower and lost both of her feet. Her parents were anything but reckless, but the accident still happened, showing just how quickly mundane chores can turn into awful reminders of just how delicate we humans really are.
Related Articles
Sources
American Cancer Society. "Be Safe in the Sun." (July 5, 2013) http://www.cancer.org/healthy/besafeinthesun/

Carroll, Linda. "Trampolines Are No Place for Kids, Docs Warn." NBC News. Sept. 24, 2012. (July 5, 2013) http://www.nbcnews.com/health/trampolines-are-no-place-kids-docs-warn-1B6054327

Centers for Disease Control. "Unintentional Drowning: Get the Facts." (July 5, 2013) http://www.cdc.gov/homeandrecreationalsafety/water-safety/waterinjuries-factsheet.html

Centers for Disease Control. "Fact Sheet for Hot Tub Users." (July 5, 2013) http://www.cdc.gov/healthywater/pdf/swimming/resources/hot-tub-user-tips-factsheet.pdf

Environment and Human Health. "Risks from Lawn Care Pesticides." (July 5, 2013) http://www.ehhi.org/reports/lcpesticides/summary.shtml

Food and Drug Administration. "Sun Safety: Save Your Skin!" May 17, 2012. (July 5, 2013) http://www.fda.gov/ForConsumers/ConsumerUpdates/ucm049090.htm

Healthy Children. "Lawn Mower Safety." July 1, 2013. (July 5, 2013) http://www.healthychildren.org/English/safety-prevention/at-home/pages/Lawnmower-Safety.aspx?nfstatus=401&nftoken=00000000-0000-0000-0000-000000000000&nfstatusdescription=ERROR%3a+No+local+token

Hendrick, Bill. "Lawn Mower Injuries are on the Rise." WebMD. June. 3, 2011. (July 5, 2013) http://www.webmd.com/parenting/news/20110603/lawn-mower-injuries-are-on-the-rise

Humane Society. "Products to Keep Wild Animals Out." Jan. 27, 2012. (July 5, 2013) http://www.humanesociety.org/animals/resources/tips/wildlife_conflicts_exclusion_100709.html

Lloyd, Robin. "Ten Most Common Poisonous Plants." Livescience.com. May 17, 2007. (July 5, 2013) http://www.livescience.com/11356-top-10-poisonous-plants.html

O'Neill, Megan. "Six Common Backyard Plants that Could Kill You." Rodale. (July 5, 2013) http://www.rodale.com/common-poisonous-plants?page=0,5

Pediatrics. "Trampoline Safety in Childhood and Adolescence." Sept. 24, 2012. (July 5, 2013) http://pediatrics.aappublications.org/content/early/2012/09/19/peds.2012-2082.full.pdf

U.S. Fish and Wildlife Service. "Homeowner's Guide to Protecting Frogs." July 2000. (July 5, 2013) http://library.fws.gov/Pubs9/frogs_gardencare_brochure.pdf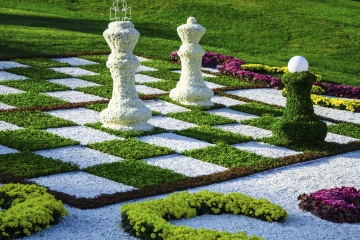 Up Next
Your house needs an outdoor chessboard, and HowStuffWorks can help you make one. Learn more about making an outdoor chessboard.
---