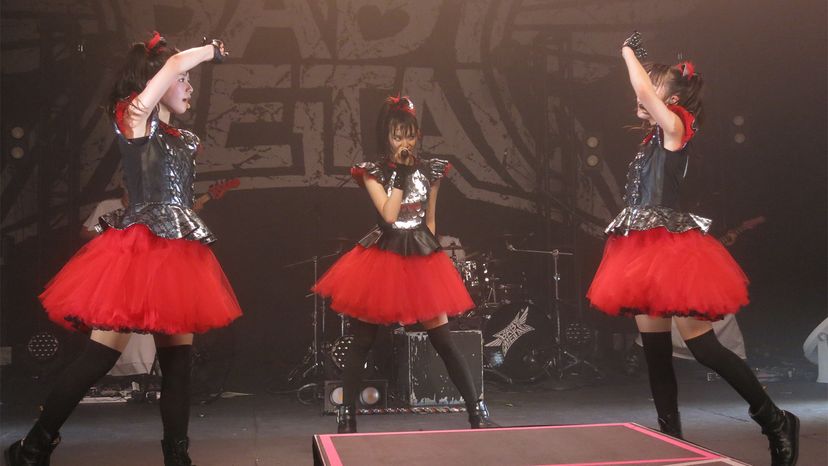 Babymetal (stylized as BABYMETAL) are a young female Japanese kawaii metal band formed in 2010 in Tokyo, Japan, that is taking the world by storm.
Wikimedia Commons (CC By-SA 3.0)
The quickest way to catch the uninitiated up on the phenomenon of BABYMETAL might be through a 2017 YouTube video aptly titled, "Celebs React to BABYMETAL."
"I've never heard Japanese heavy metal," says actress Regina Hall.
"So cute and sooo disturbing," adds comedian Aisha Tyler.
"Am I gonna die after watching this video?" asks comedian Paul Scheer. "This is the sweetest nightmare I've ever seen" and "They are gonna kill me, I'm gonna be killed by these women."
The women in question are 21-year-old Suzuka Nakamoto, aka Su-metal, 20-year-old Moa Kikuchi, aka Moametal and former member, 20-year-old Yui Mizuno, aka Yuimetal. Throughout the video compilation, the girls dance in tutus while a masked band rocks out behind them. They perform choreographed arm movements while harmonizing to an insanely quick beat. They rap in neon rave gear and Kanye glasses. And they fly over a packed stadium of concert-goers while giant, smoking fox heads protrude from the stage. And they scream. A lot.
Summoned by the Fox God?
Those foxes are integral to the performance and mythology of the band, which is releasing their third album, titled "METAL GALAXY" Oct. 11, 2019. "BABYMETAL was summoned by the Fox God in 2010 to spread 'metal resistance,'" Su-Metal and Moametal write via email (former Morning Musume member Riho Sayashi joined the remaining duo onstage twice this year, but has not officially replaced Yuimetal who departed in 2018). "BABYMETAL means birth of new metal."
As you might have discerned by now, BABYMETAL isn't your typical band. While the group's lore does credit the Fox God as their mysterious creator, for all practical intents and purposes, fans can thank producer Key "Kobametal" Kobayashi for bringing them into existence. Kobayashi originally conceived of BABYMETAL as a sub-group of the popular pop lineup, Sakura Gakuin. The idea was to fuse that irresistible pop flavor with a taste of a genre Kobayashi had long known and loved.
"Metal is only getting older and older and the scene isn't getting bigger anymore," he said in a 2014 interview with Metal Hammer. "I started thinking that I wanted to come up with something new, something that no one has ever done before, and that's where BABYMETAL came from. The idea really just fell from the heavens."
While the focus of the group was always meant to remain on the core performers ("Su-Metal is dance and vocal and Moametal is scream and dance," Su-Metal and Moametal say of themselves by email), BABYMETAL's unique sound is largely due to the talent of their instrumentalists. The face-melting guitar, bass and drums that accompany the singing and dancing come courtesy of The Kami Band. The lineup has changed throughout the years (longtime guitarist Fujioka Mikio died in 2018), but the band's contribution is undeniable on tracks like "MEGITSUNE," "KARATE" and "PA PA YA!!"
Gimme Chocolate!!
But BABYMETAL really began to make a name for itself in 2014 with the release of their debut self-titled album, and most notably, the single, "Gimme Chocolate!!" The song, which has to date racked up over 17 million Spotify hits and nearly 108 million video views on YouTube, officially introduced the world to BABYMETAL's distinctive style. "Our music is a hybrid between metal and kawaii, meaning 'cute' in Japanese music and we believe that BABYMETAL music is a genre itself," the members say. "Our music has so much variety, so everybody learns about us from different sources," the band says. "A lot of people found out about us from 'Gimme Chocolate!!'"
BABYMETAL has earned adoration and accolades in the nine years since their inception, as well as their fair share of criticism. In 2017, KORN frontman Jonathan Davis came to their defense after some critics had dubbed them "the definition of a gimmick" and "metal for hipsters."
"It's just entertaining as hell," he said before taking on the naysayers. "It's just closed-minded people. I mean, from both sides of it — there's purist metal people that are just pure about their music and want this, and it's gotta be a certain way. And then there's the other people that just... It's music, and if you dig it, you dig it. Who cares? It's not that big of a deal to like something like that. Calm down."
A Rabid Fan Base
Those who have no intention of calming down: BABYMETAL's fiercely loyal fanbase. Some may have first caught the group during their 2014 headlining world tour, and others may have seen them as Lady Gaga's opening act that same year. Since then, the group has opened for bands like the Red Hot Chili Peppers, Metallica and Guns N' Roses, and they're currently packing theaters in the United States, like San Francisco's The Warfield, which has a 2,300-person capacity.
"I would describe our concerts as pretty intense," the band members say. "During our performances, fans mosh and create a wall of death and it's altogether intense in a positive way. Another unique part of our concert is that all of our fans — whether they are Japanese or non-Japanese — they all memorize our Japanese lyrics and sing along with us. They even memorize our cute dance choreography and we appreciate all of their warm support!"
In April, BABYMETAL announced their third album via Twitter and released the single "Elevator Girl" a month later. After playing shows all over the world, including England's Glastonbury Festival in June, the girls and their crew are wrapping up U.S. tour dates and taking off for a new chapter in their unconventional and genre-defying odyssey. "On Oct. 11, our third album, METAL GALAXY will be out and we continue our journey of METAL GALAXY in Europe and Asia," say Su-Metal and Moametal.