What's in a name? In Ashanti's case, quite a lot. Her namesake is the largest tribe in Ghana, a proud people famous for their powerful women and their boundless creativity. At only 23, Ashanti has lived up to this legacy, mastering her art, fighting her way through the recording industry, and taking her place as "the princess of hip-hop." And she's just getting started.
Ashanti Douglas was born in Glen Cove, Long Island, on October 13, 1980. She came into a family filled with talented, hard-working people. Her father Ken Kaide Douglas sang, her mother Tina worked as a dance instructor, and her grandfather James had been a leading civil rights activist who marched with Martin Luther King Jr. in the 1960s.
Ashanti's own talent shined through right away. At the age of three, her mother enrolled her in the Bernice Johnson Cultural Arts Center dance program, and she started taking center stage right away. Over the years, she learned tap, ballet, jazz and African dance, and she performed at the Apollo Theater and in Carnegie Hall. She also made it to the small screen at a young age, appearing in public service announcements, a public television special, and the TV movie "Polly," starring Phylicia Rashad and Keshia Knight Pulliam.
When Ashanti was 12, she showed that she also had a powerful singing voice, and her mother Tina stepped in to act as her talent manager. With her mother's encouragement, Ashanti took part in every talent show she could, never missing a chance to impress an audience.
Tina video-taped Ashanti singing and dancing, and sent the tapes out to record labels. Soon, a label signed her, but ultimately, the relationship didn't work out. She jumped back into high school and hit the ground running. She joined the Glen Cove High School track team, the drama club and the cheerleading squad, and she kept singing, wherever she could find an audience. In her first major singing performance, she blew the Apollo Theater audience away with her rendition of Yolanda Adams's "More than a Melody."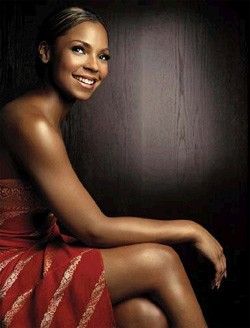 Just before Ashanti's high school graduation, a new record label came knocking. Ashanti faced a major decision: She could head off to college on a generous track scholarship, or she could make another go at a singing career. Ultimately, she chose a singing career, and she moved to Atlanta to get started on her debut album. Again, the label relationship fell apart. Ashanti came back to Glen Cove, took on telemarketing and daycare work, and contemplated her next move.
Soon, things started to come together for Ashanti, as she built a solid reputation as a guest vocalist and talented songwriter. In a matter of months, she wrote the hook for Caddillac Tah's "Just Like a Thug," she sang the hook for Big Pun's "How We Roll," she sang on Ja Rule's #1 hit "Always on Time," she sang on Fat Joe's "What's Love," she wrote Jennifer Lopez's "Ain't it Funny," and she made her live television debut on Saturday Night Live, singing with Ja Rule. By the time she put down her own breakthrough track, "Foolish," she was already a star.
Ashanti signed to a new label, and got busy writing and recording the songs for her debut album, "Ashanti." As soon as it hit shelves on April 9, 2002, the album was a staggering success. It sold 150,000 copies the first day, and with 502,000 copies the first week, it debuted as #1 on the Billboard 200 chart. It went on to win a Grammy for Best Contemporary R&B Album, as well as 8 Billboard Awards. Through all of this, Ashanti also found time to publish a poetry book, "Foolish/Unfoolish: Reflections on Love" and guest star in episodes of "Buffy the Vampire Slayer" and "American Dreams."
Ashanti's new album, "Chapter II," hit shelves July 1, 2003, debuting at #1 on the Billboard 200. With her videos for "Rain on Me" and "Rock Wit U (Awww Baby)" in heavy rotation on MTV, and more hit singles waiting in the wings, Ashanti is front and center on the hip-hop stage. And with her bottomless talent and fighting spirit, you can bet this is only the beginning.