If inked properly, the stone is good for 100 or 200 prints. Peter Alexander normally limits his print runs to a much smaller number. Of Peter's Cat Series, only 25 prints are available.
Making an official print requires several steps:
The first step is preparing the paper. Large sheets are torn to size.


Photo courtesy Toby Michel
Tearing the paper


Next, registration marks are put on the paper. Marks were placed on the stone before the artist started working. Marks in corresponding positions on the paper make sure that the paper lines up with the artist's image correctly. Registration marks are especially important on multi-stone prints so that all of the colors line up.


Adding registration marks


The stone is inked and the print is made using the process described on the previous page.


A copy of the final proof of "3rd Street," by Peter Alexander, 29.5" x 35", printed on Rives BFK in an edition of 15, $1,500.00 each (There will also be a "reversed" version of the image with white ink on black paper.)


The proof receives the "shop chop" in the lower left corner. Every print from Angeles Press receives this mark. Toby has two: A scallop shell is his personal chop, and Angeles Press has a pair of angel-wing shells as its mark.


Photos courtesy Toby Michel
Adding the shop chop to the print


The artist signs the proof.
Now you have witnessed the entire process involved in creating a single-color fine art print using stone lithography. Toby's Angeles Press is an open shop that works with a wide variety of artists on works of varying sizes. Multiple-color printing involving three or more colors is common. Here are several examples: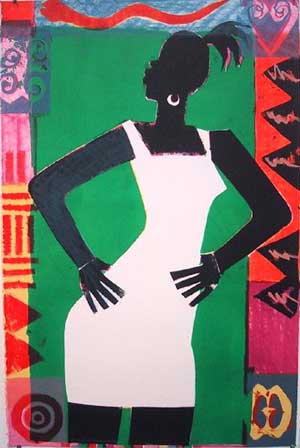 Varnette Honeywood, "Saint Saphire," seven-color lithograph, 40" x 26"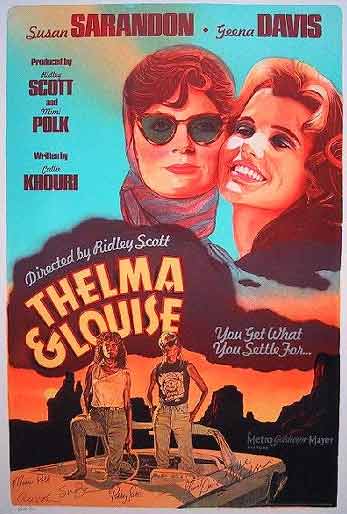 Michael Elins, "Thelma & Louise," 16-color, eight-stone lithograph, 46.5" x 34"

Photos courtesy Toby Michel
Roger Medearis, "The Barn Yard Gate," one-color lithograph printed from stone (Toby: "It took Roger over 100 hours to draw the image on the stone. The detail is fantastic.")


Are you a student or an artist working in the medium of stone lithography? Toby has graciously offered to draw on his many years of experience as a master printer to answer questions that you might have about the techniques described in this article. You can send e-mail directly to Toby at this address: angelespress@earthlink.net.
For more information on stone lithography and related topics, check out the links on the next page.
Related Articles

More Great Links