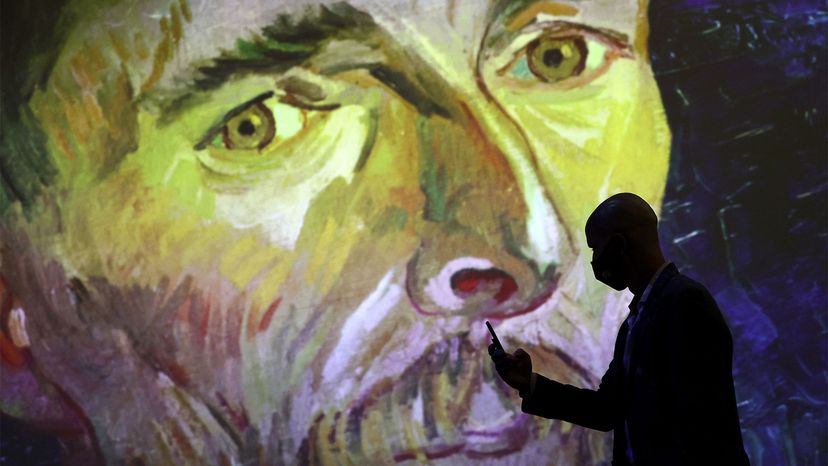 A guest steps into a self portrait by artist Vincent Van Gogh at the "Immersive Van Gogh" exhibit in San Francisco.
Justin Sullivan/Getty Images
You've probably seen advertisements for "immersive art" touring productions that combine re-imaginings of works by master artists Claude Monet, Gustav Klimt or Vincent Van Gogh that typically combine large scale projection, virtual reality (VR) and music to create a different type of art event. There are also immersive art experiences that are completely original — created by artists or artist collectives, that are pushing the boundaries in today's art world.
"By its nature immersive means you are in and amongst and are able to in some way be fully enveloped by or participate in the work," says Miranda Kyle, program manager of arts and culture of Atlanta BeltLine, Inc. — a 22-mile (35-kilometer) multi-use urban trail — and chief curator of the annual Art on the BeltLine public art exhibition, one of the largest, temporary public art exhibitions in the country.
"This is important because it creates inclusion for the performance arts that happen in our public spaces," she says. "Typically, people tend to default when they think of public art of just a static object. I want to make sure that when we're defining immersive work, we're also including performance work as well. It definitely needs to activate more than just your visual receptors. It needs to stimulate your sense of wonder. It could possibly activate two or more senses. Maybe it's tactile, maybe it's sound-based or musical. Even if it's a sculpture. If it's a sculpture that needs to be engaged with in a way that invites touch to get a response, that's an important thing to note. That gets into participatory art which, falls under the broad header of immersive work."
A sculptor herself, Kyle is a fan of many forms of immersive art, especially those created by the original artists Refik Anadol, Studio Drift, the OUCHHH artist collective and artists working in the Meow Wolf collective (see below). For those who lament that immersive art isn't the "right way to do or access art," Kyle notes that Atlanta's High Museum of Art enjoyed record-breaking crowds when it hosted Yayoi Kusama's Infinity Mirror Rooms exhibition in 2018 and 2019.
"The majority of [the visitors] had never been in a museum before," she adds. "We have to remember we're in a moment where the ministry of getting people excited and passionate about artwork is at the core of everything we do. If that means having an Instagrammable version of Van Gogh that ends up creating a person that may one day become a fantastic funder of the arts or an artist themselves or writing about art, then that's worth it. That might be the only art that people see. We want to build a society that values and loves art in all of its forms."
There are many immersive art installations, both in galleries and in dedicated immersive art spaces. Here are six you should know about:
1. 'Immersive van Gogh'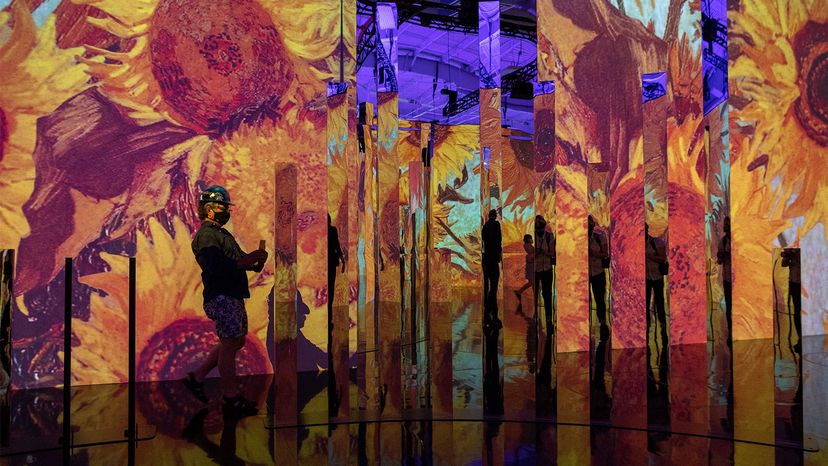 The "Immersive van Gogh" art installation displays iconic works of post-Impressionist artist Vincent van Gogh, evoking his emotional and chaotic inner consciousness through art, light, music and movement.
ANGELA WEISS/AFP/Getty Images
Wildly popular — already viewed by millions of people worldwide — "Immersive van Gogh" was created by the same team behind Atelier des Lumières in Paris (see below). The show is meant for the viewer to experience the paintings of Dutch post-impressionist painter Vincent van Gogh, which include "Starry Night," "Sunflowers" and "The Bedroom," in ways the artist could never have even dreamed. Immersive Van Gogh first toured Europe, Asia and the Middle East before landing in the United States.
2. 'Meow Wolf'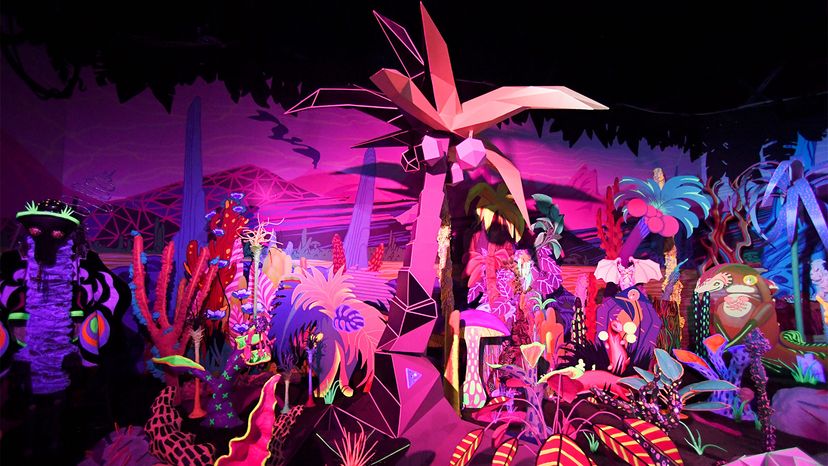 "Kaleidoscape," designed by Santa Fe-based arts and entertainment company Meow Wolf, in Denver, Colorado.
RJ Sangosti/MediaNews Group/The Denver Post/Getty Images
Founded in 2008 and based in Santa Fe, New Mexico, Meow Wolf is an arts and entertainment company, a Certified B Corporation that receives funding from private investors (including "Game of Thrones" author George R.R. Martin) but is legally required to consider the impact on workers and the community. An artist's collective, Meow Wolf creates immersive and interactive experiences for patrons of all ages. The first exhibit, House of Eternal Return (housed in a former bowling alley), opened in Santa Fe in 2016. Two additional permanent installations opened in 2021 in Las Vegas (Omega Mart) and Denver (Convergence Station).
3. 'Atelier des Lumières (Workshop of Lights)'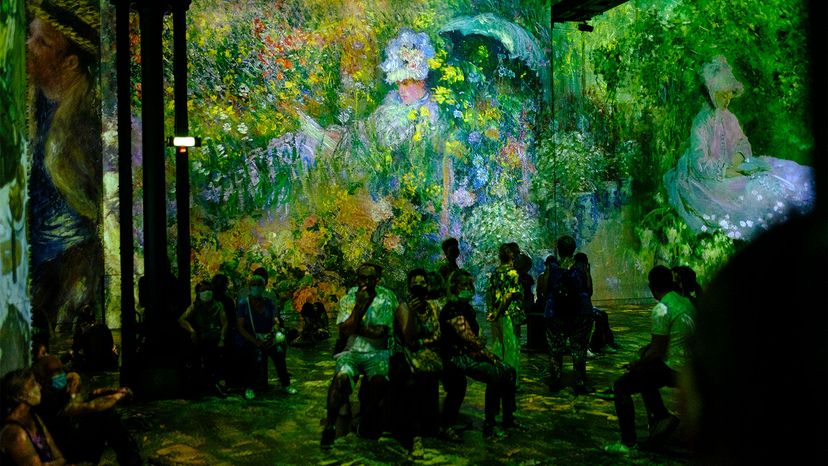 The immersive exhibition "Monet, Renoir, and Chagall: Journeys Around the Mediterranean" by multimedia artist Gianfranco Lannuzzi took place at the 'Atelier des Lumieres' from Feb. 27, 2020 to Jan. 3, 2021 in Paris, France.
Thierry Monasse/Getty Images
The Atelier des Lumières is a former foundry in the 11th arrondissement of Paris that was renovated and reopened in April 2018. It has since welcomed millions of visitors to immersive shows highlighting the projected works of Leonardo da Vinci, Gustav Klimt, Marc Chagall and many others. This unique gallery in the heart of the City of Lights surrounds viewers with not just art but also music, from lilting classical to pulsing hip-hip, thoughtfully curated to enhance the immersive experience.
4. 'Superblue'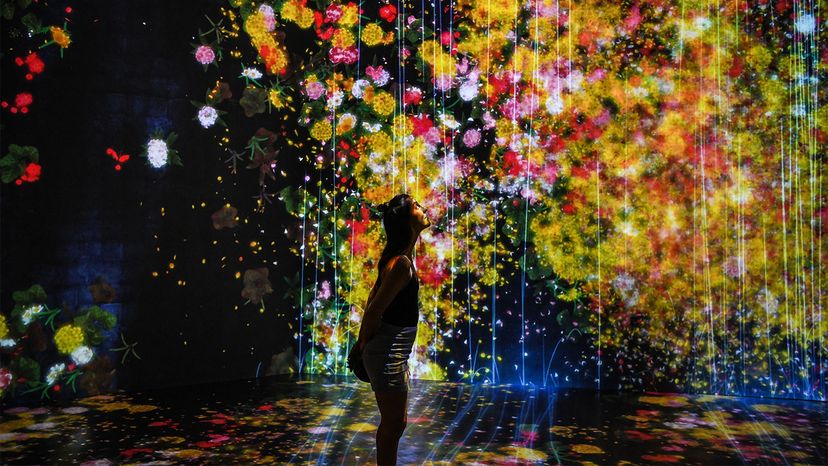 A visitor attends the immersive art experience "Every wall is a door" by Tokyo-based artist group teamLab, at Superblue Miami in Miami, Florida Aug. 31, 2021.
CHANDAN KHANNA/AFP/Getty Images
Housed in a renovated warehouse with 31,000 square feet (2,880 square meters) of exhibition space, Miami, Florida-based Superblue is an experiential art center (or EAC), which opened in spring 2021. It provides artists the space to deliver large-scale immersive installations. Among others, Superblue features artists teamLab (see below), Rafael Lozano-Hemmer and Studio INI. Superblue opened a temporary exhibition space in London in historic Burlington Gardens. The installation features a work by A.A. Murakami entitled "Silent Fall," groupings of tree-like mechanisms releasing bubbles that can be held.
5. 'teamLab'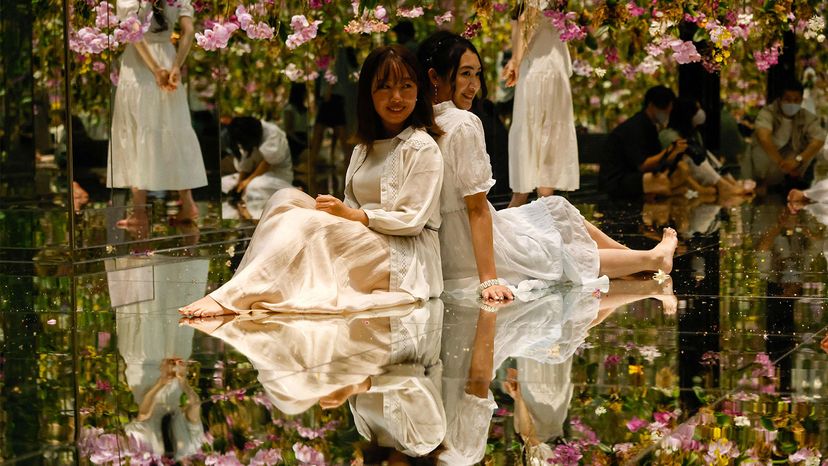 The interactive kinetic installation "Floating Flower Garden — Flowers and I are of the Same Root, the Garden and I are One" is seen at the teamLab Planets Garden Area in the Toyosu district of Tokyo Aug. 14, 2021.
David GANNON/AFP/Getty Images
An international art collective founded in 2001, teamLab is an interdisciplinary group of specialists including artists, programmers, computer graphic (CG) animators, engineers, mathematicians and architects whose collaborations touch the worlds of art, nature, science and technology. Their work has been exhibited in galleries worldwide, both in temporary displays and as part of permanent collections, including at the Museum of Contemporary Art, Los Angeles; the Art Gallery of New South Wales, Sydney; and the Amos Rex in Helsinki, Iceland.
6. 'Artechouse'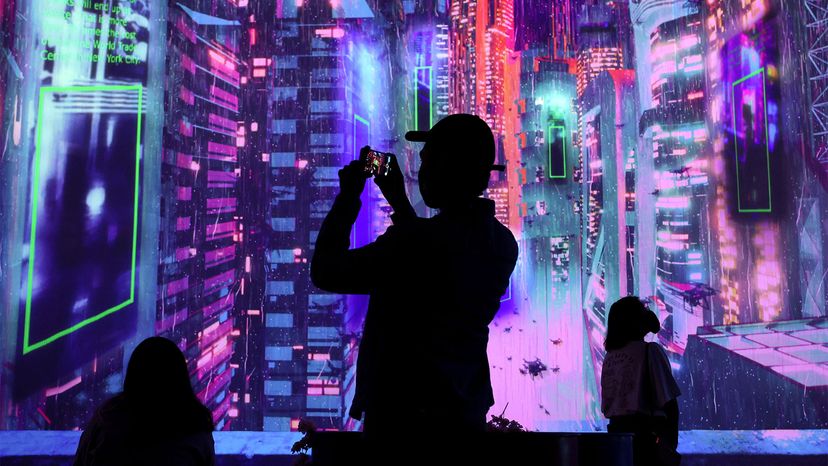 A person takes a photo as they visit "Renewal 2121", the immersive and interactive art installation at ARTECHOUSE DC, on June 3, 2021 in Washington, D.C. The installation, with visual design by Yuya Takeda, seeks to inspire hope and thought amid the global pandemic and show the possible dangers of climate change and overdevelopment.
Kevin Dietsch/Getty Images
Artechouse (art + tech + house — get it?) calls itself "the nation's first innovative art space for art and technology." It's an art incubator, supporting and working with artists that are creating experiential, tech-driven art. Artechhouse has three locations where people can take in the immersive art experience — New York City, Washington, D.C. and Miami Beach.