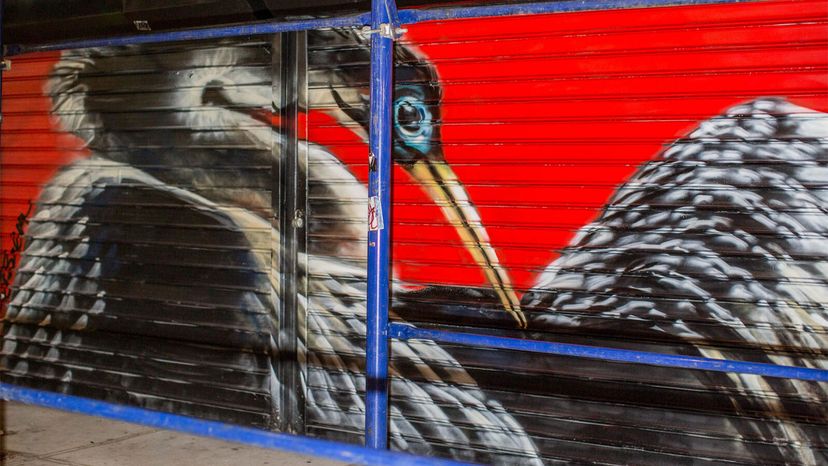 "Anhinga" by Lexi Bella is located at 3458 Broadway, New York, New York, 10032.
Hillary Eggers/Audubon
The birds are clueing us in to something, and the message is stark: If we humans don't reduce our carbon footprint and global temperatures continue to rise unabated, two-thirds of North America's birds may be dead and gone forever in the next 60 to 80 years.
According to climate science studies in a 2019 National Audubon Society climate watch report titled, "Survival by Degrees: 389 Bird Species on the Brink," 389 vulnerable bird species are in danger of extinction by the end of the 21st century. Fortunately, the report also shows that three-quarters of these threatened species can be protected if we stabilize carbon emissions and keep global heating below 34.7 degrees Fahrenheit (1.5 degrees Celsius).
Only the time we're running out of will tell if we can turn this climate crisis around. In the meantime, birds that are already up against the wall are now literally being painted on walls to help spark public concern about their plight.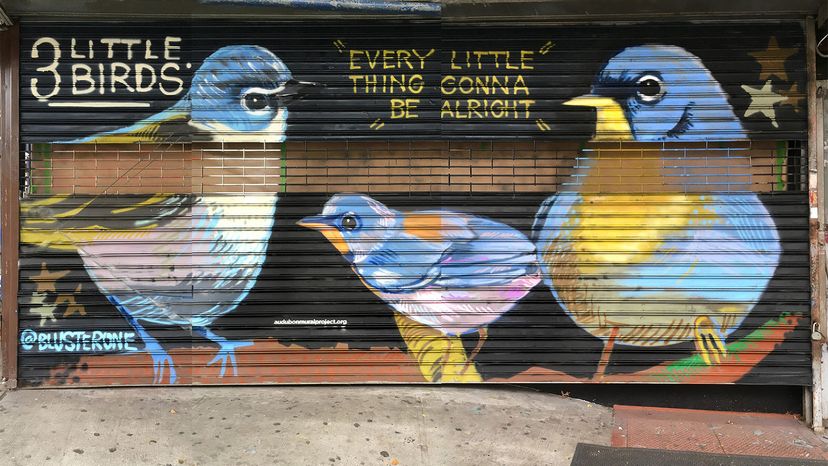 "Blue-headed Vireo, Northern Parula, and Pine Siskin" by BlusterOne is located at 3898 Broadway, New York, New York, 10032.
Mike Fernandez/Audubon
The Mural Project
The National Audubon Society has been dedicated to protecting birds and preserving their habitats for more than 100 years. In 2014, the organization, in collaboration with art dealer and gallery owner Avi Gitler, launched a public art initiative in New York City's West Harlem and Washington Heights neighborhoods in upper Manhattan to blazon the word about birds threatened by climate change. Still going strong in 2021, the goal of The Audubon Mural Project is to create murals representing all 389 of the endangered bird species.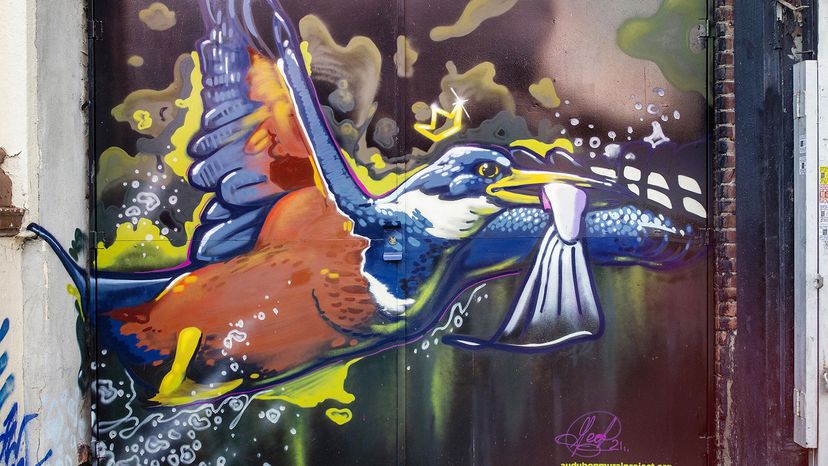 "Ringed Kingfisher" by Geobany Rodriguez is located at 500 West 175th Street, New York, New York, 10033.
Mike Fernandez/Audubon
The artists adorning New York City's residential buildings, storefronts, metal roll-down shutters and any other amenable surfaces are as diverse as the birds themselves — ranging from established street artists like Don Rimx and Lexi Bella to international, classically trained artists like Laura Ramon Frontelo. Several new artworks were added to the collection in 2021, including "White-tailed Hawk" by TOTEM, a New York City graffiti and aerosol artist, and "Ringed Kingfisher" by New York City graffiti artist Geobany Rodriguez.
To date, 90 murals depicting 127 different avian species have been completed in New York City as well as in Washington state and northern Illinois. And more murals are slated for the coming months.
Want to take a self-guided tour of the New York City murals? You can! Guided tours are also available on a limited basis.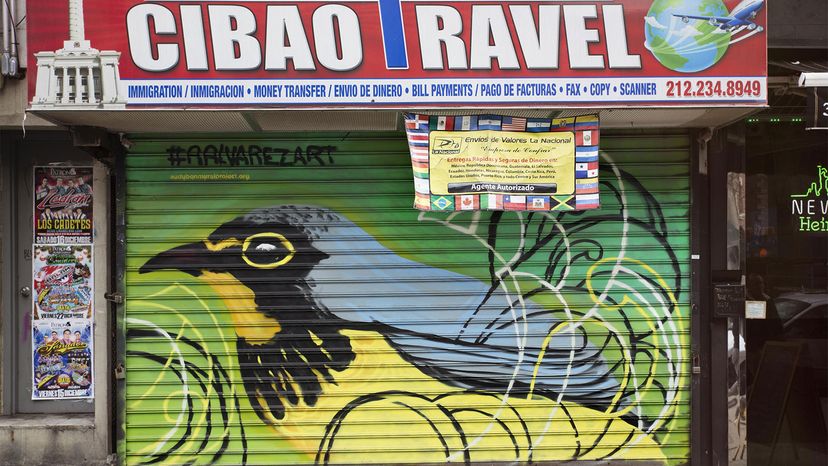 "Canada Warbler" by Andres Alvarez is located at 3668 Broadway, New York, New York, 10031.
Mike Fernandez/Audubon
HowStuffWorks may earn a small commission from affiliate links in this article.