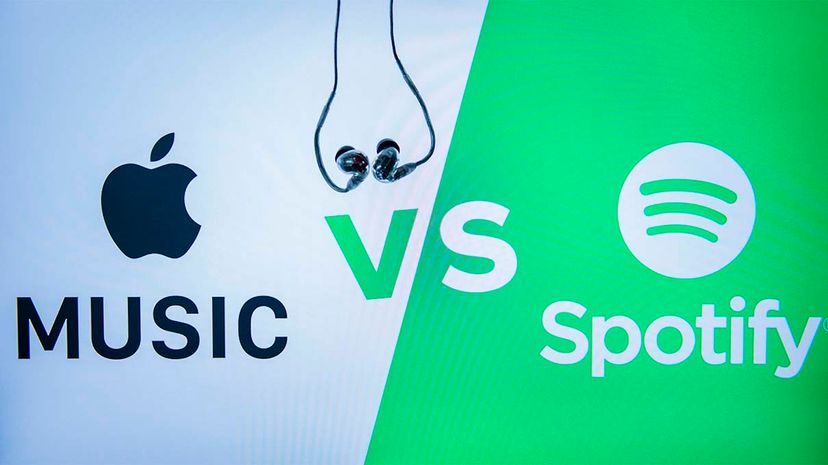 Streaming music services, such as Apple and Spotify, cater to people of all musical tastes for a lot of different reasons.
S3studio/Getty Images
You may be a little bit country, or a little bit rock n' roll, but your music preferences probably don't have much to do with how you choose to stream tunes. Some 30 million people in the U.S. alone pay for the right to stream music. Whether they do that on Spotify, Apple, Tidal or Big Al McGillicuddy's Southern Swamp Rock Streamer is often a matter of the bells and whistles that come with each service, ease of use and the other content that some streamers chip in.
There are plenty of players in the digital streaming space, but Spotify and Apple Music are currently at the top of the heap. Spotify's 70 million paying subscribers is about twice that of Apple's stable. Still, Tim Cook & Co. are on pace to be nipping at the Swedish streaming giant's heels in short order.
Sure, Jay-Z's Tidal service has the superior quality and Pandora may be the best bet for budget conscious music lovers. For now, we're focusing on the two biggest players in the streaming game. If you're trying to decide between the two services, here are a few things to keep in mind.
1. Making it Exclusive
When Apple decided it was going to throw its hat in the streaming ring, the company tried to court users by landing deals that made hot new albums exclusive to Apple subscribers. Drake's 2016 "Views," for example, got a marketing boost from the tech company after agreeing to make Apple Music the only place to stream the Canadian rapper's new tunes, at least for a little while. When Taylor Swift thumbed her nose at Spotify over a royalties dispute, she shook the Swedes off and took her catalogue to Apple.
Swift has since returned to Spotify and Apple Music is moving away from exclusive albums. It turns out artists aren't all that jazzed about limiting who can hear their work.
But that doesn't mean unique offerings are going the way of the Keytar. When the Weeknd dropped his "My Dear Melancholy" EP, he put out two music videos only available for Spotify subscribers. Not to be outdone, Apple has gone and secured the sole rights to stream concerts featuring Arcade Fire and... maybe... Prince.
2. Turning on to New Tunes
Spotify's Discover Weekly tool is kind of like hanging out with a much less pretentious version of the guys at the record store in "High Fidelity." I can't exactly say I'm at the point where I hop out of bed every Monday morning to fire up my laptop in breathless anticipation of what tracks have been curated for me to discover each week. I can say that I am often pleasantly surprised at how whoever or whatever is making those selections has been able to weave together a list that reflects my love of soaring melancholy mope rock, rollicking roots and bluegrass and the occasional Hall & Oates throwback.
Apple, as you might expect, has its own curated playlist tool.
3. Learning the Lyrics
Whether you're prepping for a karaoke version of "Mmmbop," or simply can't stop belting out "hold me closer Tony Danza" whenever the mood strikes to channel Elton John, it can be good to have the lyrics in front of you. Apple Music subscribers never have to make like Liz Lemon and, uh, bungle the lyrics to "Empire State of Mind" ever again. Users can read lyrics while listening to music on the service, so long as they're connected to the internet.
4. Getting the Story Behind the Song
Remember "Pop-Up Video"? The VH1 show used to play music videos peppered with "pop-up" windows giving information about the artist and the track. Spotify won't help you memorize the words to The National's "Fake Empire" (was that "Anne Hathaway is baking pie?") but it will give you some pop-up style info about certain tracks.
Did you know that The Beach Boys' "Wouldn't It Be Nice?" is an ode to "the frustration of youth, what you can't have, what you really want and what you have to wait for?" You would if you had checked out Spotify's Behind the Lyrics option.
5. Making a Connection
At the end of the day, the choice of a streaming service may come down to how much you want to weave your music into all of the other ways you're already tied to the internet. Some folks are willing to live with having a strange, talking machine monitoring their every move and probably listening to various intimate conversations in exchange for being able to bark all kinds of directions at what is essentially a butler for the web. If you already have Amazon Alexa or Google Home, you may want to know that Spotify — not to mention Amazon Music and Google Play — allows you to pick your playlist and start, stop, and change tracks by voice command. Apple Music on the other hand, is native only to Siri. Of course there are some ways to get other voice control devices to play your ITunes, if you're willing to work for it.
Siri, of course, will answer to any music commands. You can even ask her to drop a beat.