It is difficult to assess Willie Anderson's stature among the greats of the game.
Anderson competed when golf was in its infancy in America, with relatively primitive equipment and course conditioning, so it's pointless to compare scores.
But one thing is certain: He was the first dominant player in American golf.
There were only two significant tournaments in the United States when Anderson played at the turn of the century, the U.S. Open and Western Open, and he won each event four times.
His total of four U.S. Open titles has been matched only by Bobby Jones, Ben Hogan, and Jack Nicklaus, and not surpassed.
Anderson is the only player ever to have won three straight Opens, claiming the title from 1903-05.
His 73 in 1903 and 72 in 1904 established 18-hole Open records. He finished in the top five in 11 Opens, a record that only Nicklaus has tied.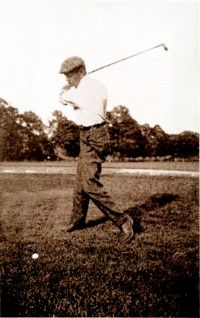 Anderson emigrated to the U.S. at the age of 17 along with his father, who was a greenskeeper in North Berwick, Scotland. Willie took a club job in Rhode Island, the first of 10 clubs he would work for in his 14 years in America.
The slightly built Anderson was an accurate player, but his strength on the course was considered to be his calm demeanor. This served him well in 1901 when he won his first Open at Myopia Hunt Club in Massachusetts.
He trailed by five strokes with five holes remaining in a playoff against Alex Smith before finishing with five straight 4s to win by one.
Anderson finished fifth in the Open in 1902, but the next year at Baltusrol's original course in New Jersey, he claimed his second title, again in a playoff.
He won the 1904 Open at Glen View outside Chicago by shooting his record 72 in the final round, then nipped Alex Smith again at Myopia in 1905.
Anderson played in five more Opens but never again finished better than fourth. His death in 1910 came suddenly; he played three 36-hole matches the week before.
For more information about golf, see:
The Best Golfers of All Time
­