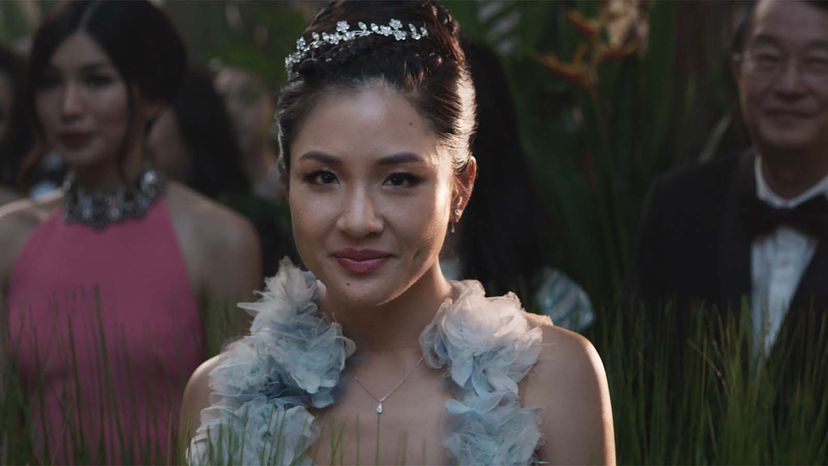 "Crazy Rich Asians," directed by John M. Chu and starring Constance Wu, is the first U.S. film out of a major studio to feature an all-Asian cast and Asian-American lead since "The Joy Luck Club" broke ground in 1993.
Warner Brothers
Considering Americans are bombarded with more TV shows than they could possibly watch in a lifetime and Hollywood has been a cultural superpower for decades, you'd think American media would be pretty darn good at representing all segments of its super-diverse population. But that couldn't be farther from the truth.
Americans are thirsty for new and nuanced stories about people of color, as shown by the $1.3 billion worldwide box office gross for the majority-black blockbuster "Black Panther." The success of "Black Panther" has been considered by many a watershed moment for black representation in American film. And now, the new film "Crazy Rich Asians" is being lauded as another transformative win for racial representation in Hollywood. But is it?
"Crazy Rich Asians," helmed by "Now You See Me" franchise director John M. Chu, is the first U.S. film out of a major studio to feature an all-Asian cast and Asian-American lead since "The Joy Luck Club" broke ground in 1993. Constance Wu stars in this rom-com as an economics professor who finds out her boyfriend (actor Henry Golding) comes from an absurdly rich Singaporean family. And, as they're wont to do in Hollywood comedies, high jinks ensue.
But whatever one's feelings are about love stories chock-full of quirky characters and over-the-top shenanigans, "Crazy Rich Asians" is an anomaly. One 2017 study out of the USC Annenberg School for Communication and Journalism showed that out of the top 100 fictional films in the U.S. in 2016, 44 featured absolutely zero Asian or Asian-American speaking characters. (That number was 49 in 2016, so take that improvement as you may.) And in that same sample of movies, only 5 directors were Asian.
Better Representation is Long-term Key
Today, more than 20 million Asian Americans live in the U.S., up from nearly 12 million in 2000. But people of Asian descent are underrepresented in American films. And when they are visible, they're often stereotyped, tokenized or on screen for way less time than their white counterparts. Yes, Asian representation has made some serious gains in the last decade — think "Fresh Off the Boat" and "The Mindy Project." But the thought is that a movie as popular and representative as "Crazy Rich Asians" can really help move the needle on absent or low-quality Asian representation in media.
And better representation is key, Dr. Christina Chin, assistant professor of sociology at California State University, tells us in an email interview. That's because the one-dimensional and stereotypical images we see of Asians in film and TV can become stand-ins for entire racial and ethnic groups, leading to negative interactions and greater discrimination.
"When audience members only see one group, particularly whites, represented as more prominent, relatable, and powerful than others, the privilege of this dominant group becomes normalized and even expected in reality," says Chin. "By excluding or tokenizing Asian actors or characters on screen, it sends the message that their lives, stories, and experiences are periphery or unimportant, thus reproducing the racial hierarchy that places people of color on the bottom."
And "Crazy Rich Asians" does just the opposite — it tells a heartwarming love story through dynamic and successful characters. So, it's the perfect film to kick off a renaissance in media portrayals of people of the Asian diaspora, right?
Here's the kicker: The film has faced criticisms that it relegates darker-skinned Asians to lesser roles, lacks ethnic diversity and uplifts whiteness as the most desirable status. It's definitely not a vision of "woke" perfection — but neither was "Black Panther." No single movie can tell the story or reflect the thoughts of a whole population. Yet viewers often put this kind of pressure on films like "Crazy Rich Asians," even though it's an expectation that's "impossible to fulfill," says Chin.
The hope for a mainstream movie that gets everything right about race and culture is pretty pie in the sky, but it's understandable, considering how much Asians have been misrepresented in American film.
"Pinning all our social hopes for a just society on a Hollywood film is unwarranted," Dr. Kent Ono, professor of communication at the University of Utah and co-author of the book "Asian Americans and the Media," says in an email, "but putting pressure on media makers to be attentive to social injustice may yield better, and more socially conscious film making."
So, it's valid to applaud the movie's positives while also criticizing the tropes it reinforces. A film can suffer from the pitfalls of the Hollywood machine and its creators' weaknesses, but still be a step in the right direction. "Crazy Rich Asians" may be more rising action than climax when it comes to representation, if you will.
A Cultural Shift?
When we asked Ono whether the production of "Crazy Rich Asians" signals an industry and cultural shift, he says it's too early to tell. But there are ways to encourage progress: "(1) Educate Asians and Asian Americans in how to make and be in films, (2) encourage Hollywood to become more inclusive across all media roles; (3) criticize when Hollywood and other media industries minimize, demean, and/or stereotype Asians and Asian Americans."
As recent advances in media representation have shown, it takes intentional work to keep the ball rolling. Even if it doesn't have a billion-dollar box office, "Crazy Rich Asians" can light the way for more Asian narratives on the big screen.
"The success of a film like 'Crazy Rich Asians' has the potential to open the door for other movie executives, producers, and casting agents to green light future films that include more Asian and Asian Americans," says Chin.
And perhaps that's as much as one should expect from a Hollywood rom com based on an indulgent beach read.