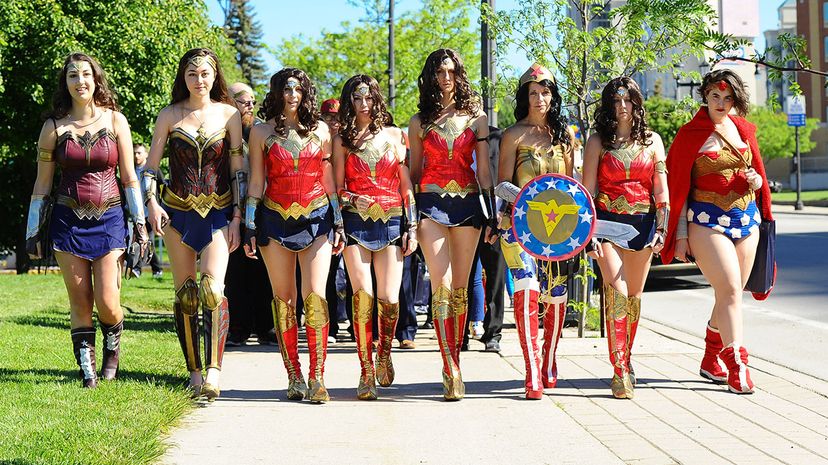 When Wonder Woman originally debuted in 1941, her creator, psychologist William Moulton Marston, at the urging of his wife, Elizabeth, set out to create a positive female role model in the pages of comic books. For decades, Wonder Woman has inspired comic book fans of all ages and genders, and become a mainstay in the DC Universe of comic books, cartoons and television shows.
Now, for the first time in 76 years, Wonder Woman has come to the big screen, headlining her own motion picture and it's a monumental event, larger than many might realize. How large? Dr. Debra Jenson, a professor of journalism at Utah State University, gave us an idea by email: "[Wonder Woman] is often the first hero little girls can relate to — but she has been absent in cinema and that absence has spoken volumes about how women are valued."
Carly Lane, a writer for Nerdist and Syfy, emails that the new movie is what women yearning for better representation have been waiting for: "With 'Wonder Woman,' Diana gets to carve out her own place in the pantheon of superhero movies — and that matters."
Vanessa Marshall, who voiced Wonder Woman in two animated films and a video game, tells us that Wonder Woman is the "ultimate embodiment of female empowerment. Her ethical worldview is most important to me." The film certainly plays up that ethical worldview of the character, where she's able to overcome problems not just with her fists, but with her belief in love and the goodness of people.
Not only is "Wonder Woman" a film that's culturally important to women across the globe, it's also being held up as a test for female directors in Hollywood. "Wonder Woman" director Patty Jenkins is the first woman who has been given the opportunity to direct a summer tentpole superhero film. All eyes are on her and, for some reason, some in Hollywood are saying that if this film isn't an overwhelming success, we might not see more women in this position, which is bizarre, because male directors helm box office bombs all the time.
Journalism professor Jenson argues that the movie is important for other, intangible qualities that have nothing to do with financial success. "This is a story about a woman, told by a woman, and that cannot be overstated. We have different lenses, viewpoints, foci and now the superhero audience will experience that."
That experience is something special to many women, so special that the Alamo Drafthouse, a movie theater chain based in Austin, Texas, decided to offer a screening where women could watch it without the company of men. Fitting for a hero who spent the first centuries of her life on the island of Themyscira with no man in sight. Naturally, there was a backlash of men who felt even a single women's only screening of "Wonder Woman" was tantamount to discrimination.
Here's Jenson's take: "The chance to experience this movie with other women — not worrying about the male gaze on Wonder Woman's body or the pressure men have put on this film to justify the presence of women in this genre — is a gift."
Carly Lane argues, though, that we shouldn't even be paying attention to the controversy: "'Wonder Woman' represents an important landmark for superhero movies. It deserves to be celebrated, not derailed by a sexist narrative."
"Wonder Woman" has, so far, outperformed "Man of Steel" and "Batman v Superman: Dawn of Justice" in markets where it's already been released. Time will tell if "Wonder Woman" beats her fellow DC superheroes overall, but given early reviews and the thirst for a female lead in a film like this, it seems like a definite possibility.
"It's a very exciting time no matter what happens with box office numbers! We're all winning," says Vanessa Marshall.
It's hard to argue with that, Wonder Woman.