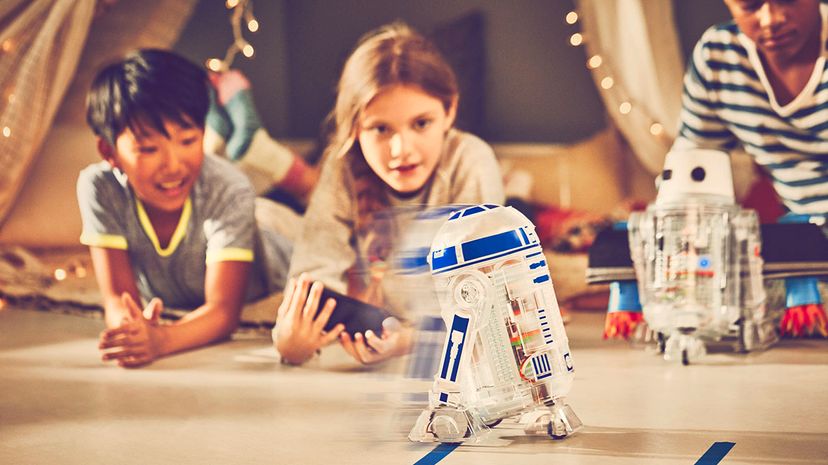 "Star Wars" characters have always been tinkerers, building and customizing their own things. Whether that's Luke cleaning droids and souping up his T-16 skyhopper, Anakin building his own droid and podracer, or Rey being an inventor and tinkerer in her own right, kids look up to these characters. In their own way, Rey, Luke and Anakin are modeling how cool science, technology, engineering and mathematics can be.
Offscreen, one company is trying to marry "Star Wars" and STEM, too. That company is called littleBits, and it sells kits full of modular parts so kids can make whatever they want, whether it's a music synthesizer, a room alarm or ... a droid. Yep, to make that last one, kids (of all ages) can buy the newly available "Droid Inventors Kit," a "Star Wars" droid that you can build, customize and program.
Although it might look just like a transparent R2-D2, it comes with different colored stickers and lights so kids can make a droid of their very own. The accompanying app helps guide droid creation and inspires problem-solving and customization. Add-ons can be purchased so kids can give whatever functionality they want to their droids, whether that means giving R2 the ability to swivel its head or even play music.
Krystal Persaud, the director of product design at littleBits, explains via email that the littleBits community was already using its other modular kits to create "Star Wars" inventions. After all, if the galaxy far, far away was already fuel for their technological tinkering, why not step further into that larger world? Soon, the company was developing a programmable droid in the Disney Accelerator, the Disney partnership incubator for startup technology companies.
"For several months, we had a team embedded on the Disney campus working with the Disney and Lucasfilm teams. We went through many concepts, and many prototypes, and then many hours of user testing with kids from across the country," Persaud says.
The kit launched on "Force Friday," which is the global marketing event Lucasfilm created to support releases for the new film, "The Last Jedi," and is available online and elsewhere for $99.95.
"It's magical," Persaud says of seeing people react to the droid come to life the first time. And that joy, she hopes, will translate into the company's ultimate goal of inspiring more kids to get into STEM.
Thinking of buying one? Check out one young droid builder unboxing the Droid Inventors Kit in the video below.