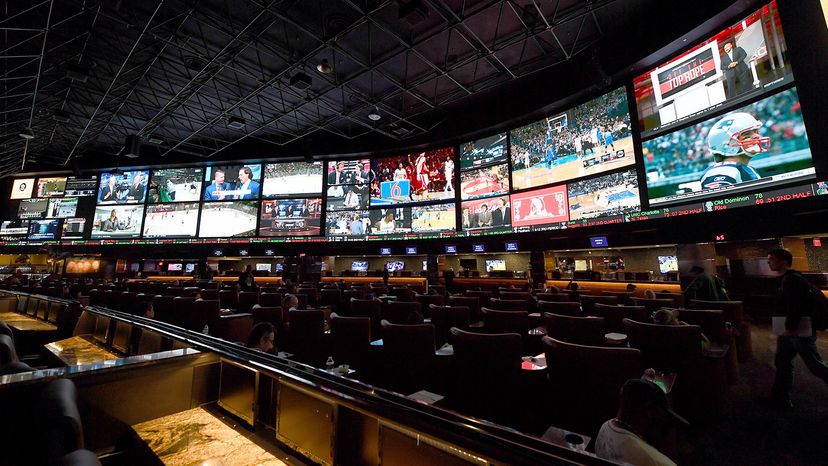 The Race & Sports SuperBook at the Westgate Las Vegas Resort & Casino is packed with gamblers before bets for Super Bowl LI between the Atlanta Falcons and the New England Patriots were posted on Jan. 26, 2017.
Ethan Miller/Getty Images
Much still needs to be hashed out before sports gambling, given a legal blessing on May 14, 2018, by the U.S. Supreme Court, is brought fully out of the black market and into the daylight. With billions of dollars on the table — estimates vary, but $150 billion a year is a good starting point — a lot of people with a lot of different agendas will want a piece of this action.
The states that will mold and implement new sports gambling laws will have their say. The tax collectors will be after their cuts. The casinos and online businesses that will (eventually) take the bets will play a huge part in how a new, legal sports gambling industry is shaped. The sports leagues and, by association, their players will need to weigh in. And of course, the IRS will have its cut.
All will accentuate the positives of the court's decision (more choice for gamblers! more money for everyone!) while, hopefully, bracing for any possible negatives that legal betting on sports might bring. (An uptick in problem gambling? An increase in crime? More pressure on the leagues to keep their games free from fixing?)
These discussions, already taking place in statehouses across the nation, may not be particularly calm or well-measured. That's what happens when so much money is involved.
But with those billions at stake, there's clearly a will. A way won't be far behind.
"I think it's going to depend to some extent on what type of gambling is already legal in each individual state and the perspective of the voters and legislators on gambling," says Doug Walker, a professor of economics at the College of Charleston who specializes in the economics of gambling.
States where games of chance are OK, where big gambling industries already are in place — think Nevada and New Jersey, of course, but include states like Pennsylvania, Louisiana and Illinois — are likely to easily pass sports betting laws, Walker says. Some, in fact, already have laws in place.
Other states such as Georgia or South Carolina may have a more difficult time. "It makes it a little bit more complicated just because it's another type of gambling that states will have to make a decision on," Walker says.
Still, even states not heavily into gambling will be lured by all that money.
Issues to Address
What the Supreme Court did, in early May 2018, was to strike down the Professional and Amateur Sports Protection Act of 1992 (PASPA), which banned commercial sports gambling in most states, now leaving it up to those states to decide on whether to allow betting on pro and amateur sports. PASPA originally was written by Republican Sen. Orrin Hatch of Utah to, as he wrote recently for Sports Illustrated, "insulate athletic organizations from the corrupting influences of sports gambling." More from Hatch in SI:
As the multi-billion dollar gambling industry grows, so too does the likelihood that players will be exposed to bribes, exploitation and other forms of corruption endemic to an environment where sports betting is poorly regulated. Containing this corruption is difficult, not least because a borderless internet makes it all but impossible to enforce state laws across state lines. The rise of fantasy leagues, off-shore websites and online booking have made sports betting opportunities even more prevalent than ever before.
The possibility that the games could be corrupted is something that concerns many, including the sports leagues. The National Basketball Association has floated the idea of culling an "integrity fee" from gambling proceeds. The money would be used to help ensure that NBA games are free from the prying fingers of criminals who would make money off rigged games.
"As the intellectual property creators for this content, our games serve as the foundation for legalized sports betting, providing casinos the ability to earn revenue off our games, while we bear all of the risk that accompanies sports betting and will incur additional expenses to expand our existing compliance and enforcement programs," NBA spokesman Mike Bass told the Associated Press. "As a result, we believe it is reasonable for casinos to compensate the NBA with a small percentage of the total amount bet on our games."
Officials from Major League Baseball and the PGA Tour say their leagues need the integrity fee payments, as well. Others reject that idea — New Jersey state Sen. Steve Sweeney called it "extortion" — highlighting just one of the issues that must be ironed out.
Another concern: It's gambling, and to many in the now wager-happy U.S. — more than 40 states conduct state-sponsored lotteries, and some 43 have casinos — gambling on sports is another step down the road to perdition.
"It's not known to what extent the new availability of gambling creates more problems in terms of more people developing gambling problems," Walker says. "Some people who may be prone to developing a problem may be more likely to do so as a result of [increased availability].
"But the other side of that coin is that there's no real strong evidence that increased availability has led to an increase in the prevalence of problem gambling over the last two decades or so in the U.S.," he adds. "The rates have remained roughly the same. So it's unclear what will happen in that regard."
Groups like the National Council on Problem Gambling will be watching. "The only ethical and economical way to maximize benefits from sports betting is to minimize problem gambling harm," Keith Whyte, NCPG's executive director, said after the ruling. "Therefore, any governmental body and sports league that receives a direct percentage or portion of sports betting revenue must also dedicate funds to prevent and treat gambling problems."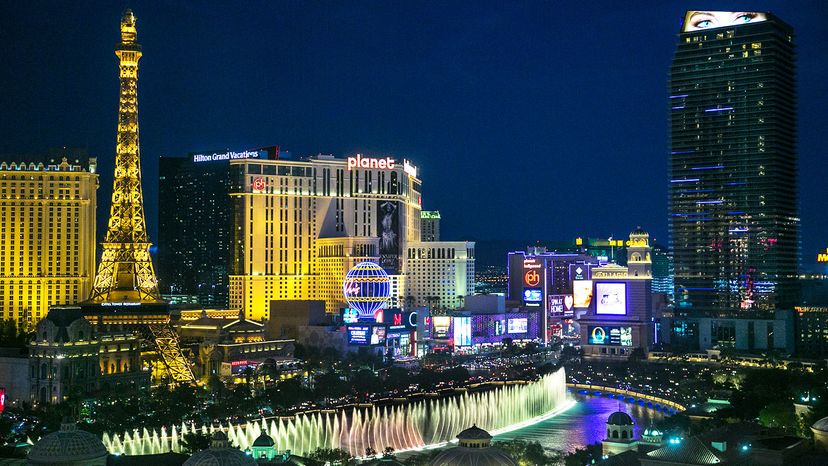 Before the May 2018 SCOTUS ruling, Nevada (specifically Las Vegas) was the only place in the U.S. with legal sports gambling. That has now changed.
George Rose/Getty Images
Crime and Acceptance
The crime rate around gambling has been a source of concern for years. In a seminal 2000 study, Baylor University economist Earl Grinols looked at 20 years of crime statistics around casinos and concluded that "casinos increased all crimes except murder, the crime with the least obvious connection to casinos. Most offenses showed that the impact of casinos on crime increased over time ..."
But no new casinos are expected to be built specifically for legalized sports betting — much of it will take place in "sports books" in already established casinos. Or, if states can work it out to steer clear of interstate commerce laws, the betting will occur online so any effect that legalized sports betting will have on crime (if any) is unknown.
Regardless of any perceived costs, gambling has grown tremendously over the past two decades, becoming more accepted all over the country.
"At the time of the debate over riverboat casinos in the '90s, there was all sorts of debate over what the social cost and the social impact would be, and that society would crumble," Walker says. "I think most places have seen that that really hasn't happened. I think that has been important in kind of changing people's view of gambling in that it's not so taboo or such a vice anymore."
Everybody involved in building a new sports gambling industry will have to consider many other factors, too. Writing laws to keep up with emerging technology, for example, might prove challenging, Walker suggests.
All of it makes for a lot of discussion, a lot of wrangling and a lot of negotiation.
But considering all those billions ...
"I think what remains to be seen is how many people end up participating in it, or is it that most of the bets come from a very small percentage of the population, which is my guess what's more likely to happen," Walker says. "But it's going to be very interesting, for sure."