Position
: Manager
Team
: Los Angeles Dodgers, 1976-1996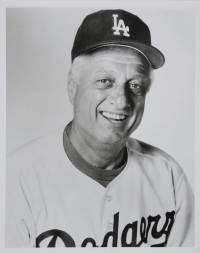 Tommy Lasorda led the L.A. Dodgers to
six divisional titles, four pennants, and
two world championships.
In a time when free agents seemed to buzz from team to team like so many bees, and managers lasted from whim to whim, Tommy Lasorda was a model of consistent loyalty. A 35-year member of the Dodger organization, he probably wasn't kidding when he said (as he said often), "I bleed Dodger blue."
For 21 of those 35 years, Lasorda was the Dodgers manager. During his tenure his team took six divisional titles, four pennants, and two world championships. It somehow isn't surprising that the men who set the record for the longest time one infield played together (Steve Garvey, Davey Lopes, Bill Russell, and Ron Cey) all played under Lasorda in the minors and majors.
Thomas Charles Lasorda was born in 1927 in Norristown, Pennsylvania. Signed as a lefty pitcher by the Phillies organization, Lasorda was in his second professional season when he struck out 25 men and walked 12 in a 15-inning game. The Dodgers saw something they liked and picked him up.
Lasorda made just two brief stops in the bigs in 1954 and 1955. On May 5, 1955, he threw three wild pitches in one inning, claiming a share of the all-time record. Lasorda was farmed out because the Dodgers had to keep bonus-baby Sandy Koufax on their roster. Lasorda compiled 127 wins in 15 minor-league seasons, including a 98-49 record over nine years with the Dodgers' top farm club in Montreal.
After being cut from the playing ranks in 1960, Lasorda served as a Dodgers scout for five years, then took over the managerial reins of the Pocatello farm club. Over the ensuing eight seasons Lasorda moved up in the organization, only once finishing as low as third place in his league. He became the Dodgers third base coach in 1973, and in late September 1976, when Walter Alston retired, Lasorda stepped up to the skipper's role.
He proceeded to win pennants his first two years at the helm, the first National League manager ever to achieve that, although his teams were dumped by the Yankees in both the 1977 and '78 World Series. Lasorda got revenge in 1981, when his Dodgers toppled the Yanks in the fall classic. After division titles in 1983 and 1985 (but no pennants), Lasorda's sweetest world championship came in 1988, with a team that ran on guile and guts and whipped the vaunted Oakland Athletics.
As a manager, Lasorda was an irrepressible cheerleader -- noisy, profane, and full of love for his players. Of all the men elected to the Hall as managers, only Clark Griffith, Rube Foster, and Lasorda were pitchers during their playing days. Lasorda was voted in to the Hall of Fame in 1997, his first year of eligibility.
Here are Tommy Lasorda's major league managing totals:
| | | | |
| --- | --- | --- | --- |
| W | L | PCT | G |
| 1,599 | 1,439 | .526 | 3,040 |
See more information on the Baseball Hall of Fame:
See the players in the Baseball Hall of Fame by position:
See the members of the Baseball Hall of Fame by team: