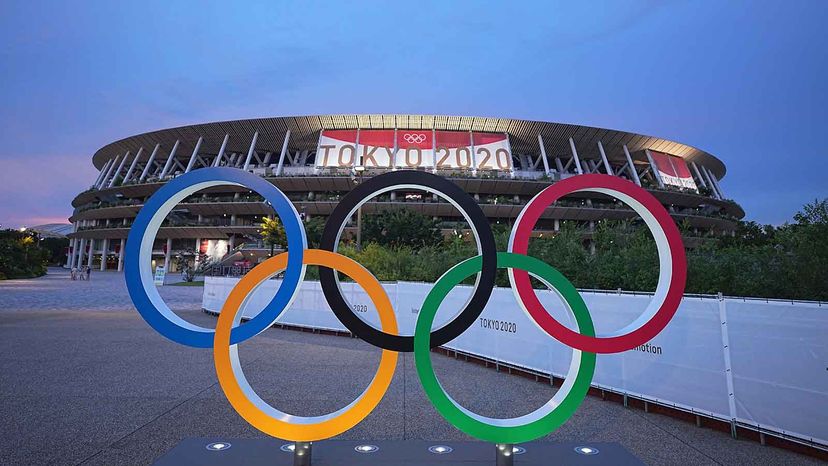 After being delayed a year because of the COVID-19 pandemic, the Tokyo 2020 Olympics are set to begin Friday July 23, but not without a lot of restrictions.
Michael Kappeler/picture alliance via Getty Images
While the "thrill of victory and the agony of defeat" will still be on full display during the Tokyo Olympics, which are set to open July 23, there will be no fans in the stands cheering on the competitors, no handshakes from officials and no hugs from family members, a blow to athletes who've worked all their lives to get to this point.
Between rising cases of COVID-19 in the city, and now positive cases among newly arrived athletes in Japan, restrictions during the Tokyo Olympic Games serve as a stark reminder that these games are proceeding during a global pandemic. They're also going forward against the advice of many members of the medical community, including 6,000 Tokyo doctors and against the wishes of the majority of the Japanese public (78 percent according to a recent Ipsos Global Advisor poll).
So, what are some of the differences spectators may see or hear about when they watch the Tokyo Olympics in the coming weeks?
Changes for the Athletes
The Olympic athletes (about 11,500 strong and 80 percent vaccinated) are bearing the brunt of the restrictions, which require them to undergo daily saliva COVID-19 testing and temperature checks. They're also required to wear masks at all times and practice physical distancing. Athletes that break the rules face penalties ranging from disqualification to fines. But what else will be different for the athletes?
They must clap for their teammates and fellow Olympians rather than yell, sing or cheer for them.

Athletes can only leave the Olympic Village (or their pre-certified self-arranged accommodations, such as a hotel) to go to their official sports venue — and they're not allowed to use public transportation.
Unlike past Olympics, athletes are barred from sightseeing, clubbing and mingling with the Japanese locals.
The traditional and much-anticipated Parade of Nations that kicks off the games during the Opening Ceremonies will not take place in the manner of past years (more on that below).
In another nod to COVID-19 protocols, the medal ceremony was redesigned. Medals will be laid on trays by persons wearing disinfected gloves. The trays will be presented to the winning athletes who will take the medal from the tray and place it around their own necks. No handshakes, no hugs. And presumably no huge bouquets of flowers from adorable local children.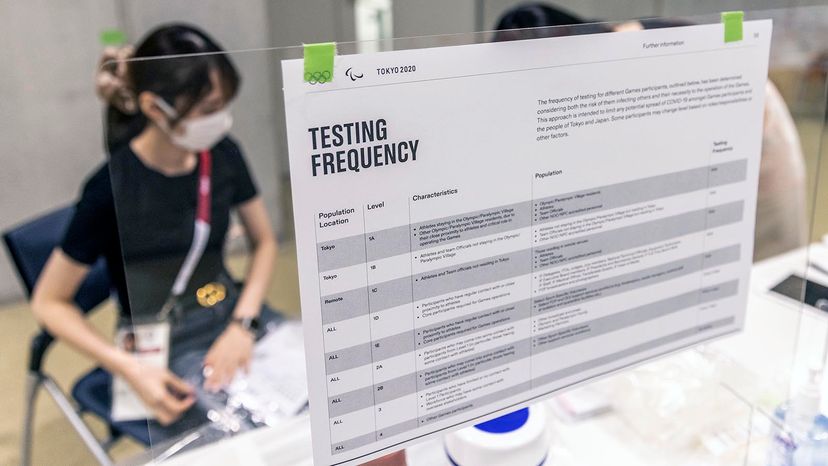 Olympic athletes will be required to give daily saliva samples for COVID-19 testing at collection centers like this one at the IBC/MPC Tokyo International Exhibition Centre.
Maja Hitij/Getty Images
Strict COVID-19 Protocols
The question of fans in the stands in Tokyo was always going to be problematic, especially at indoor venues. Japan still hasn't opened its borders to international travelers so there were never going to be foreign fans (tickets were refunded), but there were hopes for a limited number of local fans, capped at 10,000 or 50 percent of the venue's capacity.
That was squashed when organizers banned spectators from all venues July 8 and days later (July 12) when Tokyo entered a state of emergency. Instead, recorded cheering from previous Olympics will be fed into an immersive sound system and some athletes will be connected to their families, friends and supporters after their event via video screens.
So what happens if an athlete comes in close contact with someone who tests positive for the coronavirus? (Close contact is defined as at least 15 minutes, unmasked, within 3.2 feet (1 meter) of another athlete or person who tests positive, from two days before the person's symptoms.) Those athletes must isolate, and to be allowed to return to competition, the close contact has to have negative results on daily nasal COVID-19 tests, and is required to receive a "positive assessment of their medical situation" from Japanese health officials.
What if athletes test positive? Several have already tested positive within the Olympic Village, including U.S. gymnast Kara Eaker, U.S. Olympic 3x3 women's basketball team member Katie Lou Samuelson, Czech beach volleyball player Ondřej Perušič and two South African men's soccer players. Those athletes won't be disqualified, but they must begin isolation immediately and Japanese health authorities will determine for how long.
All of these COVID concerns means no one really knows what the Parade of Nations during the Opening Ceremonies will look like or how many athletes and officials will be involved. But the marching order will be determined by each country's Japanese-language names and Japan's "fifty-sound" phonetic order, rather than their English names according to the Kyodo News. Athletes at Japan's past three Olympics marched according to the English alphabetical order.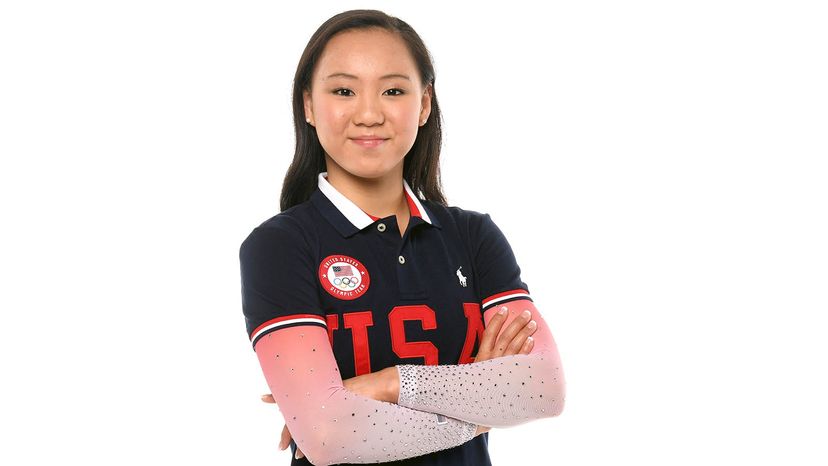 Team USA gymnast Kara Eaker tested positive for coronavirus Sunday, July 18, after arriving in Japan. Eaker was vaccinated and was an alternate on Team USA. She will have to isolate in a hotel for 10 days before being allowed to return to the United States.
Harry How/Getty Images
Green Is Good
Hey, it's not all bad news; Tokyo 2020 has a lot of things going in its favor. These games aim to be the "greenest ever" Olympics, powered by renewable energy and hyping the use of recycled materials in all sorts of unexpected places.
Case in point: athlete's beds. You're an elite athlete and you open the door to your room at the Olympic Village to find a cardboard bed? That's right the athletes are sleeping on fully recyclable beds made of cardboard, designed to withstand weights of up to 440 pounds (220 kg). Likewise, the mattresses are made of recyclable materials.
But there's a lot of other cool eco-conscious efforts to applaud in Tokyo:
Tokyo 2020 (or 2021 if you prefer) is not the Olympics anyone expected — not the athletes, not the fans and not the beautiful host nation of Japan. But it's sure to be one we will never forget.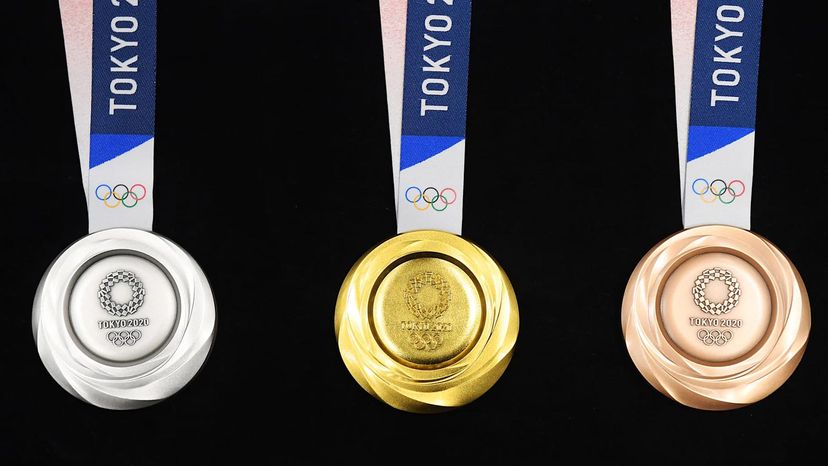 The Tokyo Olympic medals were made of precious metals recycled from more than 6.2 million discarded mobile phones.
Tokyo Olympics