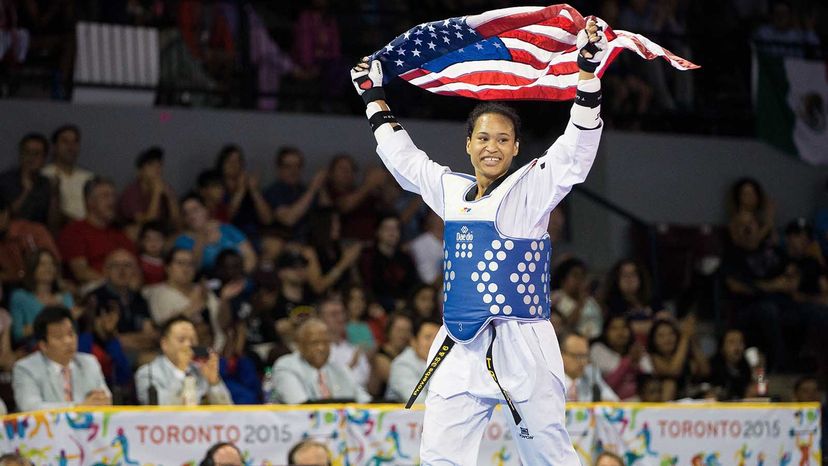 Paige McPherson of Team USA Taekwondo, celebrates her victory over Victoria Heredia of Mexico in the gold medal match at the 2015 Pan American Games in Toronto, Canada. McPherson will compete in Tokyo after the games were delayed a year because of the COVID-19 pandemic.
GEOFF ROBINS/AFP via Getty Images
Part of being an Olympic athlete — a sizable part, in fact — is an ability to persevere. Through years and years of tedious training. Through painful, sometimes debilitating injuries. Through relentless competition. Through criticism and self-doubt that, even among the most disciplined of athletes, inevitably worms its way into the psyche.
And add this to that already daunting list of challenges to overcome, something entirely new in Olympic history: a global pandemic. Being able to fight through the COVID-19 disaster of 2020-21 — something that threatened to take all that ridiculously hard work, all those years of sweating and dreaming and doubting, and crush them beyond repair — stands as maybe the ultimate athletic example of rising above it all.
When Paige McPherson competes later this month at the Tokyo Olympic Games, she will become just one of about 10,000 athletes vying for a medal on the biggest of international stages during the tail end of a pandemic that has killed millions across the globe. Every one of those athletes is perseverance personified.
"I would say March all the way through July [of 2020], it was a rocky road. I remember thinking, 'Man I should be in Tokyo right now,'" says McPherson, a 5-foot-8, 140-pound (1.7-meter, 63-kilogram) welterweight (under 67 kilogram class) who will become the first American woman to compete in three Olympic Games in the sport of taekwondo. "The beautiful thing is, we're athletes. We've learned to adapt, no matter how challenging it is. We just reset our mindsets and prepared for next year."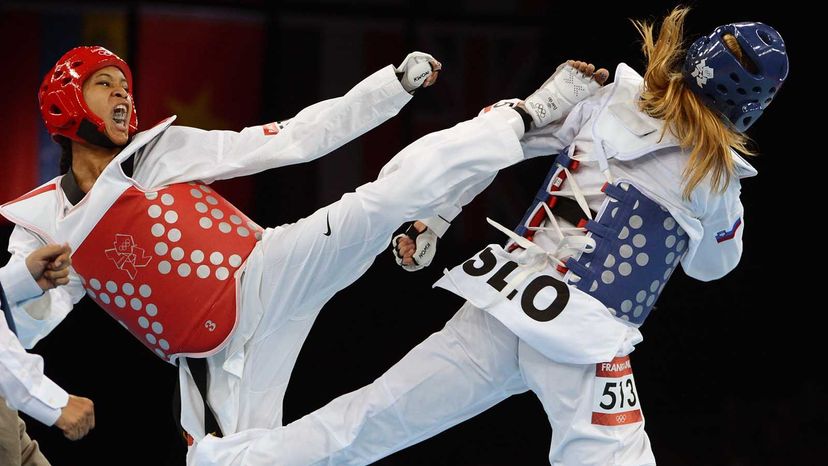 Paige McPherson (red) beat Slovenia's Franka Anic (blue) to win the bronze medal in the women's taekwondo under 67 kilogram class in the London 2012 Olympic games. She hopes to repeat and get on the podium again in Tokyo.
TOSHIFUMI KITAMURA/AFP via Getty Images
The Rocky Road to Tokyo
No matter how breezy McPherson may make the effort sound, she'll admit it was anything but. She was in Europe for a series of competitions in March 2020 when her world — it turned out to be everybody's world — changed almost overnight.
"They heard about this virus, COVID-19, much faster over there. Nobody was in the streets. They started putting up protocols, what you could and couldn't do. They even canceled the competition. So here I was in Belgium, stranded, and then President Trump said, 'We're closing the border,' and you have like 48 hours to get back into the U.S.," says McPherson. "My return flight was in, like, five days. I was not gonna make it."
After a few panicked calls to the USA Taekwondo Federation and some behind-the-scenes string-pulling, McPherson — who carries the nickname "McFierce" — muscled her way onto one of the last planes from Europe, filled with Americans streaking back to the U.S. before the pandemic's full wrath descended.
In the next weeks, it began to dawn on McPherson (and athletes all around the globe) that the Tokyo Olympics, originally scheduled for July 2020, were in real danger of being postponed or, possibly, canceled altogether. Olympics have been boycotted before in political snits. They've been canceled (once during World War I, and twice during World War II). But they never had been postponed.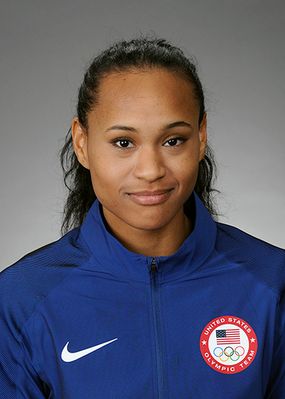 Paige McPherson will become the first American woman to compete in three Olympic Games in the sport of taekwondo.
BOB LONG/Team USA
Training an Additional Year
Early in the pandemic, talk circulated of pushing the games back two years, to the summer of 2022. For McPherson, a 30-year-old in a young person's sport with an eye toward a career after competition, that probably would have been the death knell for her Olympic dreams.
"Had they postponed it for two years, I probably would have said, 'Yeah, I can't do that.' Physically, mentally and just the way I was slowly transitioning out of my sport ... I just couldn't put my life on hold," McPherson says from outside the gym where she trains in Miami. "So when they suggested 2021, I was like 'Ahhh. So close, but so far.' For an athlete, in any sport, a year is a long time."
When the final decision came down from the International Olympic Committee to postpone the Games for just a year, until July 2021 — Opening Ceremonies are scheduled for July 23, and the Games are scheduled to close Aug. 8 — the news came first as a relief to McPherson, and then as a wake-up call. She already had used the break from competition to heal from some nagging injuries and to continue to work on her body.
As the summer of 2020 rolled into the winter, and minding the restrictions of social distancing and self-isolation, she began to spar with her roommate in Miami, Mexico's Briseida Acosta Balarezo, and the two women's coach, two-time Olympic silver medalist in taekwondo Juan Miguel Moreno.
For many more visible athletes — American swimmer Ryan Lochte, gymnast Laurie Hernandez, sprinter Sha'Carri Richardson and distance runner Shelby Houlihan among them — the extra year of waiting proved to be too much. Some were sidelined by injuries that might have been avoided otherwise. Some had other issues. Some, as is eventually the case with every Olympian, just aged out, making way for the younger and lesser known.
McPherson, as one of the Top 6 fighters in her class in the world, was assured of her spot in the Games if she could make it there. But then she damaged the meniscus in her right knee toward the end of 2020, another threat to Tokyo. She had a quick surgery, which kept her out of training for months earlier this year. But by May or so, she was back in the gym. She now declares herself 100 percent fit for the Games.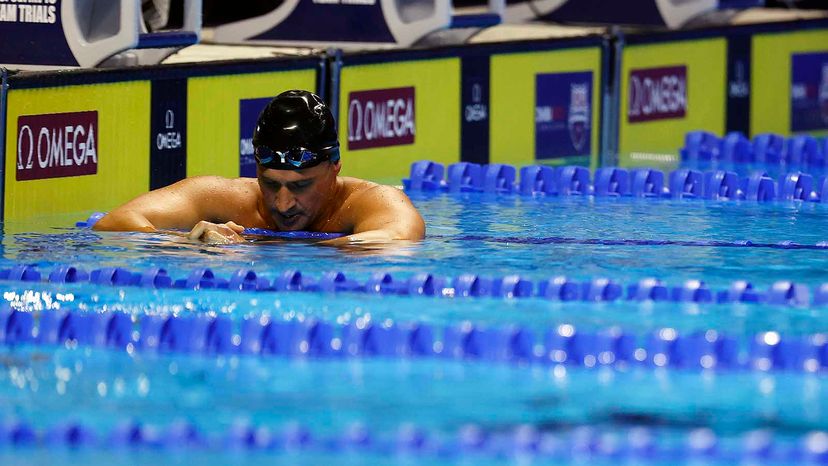 Ryan Lochte of the United States reacts after he falls short of making the 2021 U.S. Olympic Team in the men's 200 meter individual medley at the 2021 Olympic trials. Lochte has 12 time Olympic medals, holds four world records and is considered to be one of the best swimmers in the world.
Al Bello/Getty Images
What Lies Ahead
McPherson may be typical of this year's Olympians in fighting through the pandemic to make it to Tokyo. But she is far from your typical taekwondo athlete. She is among the older athletes in her sport. She is also tall and rangy in a specialty that often favors the smaller and sturdier — the better to absorb and fend off the spinning kicks and strikes that are at the essence of the Olympic version of the sport.
Taekwondo is a relatively recent martial arts discipline, a Korean invention born of Japanese influences that include karate, judo and kung fu. True taekwondoists or taekwondoins — some pronounce the sport TAY-kwon-dough, though McPherson says TIE-kwon-dough — believe taekwondo more a way of life than mere sport.
The sport of taekwondo first appeared in the Olympics in 2000. McPherson — whose fascinating backstory includes her birth in Abilene, Texas, an adoption days later in Sturgis, South Dakota, and reuniting with her birth mother for the first time just last month — made her Olympic debut in London in 2012, walking away with a bronze medal as a 21-year-old.
Another part of what motivates her for Tokyo is what happened in Rio de Janeiro in 2016. Supposedly at the top of her game, coming off her bronze in the London Olympics, McPherson lost in her first match in Brazil, failing to reach the podium at all.
The memory of what it took to medal in 2012, the disappointment of 2016, the uncertainty of the past year and a half, and knowing that Tokyo will be her last Games — she plans to pursue a career in physical therapy soon after — all have helped to prepare her for this Olympics.
Like most of the athletes who will be in Tokyo, because of COVID-19 precautions, McPherson won't be able to take part in the Opening Ceremonies. She'll fly home before the Games end. Her interaction with anyone outside her immediate circle while she's in Japan will be severely limited. Tokyo won't be, outside of the competition, the same Olympics experience that she enjoyed in London and Rio. She admits to being disappointed in that.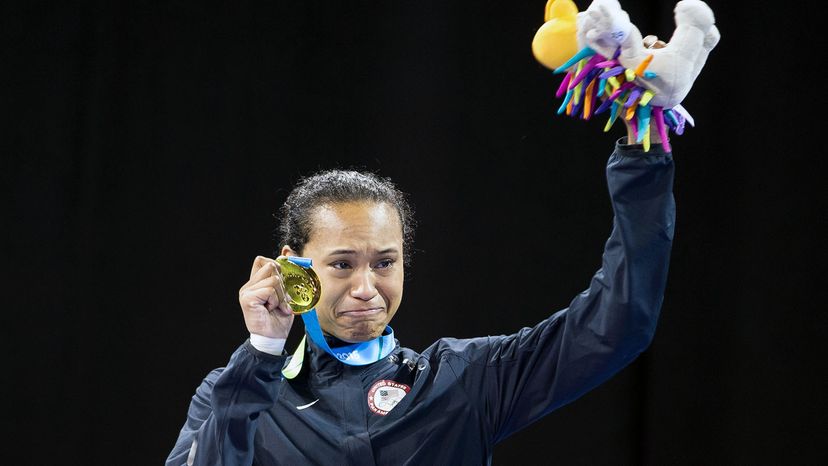 A tearful Paige McPherson celebrates her gold medal for the women's taekwondo under 67 kilogram class at the 2015 Pan American Games in Toronto, Canada. She hopes to win gold in Tokyo.
GEOFF ROBINS/AFP via Getty Images
For Some Tokyo Is the Last Chance
But Tokyo does provide a final opportunity to compete in a sport that she's been involved in since she was a pre-teen, something that has opened doors to her all over the world, and something that has taught her how to handle both the highs and lows that come with every athlete's life. With every life.
McFierce is ready for this last chance, one that almost eluded her.
"You know, one of the very first questions people ask me when they realize that I'm going to the Olympics, they say, 'Are you excited?'" McPherson says. "My subconscious answer is, 'Yeah, I am.' I am excited for the Olympics. But I also understand what it takes to get to the Olympics, what it takes to medal. What happens if you don't medal ... All of the pressure, the disappointment, that comes with a loss.
"So being here the third time, I know what I need to do, what I'm capable of doing. But at the same time, I've also learned that, this is mine, for me and my family and friends, my close circle. I'm excited for them."