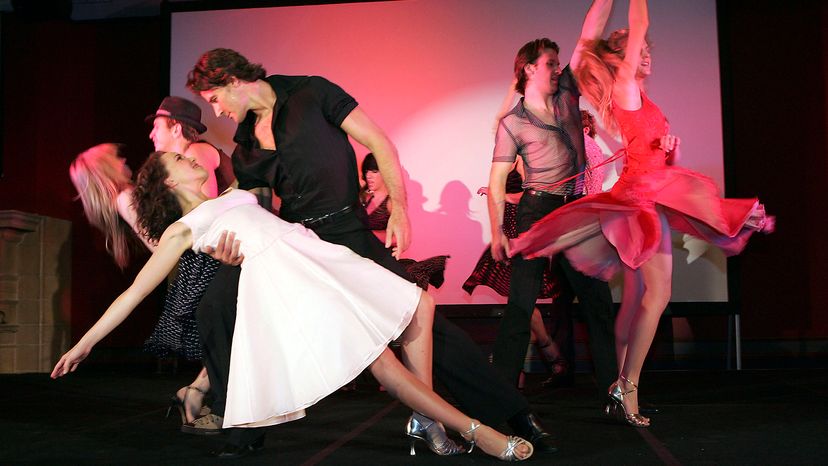 Image: Patrick Riviere/Getty Images
About This Quiz
The timeless cult classic 'Dirty Dancing' has captivated audiences for decades now, with no signs of slowing down. Don't be a baby in the corner. Take the quiz!
Which '80s heartthrob turned down the part of Johnny Castle?
There's a lot of gossip that Kilmer turned down the part, but screenwriter Eleanor Bergstein adamantly claims that no one other than Swayze was ever seriously considered. His background as a trained dancer, coupled with his stunning good looks, were simply too much to pass on.
Which film was the song "She's Like the Wind" originally intended for?
It's hard to imagine the Swayze hit on any other soundtrack, but he co-wrote it originally for the Jamie Lee Curtis car-racing film "Grandview U.S.A."
Which late-night comic inspired a rerelease of the film in 1997?
O'Brien, who eventually admitted that he's not even a big fan of the film, spurred a big-screen rerelease of the film when he asked viewers to campaign for it.
Which "Dirty Dancing" actor died far too young of a heroin overdose?
Cantor's career and life were cut short in 1991 when the actor died of a heroin overdose at age 32.
What was the movie's alternate title?
"Secrets of the Catskills"
"I Was a Teenage Mambo Queen"
There was some confusion over the film's title, with some snafus because people thought it was an "adult" movie. At one point, it looked like the name might be changed, and the alternate title was inspired by screenwriter Bergstein's participation in mambo competitions when she was younger.
Which scene was complete improv?
when Baby carries a watermelon
when Baby is ticklish and Johnny gets annoyed about it
Jennifer Grey's ticklishness was annoying to Swayze at the end of a long day of filming, but it was salvaged from the cutting-room floor when they both loved it.
when Baby fails the lift and starts doing other choreography to cover
Which virtually unknown actor's career was launched by "Dirty Dancing"?
Although he'd long pounded the Hollywood pavement, Knight's big break came with "Dirty Dancing," which led to his casting as Newman on "Seinfeld."
Jerry Orbach (Mr. Houseman)
Lonny Price (Neil Kellerman)
What was NOT a challenge of filming?
making the set look summer-like
the chilly conditions in the lake during the "lift" scenes
working all night long to avoid tourists staying on the resort property
Although the story took place in the summer, the movie had to be shot in the fall in Virginia/North Carolina so as to not interfere with tourist season. As a result, tree leaves were spray-painted green for continuity, and there are no closeup shots during the lake scene because the water was so cold that the actors' lips were blue.
Why did Grey take a break from the spotlight after the success of "Dirty Dancing"?
She spent too much time around hard-partying types and was afraid of developing an addiction problem.
She and then-boyfriend Matthew Broderick were involved in a serious car accident.
While vacationing in Northern Ireland following the release of the film, Broderick was convicted of reckless driving when the couple's car left its lane and hit another car head-on. Two people died, and Grey has said that the survivor's guilt was too difficult to reconcile with her growing stardom.
She didn't want to stop acting, but she was typecast by the famous part.
Who was originally cast in the role of the thieving Mrs. Schumacher?
Renowned sex therapist Dr. Ruth originally signed on to play Mrs. Schumacher but backed out when she discovered that her character was a thief.
Patrick Riviere/Getty Images