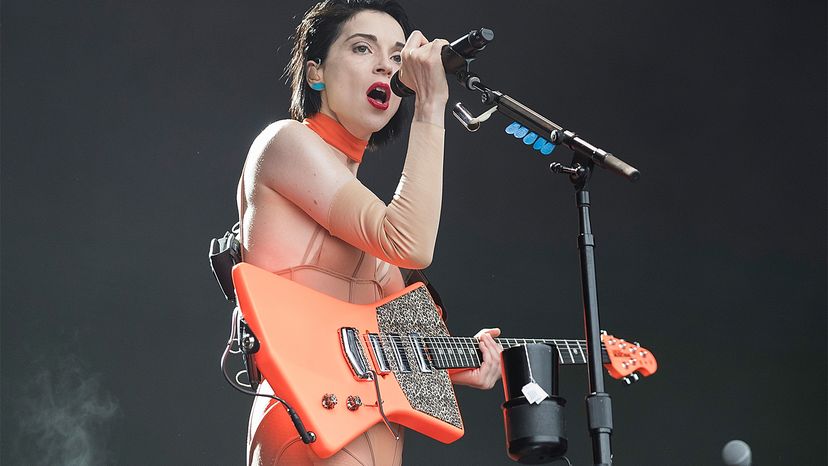 St. Vincent has taken on a sort of mythical status in the indie music world. Maybe it's because she was the first woman to win a Grammy for Best Alternative Album in two decades. Perhaps it's thanks to that superbly weird collaboration with the Talking Heads' David Byrne. Or maybe it's just that the woman formerly known as Anne Clark has a unique way of melding guitars and pianos with trumpets, flutes, saxophones and other instruments to create a mash up of electropop, shoegazing and jazz.
Whatever the reason, St. Vincent's indelible approach to music is likely to help shape artists for generations to come. Now, her turn at designing instruments may also make it easier for the next generation of women rockers to shred.
Clark recently partnered with the guitar makers at Ernie Ball Music Man to design her own signature six string. The plug-in electric guitar is meant to be an ergonomic alternative to popular instruments, especially for women. It features a lightweight African mahogany body and premium roasted maple neck with St. Vincent signature custom inlays with a rosewood, ebony or maple fretboard. The lighter body and higher neck make the guitar easier to play while sitting down or standing.
"There's room for a breast. Or two," St. Vincent said in a promo video for the guitar. That led many music fans to assume that the St. Vincent guitar was specifically designed for women. But St. Vincent has since made clear that this axe wasn't necessarily crafted just for the ladies. Jack White and Beck are among the artists who have strapped on the St. Vincent guitar for live performances.