Pop Warner football has been around since 1929, when founder Joseph J. Tomlin established a small youth football league in Philadelphia to keep neighborhood kids out of trouble. The league has grown to over 400,000 participants in all 50 states, plus teams in Mexico and Canada [source: Pop Warner]. The annual Pop Warner Super Bowl is played at Disney World and broadcast on ESPN.
Pop Warner football -- named after legendary college football coach Glenn Scobey "Pop" Warner -- has always emphasized success on and off the field. Kids ages 5 through 16 must maintain a 2.0 grade point average (on a 4.0 scale) or 70 percent (roughly C-) average to play. There are no tryouts, no cuts and everybody plays. The culture breeds dedication, self-discipline and talent: Between 60 and 70 percent of NFL athletes played Pop Warner football as kids [source: Active.com].
In 1983, Pop Warner introduced flag football as a no-tackle option for younger athletes. As of 2004, there were 883 flag football teams nationwide, mostly reserved for players between 5 and 7 years old. Flag football helps kids learn the fundamentals of the game without worrying about pads, helmets and hitting.
Coaching a flag football team can be deeply rewarding, but don't expect it to be easy. Coaching young athletes has its own set of unique challenges: short attention spans, sensitive feelings, difficult parents and more. But as their coach, you have the opportunity to teach important life lessons: the value of hard work, good sportsmanship, risk-taking, and respect for themselves and others.
Follow our five helpful tips to get the most of your flag football coaching experience.
Positive parental involvement is essential to a successful Pop Warner flag football coaching experience. Before the season officially begins, hold a brief parent meeting where you can introduce yourself, explain your coaching philosophy, answer questions and get parents excited about the upcoming season.
Address safety first. According to the U.S. Consumer Product Safety Commission, Pop Warner football has 12 percent fewer injuries per capita than youth soccer [source: Pop Warner]. Inform parents that you won't allow any tackling in practice or games, and ask for their help in reinforcing that rule. Always ask for questions before moving on.
Parents will also be concerned about playing time and positions [source: Schupak]. There are mandatory playing guidelines in all Pop Warner leagues. Since flag football is for the youngest players, emphasize that all players will have the opportunity to contribute significantly during games. Explain that everybody can't play quarterback or running back, but ensure parents that you'll do your best to match each young athlete with the best position.
Emphasize the parents' capacity as role models, especially during games. Encourage them to cheer for both teams, avoid criticizing officials and let the coach do the coaching. Pass around a sign-up sheet and ask for volunteers to help out at practices, and hand out a team roster with phone numbers so parents can arrange car pools.
Flag football should be a fun, positive experience for kids. As a coach, a lot depends on your attitude. For the next tip, we'll explain how to maintain and exhibit a positive, encouraging attitude.
For many kids on your flag football team, this will be their first experience with organized sport, and you'll play an important role in their development of a "winning attitude." People with winning attitudes put the team first and show respect for opposing players, officials and fans. They make mistakes, but they don't dwell on the negative. They play to have fun, not to win trophies. As the coach, the winning attitude starts with you.
The Positive Coaching Alliance (PCA) is a non-profit organization dedicated to "transforming youth sports so sports can transform youth." The PCA talks a lot about filling the "emotional tanks" of young athletes with lots of positive motivation. If a player hears nothing but criticism, it drains his emotional tank, lowering his self-esteem and sapping the fun out of sports. The PCA encourages a "Magic Ratio" of 5:1 -- five positive reinforcements for every correction [source: Positive Coaching Alliance]. Be quick to praise players individually, even for small achievements or improvements.
The PCA also places a strong emphasis on effort and brushing off mistakes. Sports, particularly at this age, should never be solely about winning. Praise kids for effort --even unsuccessful attempts. Encourage them to take risks and make mistakes. The PCA instructs coaches to develop a team mistake ritual -- like "flushing" a mistake or brushing it off -- to push aside negative feelings and keep a positive attitude [source: Positive Coaching Alliance].
Lastly, excitement is contagious. If you're genuinely "up" during practices and games, your team will mirror your energy.
Kids have notoriously short attention spans. The younger the athletes, the more organization required to maintain their attention and focus their energy on the task at hand [source: Y-Coach]. The best way to run a successful Pop Warner flag football practice is to come fully prepared.
Draw up a list of games, drills and activities that you want to accomplish during the practice. Plan each activity to last no more than five minutes. Make sure to include the equipment required for each activity (balls, flags, cones and blindfolds). Carry a stopwatch with an alarm to help you stay on schedule.
Show up 15 minutes early to practice and set up as many activities as possible. Consider recruiting one or more parents to be your assistants. As you move through the practice, they can always be one step ahead of you setting up the next drill. If there's too much lag time between activities, the kids will get distracted and you'll waste time and energy getting them back on course.
When you're planning your practice routine, don't let it become too routine. Mix things up, keep it age appropriate, and most of all, keep it simple.
This is Pop Warner flag football, not the Orange Bowl. The goal is to learn the fundamentals of the game and have a positive, safe playing experience. There's a tendency, especially among former athletes, to coach beyond appropriate age levels. The flag football playbook should consist of no more than five or six offensive plays and two defensive sets -- and none of them should involve the Statue of Liberty.
Remember, some of these kids have never held a football before. Don't be afraid to start at the very beginning. Before you can even think about learning plays, you need to teach them how to throw, catch and run with the football. Teach them the correct way to throw a spiral. Show them how to catch and cradle a ball before they start to run. Teach them the best way to "tackle" an opponent (take their flag) by staying in front of them and grabbing the flag as they try to pass.
Make sure that each player understands the basic rules of the game. What's the line of scrimmage? What's a first down? How many chances do you have to make a first down? Teach them how to avoid common penalties like offside, holding and blocking the flag.
When it's time to run specific offensive and defensive drills, stick to three running plays, three passing plays and two defensive sets (man-to-man and zone). Run each play in slow motion first. When the offense perfects the play in real time, throw in some defenders.
Pop Warner flag football should be fun. Little kids love nothing more than playing, so let them play! Coaches should try to make everything into a game, even when kids are learning the fundamentals. Here are some fun drills that feel more like games to young athletes, courtesy of the Coach Flag Football Web site:
Sharks vs. Minnows -- This is a great game for practicing defense and running offense. Designate an area on the field big enough for the whole team to run around in. Assign one person to be the "shark" and the rest to be "minnows." The shark must pull as many flags from the minnows as possible. Once a minnow loses a flag, he becomes a shark and starts chasing minnows. Play until all minnows become sharks.
Bull in the Ring -- Form a circle with all players an arm's length apart. Pick one player to be the "bull." Call a second player to enter the ring as the "matador." The bull's job is to corner the matador and grab one of his flags. It's another way to practice flag-grabbing and avoidance.
Balloon Toss -- This is a great way to finish a hot summertime practice. Fill a bunch of water balloons and hand them to assistants or parents there to pick up their kids. The object of the game is to be the last one hit with a water balloon. After everyone gets wet, let it become a free-for-all.
For lots more football and coaching articles, follow the links on the next page.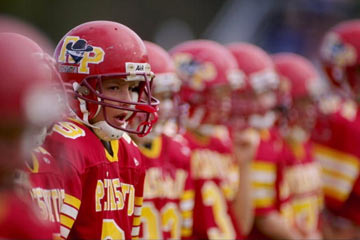 Up Next
This parent's guide to coaching Pop Warner football explains it all. Visit TLC Family to find a parent's guide to coaching Pop Warner football.
---
Related Articles
Sources
Active.com. "10 Fun Facts about Pope Warner Little Scholars"http://www.active.com/football/Articles/10_Fun_Facts_about_Pop_Warner_Little_Scholars.htm

Pop Warner. "Football Overview"http://www.popwarner.com/football/pop.asp

Pop Warner. "History of the Organization"http://www.popwarner.com/aboutus/history.asp

Positive Coaching Alliance. "Double-Goal Coach Job Description"http://www.positivecoach.org/uploadedFiles/Free_Tips_and_Tools/Coaches_Tools/DGC_JobDescription.pdf

Schupak, Marty. "Why Coaches Should Have Parents Meetings" Active.com.http://www.active.com/soccer/Articles/Why_Coaches_Should_Have_a_Parents_Meeting.htm

Y-Coach. "Principles of Youth Coaching"http://www.y-coach.com/principles.html