Glenn "Pop" Warner (1871-1954) was an innovative football coach with a legendary record. Educated as a lawyer, Warner's career never entered the courtroom. Instead, he led football teams at the University of Georgia, Cornell University, the University of Pittsburgh, Stanford and more, developing plays so inventive they are still named for him today. Warner ended his career with a record of 313-106-32, placing him in the company of other coaching greats. Perhaps his biggest accomplishment was the thousands of youth players who learned the game -- and put their energy to positive use -- as part of Pop Warner Little Scholars, a non-profit organization with teams across the country. The cast of former Pop Warner players may surprise you, especially these 10. See who they are, beginning on the next page.
In 2002 Ethan Zohn spent 39 days on the savanna to win reality television show "Survivor: Africa" -- and its million-dollar purse. Long before he was the last one standing, however, Zohn played Pop Warner football. From the fifth through seventh grades he was a running back and defensive back, but still wonders if he should have stuck to playing offense. In year three, he made a tackle that broke his collarbone. Despite his injury, he finished the game before heading to the hospital. That dedication came in handy as an adult, when Zohn played professional soccer, then successfully battled hunger and herds of hoofed animals while being filmed for reality TV. Today, he runs Grassroot Soccer, a non-profit organization he founded to train well-known soccer players to educate at-risk African youth about HIV and AIDS.
Former Miami Dolphins owner Joe Robbie pulled off a complex series of maneuvers to become one of the first sports' franchise owners to put a team in a privately owned arena. His own personal Parthenon came to fruition in the late 1980s, financed with a combination of optimism and scores of his own money. Known then as Joe Robbie Stadium, the gargantuan open-air arena ended years of rent squabbles with the city of Miami and brought Super Bowl play back to the Sunshine State. It seemed only fitting, because in 1972, the Dolphins wrapped up the only perfect 17-0 season in NFL history, capping the achievement with a Super Bowl win. Perhaps his inspiration came as a young boy enjoying simpler times -- namely, the joy of suiting up for a Pop Warner football team.
Pop Warner is more than football. The organization also hosts cheerleading and dance teams. Singer Mandy Moore -- who turned 26 in 2010 -- was a Pop Warner cheerleader for several years in Orlando, Fla. She recently released "Amanda Leigh," a new album featuring her real name and a slew of soulful songs. This musical comeback doesn't represent her only passion; Moore has starred in a number of films and made guest appearances on several television shows. In 2001, she also made a memorable feature film debut when she played a mean cheerleader in "The Princess Diaries." Her proclivity for cheer moves may have been due to her real-life experience as a Pop Warner cheerleader. But we're certain the sunny, sweet-natured Moore wasn't type cast.
Not every kid who plays Pop Warner football makes a career out of the sport, but Paul Tagliabue did -- just not in uniform. While the NFL Players' Association contends up to 70 percent of its current players got their start playing Pop Warner, Tagliabue took a different route. An attorney by trade, he was NFL commissioner from 1989 to 2006, where he secured multi-billion dollar television contracts, established a global expansion plan and negotiated player salary caps with impassioned speeches. In 2010, he was tagged as an adviser for the Big East athletic conference, in addition to his ongoing appointments with the Georgetown University board of directors and U.S. Olympic Committee. And, he's in good company: Pop Warner alumni have accomplished some pretty astute feats.
Any child of the 80s can probably launch into an effortless recitation of Bon Jovi lyrics, but here's a surprising fact that even die-hard fans don't know: Jon Bon Jovi once suited up for a Pop Warner youth football team. Admittedly too scrappy to do much defensive damage, Bon Jovi spent a lot of time on the bench livin' on a prayer for a second-string miracle. The lack of playing time didn't dampen his love the game, though. When he's not touring, his Sunday ritual centers on ESPN football coverage, bolstered by a lifelong drive to collect football memorabilia -- much of it given to him personally by players and coaches whom he considers among his closest friends. In fact, the song "Bounce" from the band's latest album is dedicated to Bill Belichick, New England Patriots' head coach.
Native American Jim Thorpe (1887-1953) was arguably one of the greatest all-around athletes of the 20th century. Born into a farm family in Prague, Okla., he exhibited a range of skills in a variety of sports, including football. In fact, Pop Warner, who coached Thorpe during his Carlisle College days, was one of the first to recognize his rare talents. Thorpe went on to compete in the 1912 Olympics, where he won two gold medals in track and field events, which were later rescinded because he'd jeopardized his amateur status by previously playing semi-professional baseball (The medals were returned posthumously in the 1980s). Thorpe also played as a member of six different professional football teams. And, like Warner, Thorpe's influence changed the course of football. He was instrumental in forming the American Professional Football Association, which later became the NFL.
Harlem-born Sean John Combs, who later dubbed himself "Puff Daddy," "P. Diddy" and finally, "Diddy," wears a lot of hats: rapper, songwriter, dancer, movie and music producer, restaurateur, clothing designer and actor. Now he wants to add another lid to his collection -- that of NFL football team owner. While Combs (who is worth an estimated $380 million) probably has the wherewithal to fund his latest bucket list, we're betting the inspiration came from much earlier experiences. He has been a Pop Warner football coach in Mount Vernon.
Before he retired in 2000, Darrell Waltrip won 84 races and three championships behind the wheel of a stock car. As one of the most decorated race car drivers in the sport's history, it's clear Waltrip knows a little something about winning. So, when he decided to pass along his winning ways as head coach of the Florida-based Pop Warner Ormond Beach Panthers, the players -- and their parents -- were probably all ears. After all, the Owensboro, Ky.-native was the first to reach $10 million in career earnings within his sport, then went on to become a favored -- and outspoken -- commentator, currently for NASCAR on Fox.
This rapper-turned-benefactor is bringing youth football to the masses, releasing a Pop Warner 2.0 version. Snoop Dogg, whose real name is Calvin Broadus, is a former Pop Warner player and high school quarterback. Despite a few well-reported brushes with the law and a slew of stage and television appearances, Dogg managed to become a certified football coach who was deeply involved in leading his sons' football teams. In 2004, he launched a West Coast football youth league, known as Snoop Youth Football League. The league recently expanded to Chicago, where its hallmarks are free football clinics for at-risk children and allowing participation from parents with criminal records.
Unless you're a film fanatic, you probably haven't heard of Jasmine Plummer. But this 11-year-old girl, whose football skills are chronicled in the 2008 film "The Longshots," took the field in a game heard 'round the world. Plummer, from a small town in Illinois, played quarterback for a Pop Warner team that made it all the way to the Pop Warner Super Bowl. In 2003, she became the first girl to lead a PW team to a championship in the league's 61-year history. In addition to having an arm like a cannon and a set of preternaturally developed leadership skills, Plummer set the bar for other girls -- whose league football participation has doubled in the last five years.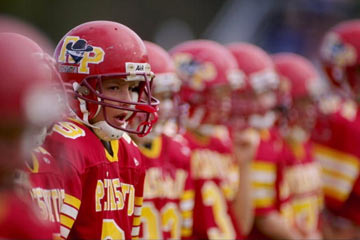 Up Next
This parent's guide to coaching Pop Warner football explains it all. Visit TLC Family to find a parent's guide to coaching Pop Warner football.
---
Related Articles
Sources
Alipour, Sam. "The Gridiron Girl." Active.com. (Oct. 15, 2010) http://www.active.com/football/Articles/The_Gridiron_Girl.htm

Bennett, Brian. "Tagliabue Hired as Special Adviser." ESPN.com. April 22, 2010. (Oct. 15, 2010) http://sports.espn.go.com/ncaa/news/story?id=5122951

Bon Jovi, Jon. "Bon Jovi on Football: It's My Life." Patriots.com. Sept. 2, 2002. (Oct. 15, 2010) http://www.patriots.com/search/index.cfm?ac=searchdetail&pid=3915&pcid=43

CMG Worldwide. "Jim Thorpe: Biography." Cmgww.com. (Oct. 15, 2010) http://www.cmgww.com/sports/thorpe/bio.htm

Covington and Burling LLP. "Paul Tagliabue." COV.com. (Oct. 15, 2010) http://www.cov.com/ptagliabue/

Cunningham, Sean. "Top 10 Celebrity Adventures in Community Service." Esquire.com. Sept. 22, 2009. (Oct. 16, 2010) http://www.esquire.com/the-side/feature/celebrity-jail-sentences-092209

Ezohn.com. "About Ethan Zohn." EZohn.com. (Oct. 15, 2010) http://www.ezohn.com/about/

Field, Bob. "2010 Pop Warner Season Kicks off with a Bang." PopWarner.com. Sept. 8, 2010. http://www.popwarner.com/articles/2010nationwidekickoffblog.asp

Florio, Mike. "Sean Combs says He Wants to Own an NFL Team." NBCsports.com. Oct. 15, 2010. http://profootballtalk.nbcsports.com/2010/10/15/sean-combs-says-he-wants-to-own-an-nfl-team/

Hacienda La Puente Pop Warner. "Pop Warner Alumni." HaciendaLaPuentePopWarner.org(Oct. 15, 2010) http://www.haciendalapuentepopwarner.org/Pop%20Warner%20Alumni.htm

Hampton, Ivanna. "Snoop Dogg to Rush Youth Football League to Chicago." NBCchicago.com. July 21, 2010. (Oct. 15, 2010) http://www.nbcchicago.com/news/local-beat/snoop-dogg-rapper-football-chicago-league-west-coast-98909974.html

Nordheimer, Jon. "Joe Robbie's Success Story." The New York Times. Aug. 16, 1987 (Oct. 15, 2010) http://www.nytimes.com/1987/08/16/sports/joe-robbie-s-success-story.html

Papaserge, Ryan. "NASCAR Hall of Fame: Darrell Waltrip and 10 to Enshrine Next Time." BleacherReport.com. Oct. 18, 2010. http://bleacherreport.com/articles/494041-nascar-hall-of-fame-darrell-waltrip-and-10-candidates-to-be-enshrined-next-time#page/2

The New York Times. "Mandy Moore." NYTimes.com. (Oct. 29, 2010) http://movies.nytimes.com/person/292631/Mandy-Moore/biography

Zohn, Ethan. "Ethan Zohn: Survivor Africa's Sole Survivor." EZohn.com. (Oct. 15, 2010) http://www.ezohn.com/news/passion-for-the-game/