A grown man in pleated shorts, bending over a carpet of mock grass in the shadow of a mock volcano, playing a game designed to be played by bored, sunburned vacationers, is difficult to take seriously.
But that man could be, as many men and women are these days, a professional athlete. In almost every sense of the word.
These players travel to big tournaments. Some, like mini-golf superstar Olivia Prokopova of the Czech Republic, are internationals. All of them are in it for the challenge, the competition, the camaraderie that can be found only among the best of the best.
And, yeah, there's money in it, too. Not enough to quit their day jobs. But enough to make things interesting.
Welcome to the strange, and strangely captivating, world of professional miniature golf. And, for the haters out there, let's get this out of the way first.
Yes. Professional miniature golf is a real thing.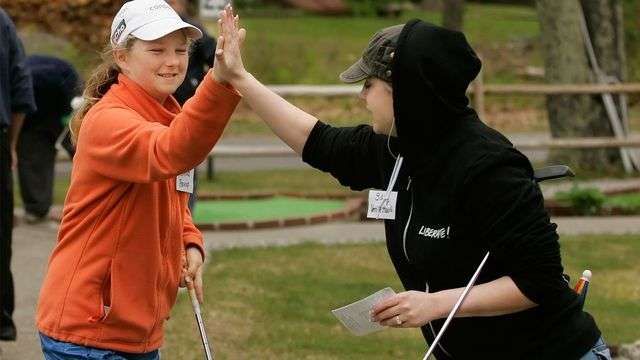 The Real-ish Deal
Professional miniature golf has a worldwide governing body, the World Minigolf Sport Federation, based in Germany. It has a U.S. governing body, too: the US ProMiniGolf Association (USPMGA), based in what could be the miniature golf capital of America — maybe even the world — North Myrtle Beach, South Carolina.
There's the Professional Putters Association (the PPA), too, which was founded in 1959 and is a rival to the USPMGA.
Miniature golf has annual championships. The 56th PPA National Championship was held on a Putt-Putt course (Putt-Putt is a brand name) in Fernandina Beach, Florida, last year, where Joe Lea of Katy, Texas, won with an eight-round score of 197. He took home $10,000.
The USPMGA's big tournament, the Master's National Championship, will celebrate its 20th year this October at the Hawaiian Rumble course in North Myrtle Beach. Matt Male, of Columbus, Ohio, took home the green windbreaker last year — this miniature Master's has to keep it a little different than the real Masters (no apostrophe) and its green jacket, for copyright's sake — and a $4,000 prize (total purse for all winners was $12,000).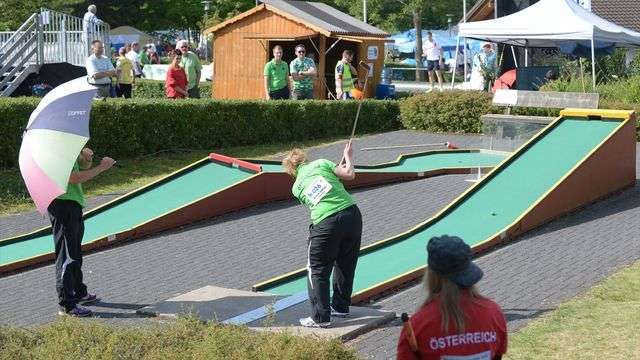 Granted, the whole idea of grown men and women competing in miniature golf — which still fights an often dated image of goofy courses with windmills and clown's mouths — seems a little kitschy.
But quite a few people take it pretty seriously. In 2016, we'd put that number at between 150 and 200 players. That's a rough total of dues paid to both the PPA and the USPMGA for 2016. There's some overlap, and both organizations will pick up some players throughout the year, considering all you need to do to be a pro is pay the dues and a tournament fee on the day of a tournament and you're in.
A Game of Two Faces
"There's two sides to it," says Bob Detwiler, the affable commissioner of the USPMGA and the owner of Hawaiian Rumble. "There's the leisure activity. Mini golf is something you can do as a family. A 2-year-old and an 80-year-old can be out having fun at the same time.
"Then there's the other side — the competition."
Those who regularly spend their time hunched over a putt on these courses — some themed, like Hawaiian Rumble, and many more that are straightforward, like many Putt-Putt courses — know what people think.
"I get a mixed bag of comments," Brad Lebo, a dentist from Pennsylvania who has won more than 100 tournaments in 20-plus years on tours, told The New York Times in 2014. "People I play golf with are either intrigued, or they mock me hysterically."
Still, they travel to courses all over the country and sometimes abroad because ... well, it's clearly not for the money. As silly as they may look — as if real professional golfers represent the epitome of sports fashion — and as disconcerting as it is to play on a course in the American South with a fake volcano and a Hawaiian theme, these players are dedicated to their sport. A look at their scorecards shows it.
Greg Ward, a salesman in construction who many consider the best putter ever, has earned somewhere around $150,000 in his pro putting career. He turned pro in 1982.
Consider Lea's title last year at the PPA Nationals. His final score averaged out to more than 11 strokes under par for every one of the eight rounds. Each hole, as anyone who has ever taken a putter to a Putt-Putt course should know, is a par 2. Which means that Lea averaged at least 11 aces — holes on which he took only one stroke — for each round.
That begs for an answer to this question: If Adam Scott or Jordan Spieth or Lexi Thompson or any other well-known (non-mini) golfer found themselves at Hawaiian Rumble or Putt U Miniature Golf in Center Valley, Pennsylvania — a professional, pristine-looking layout that happens to be the site of the USMPGA's ProMiniGolf US Open in May — how would they fare?
"It's not a joke," Brian Katrek, the lead announcer on the PGA Tour Network on Sirius/XM Satellite Radio, told Sports Illustrated last year during the miniature Master's. "I'm a pretty good putter, and they just kick my ass. I don't know how [PGA Tour pro] Kevin Na would do out here, but I don't think he'd win."
Fighting for a Foothold
This is not easy. Lebo plays in more than 40 tournaments a year. Prokopova, 20, makes the trek to the Master's every year, usually landing weeks before the competition to get the lay of the course. She has sponsors to appease and adoring fans back in the Czech Republic. Heck, she has even had her own line of jackets. Prokopova, who has been coming to the U.S. to putt around for more than a decade, brings an entourage that includes her father, a trainer, an embedded reporter and various other hangers-on.
And for those lesser-knowns — which is to say just about everyone else — playing professionally is often a money-losing proposition. There are annual fees, tournament fees, travel fees and little chance for a big payday. A 15th-place finish or below in the PPA National Championship last year was worth less than $1,000.
Greg Ward, a salesman in construction who many consider the best putter ever, has earned somewhere around $150,000 in his pro putting career. He turned pro in 1982.
Still, there's always hope. Detwiler, who's busy opening yet another course in North Myrtle Beach, has recently installed new "greens" at Hawaiian Rumble. "The carpet that we have is the Rolls Royce of carpet," he says. "[PGA pro] Ernie Els has a putting green in his backyard with this very same carpet. It rolls just like a bent-grass green."
Detwiler hopes to grow the purse for the Master's to $100,000. It was $12,000 last year. And there are talks — at least hopes — of getting some parts of some tournaments broadcast on a major network.
Professional miniature golf may not be big time to everybody just yet. But to the guy in the shorts and sneakers who paid his way into the tournament and is sweating over that 4-foot (1.2-meter) putt? It's the only game that matters.