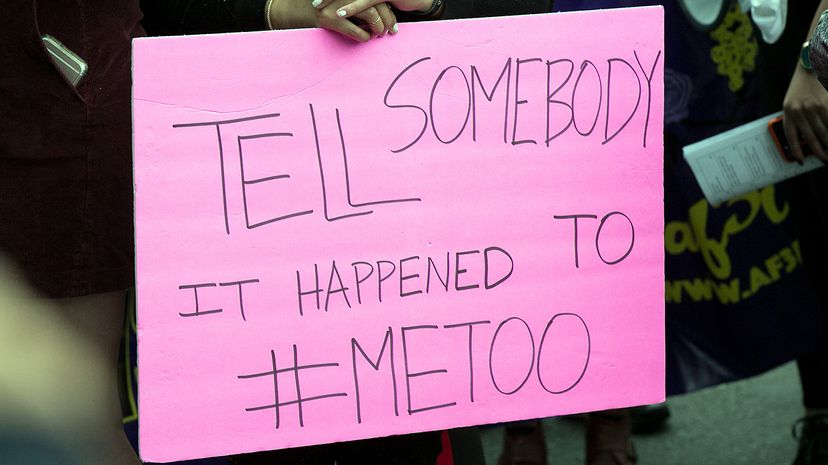 It's impossible to talk about 2017 without discussing the major scandal that came to light late in the year and continues to rock the nation: the downfall of Hollywood producer Harvey Weinstein. Ever since The New York Times broke the story of Weinstein's predatory practices, accusations have mounted against numerous individuals in Tinseltown, sparking an entire #metoo hashtag and movement.
Stuff They Don't Want You To Know's Matt Frederick, Ben Bowlin and Noel Brown examine the coverup perpetuated by some of Hollywood's elite that ultimately led to the protection of sexual predators in the episode "Hollywood's Abuse Epidemic."
Harvey Weinstein, though he was the straw that broke the camel's back, was hardly the first in Hollywood to be accused of sexual harassment: Bill Cosby also faced accusations from dozens of women dating back to the 1960s. The women claim Cosby drugged them and assaulted or attempted to assault them while they were unconscious.
Woody Allen has been accused for years by his daughter Dylan Farrow of sexual abuse, and long-time debate has centered around his controversial marriage to his former adopted stepdaughter Soon-Yi Previn. And director Roman Polanski pleaded guilty in 1979 to raping a 13-year-old girl, though he fled to France before he could be sentenced. Since then, he's been accused of several other sexual assaults against young girls.
In these cases, and many more, The New York Times reported that Hollywood had a network of people in place to help cover up the wrongdoings of these predators — and silence their victims. Allegations against Weinstein go back to the '70s, nearly as far back as Cosby's accusers. Many women have reported that he "punished" them for reporting his unwanted sexual behavior — doing everything from blacklisting them from movie casting to even having them trailed by private investigators.
Once the allegations against Weinstein came to light, more women (and a few men) came forward to accuse more Hollywood A-listers, including Dustin Hoffman, Kevin Spacey and Bryan Singer; comedian Louis C.K.; newscasters Matt Lauer, Tavis Smiley and Charlie Rose; celebrity chefs Mario Batali and John Besh; and even Senator Al Franken of Minnesota.
One thing has been made clear: Sexual abuse permeates every industry. And in many cases, the victims suffer multiple times. First when the abuse occurs, and again when he or she tries to get justice. Various roadblocks, from statutes of limitations to non-disclosure agreements, have kept this behavior an open secret— rumors have swirled about it but have never been fully confirmed. And even when a perpetrator is convicted, they're often given light sentences.
In Hollywood and the media particular, it seems that only when the sexual abusers begin to cost others money are they finally punished; if they continue to be lucrative, people tend to look the other way, regardless of past peccadillos. Case in point: "Jeepers Creepers 3" director Victor Salva, who, despite serving time for rape of a minor boy and possession of child pornography in the 1990s, made his most recent film in 2014 and continues to work in Hollywood.
So where does Hollywood — and all of these other industries — go from here? And will this epidemic of sexual abuse ever really be toppled when so much (so much!) money is in play? You'll have to listen to the podcast to find out more details about these crimes, and their coverups, and see what Matt, Ben and Noel think could spark change, and who they think might be the next icon to fall to #metoo.