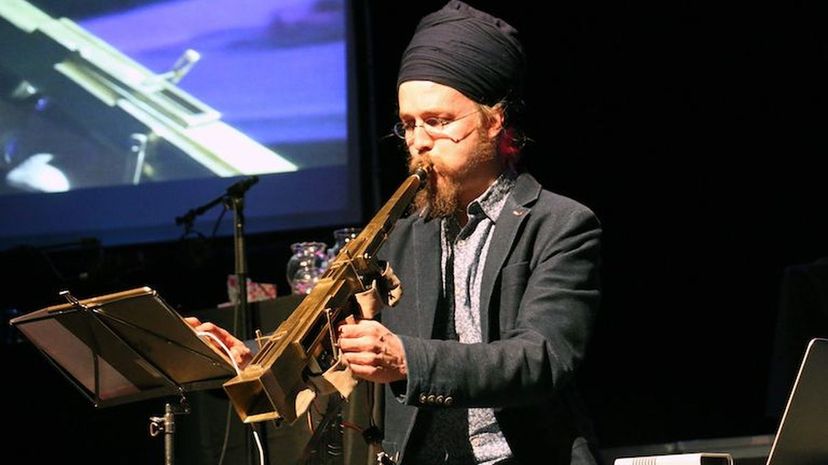 Sax players, listen up. Your woodwind instrument may soon morph into the Infinitone, the 2017 winner of the Margaret Guthman New Musical Instrument Competition. Created by Subhraag Singh of Stuttgart, Germany, the golden, saxophone-like instrument produces an infinite spectrum of tones, which means musicians can produce tunes in all musical intervals.
During his competition performance, otherworldly notes drifted into the air, hung a moment, then disappeared as Singh blew into the golden Infinitone, which features large valves that rhythmically open and shut and a traditional-looking mouthpiece. As first-place winner, Singh received $5,000; he said his funky, futuristic invention has been his life's work. You can see get his performance starting at 1:22:00 in the video below.
Runner-up Takumi Ogata of Ann Arbor, Michigan, took second place for his Rib Cage, an electro-acoustic instrument that can be played with a mallet, a violin bow or a hair comb. The performer plays a tune on the "ribs" and the robotics in the spine listen and react to the user's performance.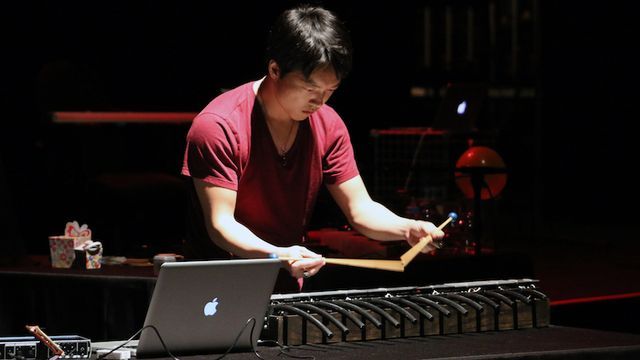 You can see Ogata starting at 54:22 in the video below.
Caleb Byerly of High Point, North Carolina, snagged third for his Salimbaa, perhaps the most traditional of this year's new instruments. Crafted from 36 strings that are stretched across a steel bowl, the musician plays it with slotted-spoon-type mallets and spins the bowl as part of the process. The sound is akin to that of an Asian guitar. (Watch at 27:00 in the video above.)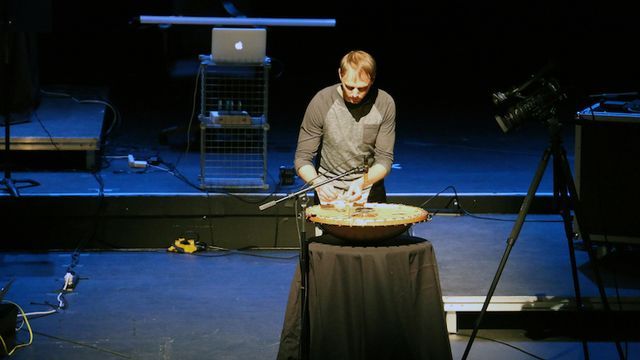 The Guthman competition, sponsored by Atlanta's Georgia Institute of Technology, or Georgia Tech, began in the late 1990s as a keyboard competition centered on jazz piano performances. The contest was established to honor Margaret Guthman, a talented pianist and wife of Georgia Tech alum Richard Guthman, and to support the school's music program. In 2009, the contest morphed into the Margaret Guthman New Musical Instrument Competition, as Georgia Tech had become a leader in music technology, performance and education. The college unveiled a master of science in music technology degree in 2006, and opened the Georgia Tech Center for Music Technology in 2007.
Today, the international competition consists of exhibitions by nine inventors, culled from a field of about 20 semi-finalists, with the winner recognized as the person with the best new idea in music technology. Instruments can be commercial products available for purchase or one-of-a-kind creations.
In addition to the top three overall winners, the judges selected the Lyharp by Ly Yang and Zak Seipel of Platteville, Wisconsin, as the most transformative instrument; and Moog's Greatest Hits  by Hanoi Hantrakul, Zach Kondak and Somesh Ganesh  of Atlanta for most collaborative music-making.