'Schoolhouse Rock!': The Later Years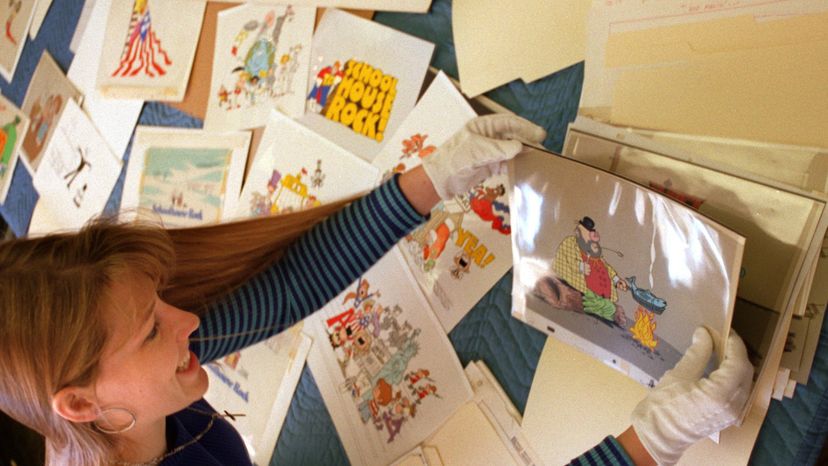 "Schoolhouse Rock" made a huge impact on the kids of Generation X who grew up watching cartoons like "Conjunction Junction" and "Interplanet Janet."
Kari Rene Hall/Los Angeles Times via Getty Images
In a way, the end of "Schoolhouse Rock's" TV run was just the beginning of its second life as a Gen X icon [source: Newall and Yohe].
In 1993, "Schoolhouse Rock Live!," a version of the show adapted for the stage, opened in the basement theater of a vegetarian restaurant in Chicago. After playing to sold-out crowds for months, it had an off-Broadway run in New York, then returned to Chicago, where it ran until 1997. Under the group Theatrebam Chicago, it still tours the country, exposing a new generation of children to the anthology, including "Rufus Xavier Sarsaparilla" and "Great American Melting Pot" [source: Schoolhouse Rock Live!].
In 1996, Atlantic Records even produced a tribute album called "Schoolhouse Rock! Rocks," which includes Moby's cover of "Verb: That's What's Happening" and "No More Kings" by Pavement.
In 1997, a 25th anniversary collection of VHS tapes was released, featuring each season separately [source: Amazon].
Walt Disney Studios Home Entertainment created "Schoolhouse Rock Earth" in advance of Earth Day in 2009. The 12-song DVD brought Dorough, Ahrens and Newall back together — plus new talent including singer/songwriter Jack Johnson — for songs focused on climate change, recycling, rainforests and carbon footprints [source: Lambert].
To mark the show's 40th anniversary in 2013, the Kennedy Center hosted a sing-a-long featuring Bob Dorough that drew more than 2,000 people — the largest audience to gather at the center's Millennium stage at that time [source: Nobleman].
"Schoolhouse Rock" has even gotten airtime on another groundbreaking TV show, "Saturday Night Live." In 2014 SNL did a parody of "I'm Just a Bill" to poke fun at the prolonged political process [source: Time]. But that wasn't the first. Sixteen years earlier, a "Conspiracy Theory Rock!" cartoon aired as part of the show's "TV Funhouse" cartoon segment. It didn't appear in subsequent reruns of the show, sparking controversy in later years as to whether or not it'd been banned by NBC, but, those claims were proven false [sources: Lacapria, Friar].
While there's no question "Schoolhouse Rock" put education through music videos on a national stage, it also laid the groundwork for others to do the same. In 2017, "Flocabulary," a learning program that teaches educational content through hip-hop videos, takes the same method into the classroom on subjects ranging from math and science to life skills and financial literacy.
"'Flocabulary' started in 2005 on the simple premise that it's easy to memorize rap songs but difficult to remember the definition of a vocabulary word like 'obsequious'," says co-founder and CEO Alex Rappaport. "'Schoolhouse Rock' and 'Flocabulary' are way points along the history of learning through music. 'Schoolhouse Rock' sounds like something that was on the radios in the '70s and Flocabulary is the kind of music kids hear today. A big part of what we do is motivating students that learning is fun. 'Schoolhouse Rock' did that for a generation of kids on Saturday mornings."
Though Rappaport says the company wasn't inspired by "Schoolhouse Rock," it does garner comparisons. In October 2005, MTV's Kurt Loder said, "Anyone who remembers 'Schoolhouse Rock' will love 'Flocabulary'" on MTV News. "That's when we knew this was going to work out," Rappaport says. "Now we go to conferences and say, 'Hey, do you remember "Schoolhouse Rock"?' and I guarantee nine out of 10 teachers start singing 'Conjunction Junction.' It's an instant trigger for that memory."
Author's Note: How Schoolhouse Rock! Works
As a child of the early '70s, I grew up on "Schoolhouse Rock!" I have probably said or written the phrase "Knowledge is power!" thousands of times between the Saturday mornings of my youth and now. But until I wrote this piece, I didn't realize how lucky I was to be exposed to something that assumed kids were smart instead of dumbing down the content. Besides chatting with 93-year-old Bob Dorough before he flew to London for a few jazz gigs, my favorite part of writing this piece was learning how important it was to the creators that children be treated with respect.
Related Articles
More Great Links
Sources
Amazon.com. "Schoolhouse Rock! Grammar Rock [VHS]." (April 5, 2017) https://www.amazon.com/Schoolhouse-Rock-Grammar-VHS/dp/156949407X

Dorough, Bob. Telephone interview. (March 18, 2017)

Friar, Christine. HuffingtonPost.com. "'Banned SNL Clip': Rare 'Conspiracy Theory Rock! Short Unearthed And Going Viral." Jan. 5, 2012. (April 5, 2017). http://www.huffingtonpost.com/2012/01/04/banned-snl-clip-video_n_1184426.html

Grammy.com. "1973 Winners." (April 6, 2017) https://www.grammy.com/nominees/search?year=1973

Hesse, Monica. "'Schoolhouse Rock!' at 40." Washington Post. Jan. 4, 2013. (March 17, 2017) https://www.washingtonpost.com/lifestyle/style/schoolhouse-rock-at-40/2013/01/04/0679e738-5699-11e2-a613-ec8d394535c6_story.html?utm_term=.2601821b96ed

Hodge, Bill. "10 Schoolhouse Rock! Refreshers for Our Current Political Climate." Pastemagazine.com. March 1, 2017. (April 6, 2017) https://www.pastemagazine.com/articles/2017/03/10-schoolhouse-rock-refreshers-for-our-current-pol.html

IMDB.com. "Schoolhouse Rock! (1973-2009) Awards." http://www.imdb.com/title/tt0069627/awards

LaCapria, Kim. Snopes.com. "Saturday Night Skive.". Feb. 6, 2016. (April 5, 2017). http://www.snopes.com/snl-conspiracy-theory-rock/

Lambert, David. TVshowsonDVD.com. "Schoolhouse Rock! – 10 New Songs Included as Part of the New Schoolhouse Rock! – Earth DVD!" David Lambert. Oct. 24, 2008. (April 6, 2017). http://www.tvshowsondvd.com/news/Schoolhouse-Rock-Earth/10753

Nobleman, Marc Tyler. "Schoolhouse Rock! interviews." June 2, 2014 (March 20, 2017) http://noblemania.blogspot.com/2014/06/schoolhouse-rock-interviews-introduction.html

Rappaport, Alex. Flocabulary. Telephone interview. (April 4, 2017)

Schoolhouserock.tv. "Schoolhouse Rock! Lyrics." (March 18, 2017) http://www.schoolhouserock.tv

Waxman, Olivia B. Time.com. "This Saturday Night Live Schoolhouse Rock! Sketch Is Suddenly Relevant Again." Jan. 4, 2016. (April 5, 2017). http://time.com/4166383/saturday-night-live-obama-executive-action-guns-schoolhouse-rock/

Yohe, Tom and Newall, George. "Schoolhouse Rock!: The Official Guide." Hyperion New York. 1996. (April 4, 2017)