Position: Pitcher
Teams: Louisville Colonels, 1897, 1899; Pittsburgh Pirates, 1900-1901; Chicago Orphans, 1901; Philadelphia Athletics, 1902-1907; St. Louis Browns, 1908-1910
The baseball public knew George Edward Waddell (1876-1914) only as Rube. Although Waddell detested the nickname, he was so uneducated and so ill-equipped to deal with even the simple exigencies of life that he seemed born to be called Rube.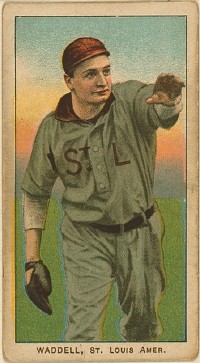 Rube Waddell had tremendous natural
talent but alienated managers
with his rowdy lifestyle.


At the art of pitching a baseball, however, there have been few more worldly. Waddell was so talented that he pitched for the Louisville Colonels in 1897 without any previous pro experience. However, even the lowly Colonels were unable to tolerate his utter lack of self-discipline. After only two games with the club, Waddell was fined $50 for excessive drinking.
Thus began a love-hate relationship between Waddell and Fred Clarke that lasted until 1901. Waddell by then was in his third tour of duty under Clarke, who in 1901 was the player-manager of Pittsburgh. After Waddell once again displayed his appetite for an unstructured lifestyle, Clarke despaired and traded Waddell to Chicago. Chicago had no better luck in restraining Waddell and jettisoned him even though he led the team in wins.
Waddell began the 1902 season in the Pac­ific Coast League but by midsummer found himself with the Philadelphia Athletics. Connie Mack was perhaps the only manager at the time who could cope with the carefree southpaw.
Mack treated Waddell as a father would an unruly child. He doled out Waddell's pay in small amounts as if he were giving him an allowance, assigned catcher Ossee Schreckengost (who had a high threshold for eccentrics) to room with him on the road, and tried his best to ignore Waddell's frequent disappearances to chase fire engines or go fishing.
Mack's reward was having on his team the best left-handed pitcher in baseball. In each of his first four seasons with the A's, Waddell was a 20-game winner and led the AL in strikeouts. His top campaign was 1904, when he collected 25 wins and fanned 349 hitters-a modern single-season record that endured until 1965.
In 1905, after leading the league with 27 wins and a 1.46 ERA, Waddell put himself in Mack's doghouse when he injured his shoulder during horseplay on the eve of the 1905 World Series and was unable to pitch. Mack never completely forgave Waddell and sold him to the St. Louis Browns two years later. Waddell remained with the Browns until early in the 1910 season.
Early in 1912, Waddell developed tuberculosis after working shoulder-deep in icy river water to help save a Kentucky town during a flood. He died on April 1, 1914. In 1946, Waddell was elected to the Hall of Fame.
Here are Rube Waddell's major league totals:
| | | | | | | | | | |
| --- | --- | --- | --- | --- | --- | --- | --- | --- | --- |
| W | L | ERA | G | CG | IP | H | ER | BB | SO |
| 191 | 145 | 2.16 | 407 | 261 | 2,961.1 | 2,460 | 711 | 803 | 2,316 |
See more information on the Baseball Hall of Fame:
See the players in the Baseball Hall of Fame by position:
See the members of the Baseball Hall of Fame by team: