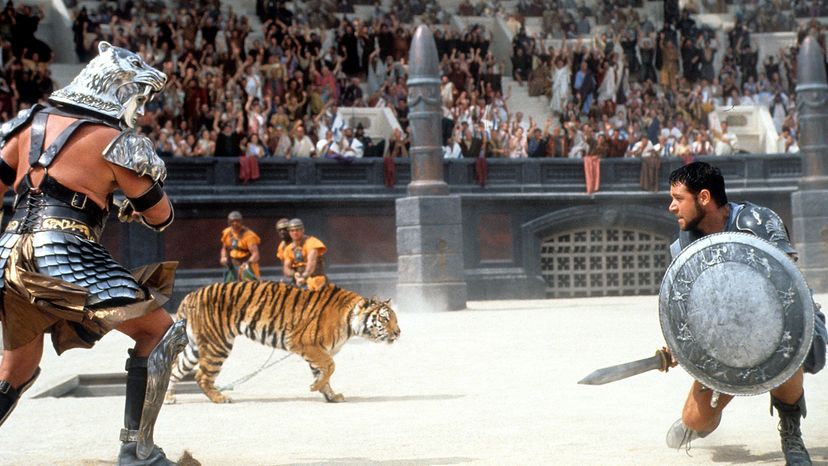 Image: Universal/Getty Images
About This Quiz
Everyone knows that Hollywood dramas are no substitute for a good history teacher. We're looking at what 10 "based on a true story" movies got wrong — or right. It's not always what you think!
"Gladiator" (2000) ends with the Roman Emperor Commodus dying in the city's famed Coliseum. Where was he actually killed?
In the year 192 C.E., Commodus was strangled while bathing — after he'd already consumed poisoned wine. What a way to go.
True or False: Facebook founder Mark Zuckerberg dropped out of Harvard University, as shown in 2010's "The Social Network"
Zuckerberg left the Ivy League school in 2005, but Harvard gave him an honorary degree 12 years later.
A jealous Antonio Salieri persuades Mozart to write his epic Requiem in "Amadeus" (1984). Who actually commissioned this piece?
Count Franz von Walsegg, a wealthy aristocrat, commissioned the work after the death of his wife. Walsegg was known for commissioning works and passing them off as his own. Salieri, a fellow composer, had nothing to do with this request. Mozart's Requiem Mass in D Minor was completed after Mozart's untimely death in 1791.
Forget the Disney version. How old was the real Pocahontas when she met English explorer John Smith in 1607?
By the way, the young woman's birthname was Amonute; "Pocahontas" was just a nickname.
Did America's 16th president speak with a high-pitched, reedy voice — as he does in the Daniel Day-Lewis biopic drama "Lincoln" (2012)?
One contemporary writer said Abraham Lincoln had a "a thin tenor, or rather falsetto, voice, almost as high-pitched as a boatswain's whistle."
Which of these biopics got the title character's name wrong?
"The Elephant Man" (1980)
This David Lynch offering tells the tale of a 19th-century Englishman with a severe physical deformity. While the movie calls him "John Merrick," his first name was actually Joseph. In fairness, the first book written about Merrick also called him "John."
"Cool Runnings" (1993) incorporated actual footage from which part of the Jamaican national bobsled team's 1988 Olympic debut?
their third run bobsled crash
That's not to say this movie is accurate. The film blames the crash on a mechanical problem, but it was actually caused by human error on the team's part. Oh, and they didn't really carry the sled across the finish line.
Did the Austrian Von Trapp family — whose lives inspired "The Sound of Music" (1965) — really escape the Nazis by crossing the Alps?
Actually, they left Austria by train. Good thing, too: Crossing the Alps would've taken the family straight to Nazi Germany.
"Titanic" (1997) made up a few of its major characters. (We're looking at you, Jack and Rose.) Which of these figures depicted in the film was a real person who actually boarded the ship?
Margaret "Molly" Brown (Kathy Bates)
An American socialite, Brown not only survived the sinking but managed to raise $10,000 for her fellow passengers by the time they all reached New York City.
Caledon Hockley (Billy Zane)
True or False: Johnny Cash proposed to his second wife, June Carter, onstage — a scene later dramatized in the 2005 biopic "Walk the Line."
Cash proposed to Carter onstage at a concert in London, Ontario, Canada after a duet of "Jackson." They wed less than two weeks later.
Universal/Getty Images