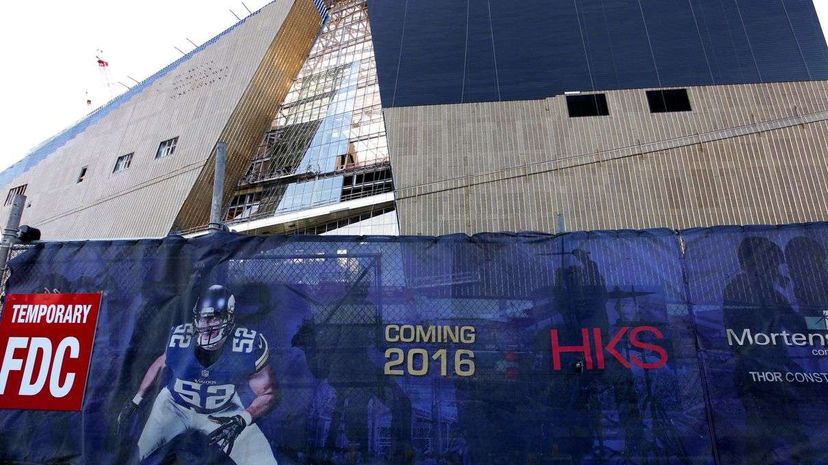 Construction continues in 2015 on U.S. Bank Stadium, future home of the Minnesota Vikings football team. The new stadium is partly funded by the city of Minneapolis.
Raymond Boyd/Getty Images
Blame the Brooklyn Dodgers.
When the Dodgers left New York in 1958 for sunny Los Angeles, the departure was a dagger in the hearts of diehard Brooklyn fans. The Dodgers weren't the first major league team to relocate — second-fiddle clubs like the Boston Braves and Philadelphia Athletics had moved to Milwaukee and Kansas City — but the Dodgers were the first hugely successful and beloved team to ditch its loyal fans over a stadium feud.
NYC urban planner Robert Moses rejected the Dodger's plan to build a $6 million domed stadium in Brooklyn and offered a less-desirable location in Queens instead. The Dodgers saw dollar signs in Los Angeles, where the city promised to build roads to a brand-new stadium in the LA foothills. Spurned by Moses' rejection, the Dodgers even convinced the New York Giants, another successful baseball franchise, to move to San Francisco, robbing New Yorkers of two beloved teams in one year.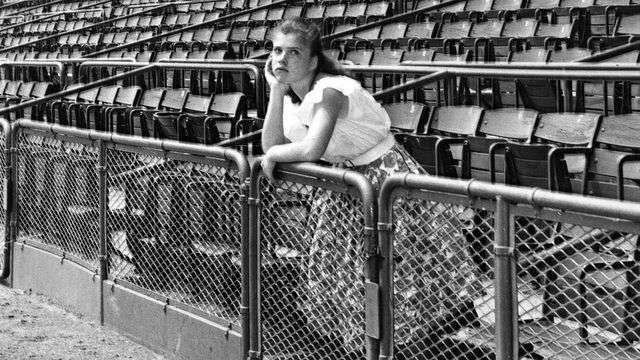 A lonely fan stares out at Ebbets Field in Brooklyn after the Dodgers had left for Los Angeles.
Mark Rucker/Transcendental Graphics/Getty Images
Ever since the Dodgers and Giants broke New Yorkers' hearts in the 1950s, sports teams have used the threat of relocation to blackmail taxpayers into buying them new stadiums.    
The Big Sell
Of course, that's not how the team owner's pitch it. They argue that building a new stadium will be an economic boon for the city, spurring urban development, creating jobs and generating increased tax revenue. If a city uses taxpayer dollars to fund a bigger, better stadium, team owners say, it's making a smart investment in the future of the local economy.
Unfortunately, the dollars just don't add up.
Charles Santo is an associate professor and chair of the Department of City and Regional Planning at the University of Memphis. In his book, "Sport and Public Policy," co-authored with Gerard Mildner, he ran the numbers on the real economic impact of sports stadiums.
From 2000 to 2009, American taxpayers spent $8 billion to help construct 31 new stadiums for privately owned professional sports teams. But the payback on these investments is minimal in terms of job creation and income generation. When Santo looked at a proposal to bring professional baseball to Portland, Oregon, he found that the income generated by spectator sports in Portland, even with the addition of the new baseball team, added up to less than 1 percent of payroll citywide.
"Are stadiums a good or bad investment? It really depends on what the community expects to get out of that investment," says Santo. "In terms of economic development — is it an economic development catalyst? Does it create jobs? Does increase income at the macro level? — the answer to that is 'no.'"
But what about the money spent by sports fans on tickets, hotel rooms and food? Santo points out that the only way to say the team or the stadium is creating a positive economic impact would be if that money would not have been spent in the local economy otherwise.
"Ninety percent of the people in the stands at regular season events are locals," he says. "The money they're spending at the game, would have been spent elsewhere [locally]. Plus, he adds, "Most of it is going into the pockets of wealthy team owners and players, who live and spend their money elsewhere."
The typical Costco store generates more annual revenue than most major league sports teams.
Charles Santo, University of Memphis
The Real Payback
If a city uses taxpayer dollars to build a new stadium, Santo says, it shouldn't expect a flood of new businesses and jobs, but keeping a sports team in town does have its benefits, most of which don't fit on a spreadsheet.
"The typical Costco store generates more annual revenue than most major league sports teams [$161 million versus $160 million for your average NBA team in 2014], but you don't see people painting their faces Costco blue and red," says Santo. "There's a different utility that citizens get from a sports team."
Sports teams are central to many American cities' sense of identity, and their stadiums are public expressions of fan loyalty. Economics be damned! Weeks after the city of Detroit declared bankruptcy in 2013, it approved a $450 million bond measure to help build a new stadium for their beloved Redwings.
Backers of the stadium argued that it would breathe life (and more importantly, bring dollars) into the beleaguered downtown economy. On the other hand, there are opportunity costs — that's $450 million that could have been spent on schools or crumbling infrastructure.
The Threat
At the end of the day, it all comes back to the Brooklyn Dodgers.
"The real reason why we build these stadiums is because the leagues hold all the power," says Santo. "The leagues operate as cartels. In each of these major sports, you've got one professional league and they limit the number of franchises. There are more cities that want sports teams than can have them. And that makes the threat of relocation real."
In other words, if you want your team to stay, you'd better pay.