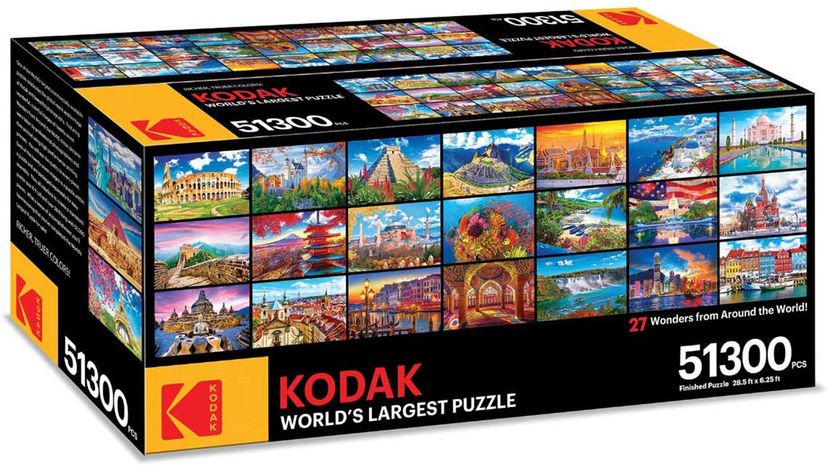 Kodak's "World's Largest Puzzle" includes 51,300 pieces and is 28.5 feet x 6.25 feet (8.6 meters by 1.9 meters) when completely assembled.
Kodak
Even before it became a popular way to while away the hours, days and weeks during quarantine, putting together jigsaw puzzles was a favorite family activity. But did you know that jigsaw puzzles have their origin in education?
Sir John Spilsbury, an English engraver and mapmaker in the mid-1700s, is credited with creating the first jigsaw puzzle in 1766 by attaching a map of the world to a piece of wood, then cutting the countries out. Teachers used the maps to teach geography to their students and a recreational activity was born.
Big Time Puzzles
Spilsbury would hardly recognize his creation today. In the early part of the 20th century, jigsaw puzzles were used as marketing tools, often given away or sold for mere pennies. Today, companies still use puzzles for creative marketing. Take Kodak, for instance. It's selling what it claims is the "world's largest jigsaw puzzle." We have to admit this thing is pretty huge. The 51,300-piece(!) puzzle features 27 images from around the world and is 28.5 feet by 6.25 feet (8.6 meters by 1.9 meters) when completed. And oh, this beast costs more than $400!
All due respect to the Kodak jigsaw puzzle, but according to good folks at Guinness World Records (GWR), the world's largest jigsaw puzzle (by surface area) was put together in Dubai in July 2018. The puzzle was in honor of the Year of Zayed — a yearlong tribute to the founding father of the United Arab Emirates, the late Sheikh Zayed bin Sultan Al Nahyan. There were more than 12,000 pieces in the puzzle, which was an image of Zayed. The official record size measured 65,905.17 square feet (6,122.68 square meters).
Putting together jigsaw puzzles is a great group activity, but 1,600 students of the University of Economics of Ho Chi Minh City in Vietnam took it to the next level when they completed the jigsaw puzzle with the most pieces: 551,232 to be exact! When it was finished the puzzle measured 48 feet, 8.64 inches by 76 feet, 1.38 inches (14.85 meters x 23.20 meters). It took the students 17 hours to create the massive puzzle, which featured a lotus flower with six petals.
The Hardest Puzzles Ever?
It contains only nine pieces but it's been dubbed the world's hardest jigsaw puzzle ever. It's called the Ice Puzzle 9 and it was designed by Yuu Asaka. It includes a small board and the nine pieces include right angles and curved edges that fit together in several combinations — think Tetris but way harder. The challenge is getting the last piece to fit; it's nearly impossible to fill the board.
It took magician, video creator and master puzzler, Chris Ramsay, two hours and nine minutes to solve the Ice 9 and by his own description he was completely exhausted by the end of the experience.
Yuu Asaka has another, equally difficult puzzle called Jigsaw Puzzle 29. The challenge here is to get fit 29 pieces into 5-inch by 5-inch (12-centimeter by 12-centimeter) tray. What makes it super tough is it comes with five corner pieces. Just let that sink in.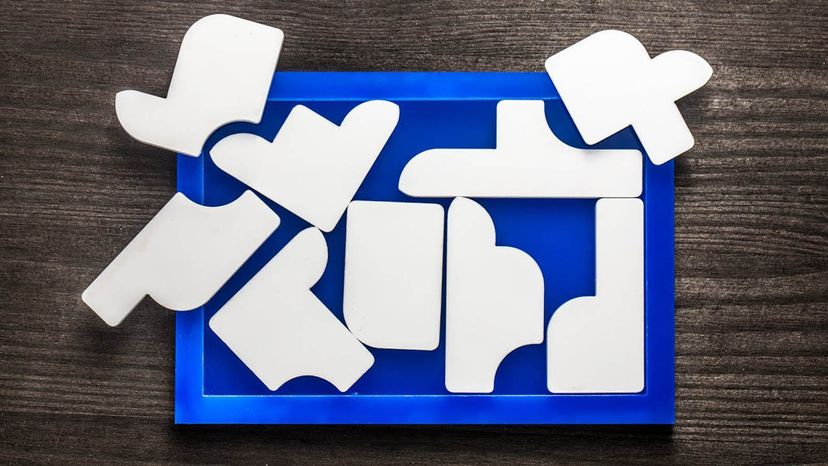 The Ice Puzzle 9 was designed by Yuu Asaka and has just nine pieces. The challenge is getting the last piece to fit; it's nearly impossible to fill the board.
Yuu Asaka
People Puzzles
Interestingly, only a few Guinness World Records pertaining to jigsaw puzzles are owned by individuals. There is the largest hand-cut wooden jigsaw puzzle record held by Dave Evans in Weymouth, Dorset, England, who created a 40,763-piece puzzle celebrating the Queen's Diamond Jubilee. The puzzle, which featured 33 images of jubilee celebrations, was 20 feet by 8 feet (6 meters by 2.5 meters) when completed, though it collapsed soon after Evans completed it. It took him and four assistants more than 16 days to rebuild the puzzle and move it to Sandringham where it went on display and was confirmed as the GWR-holder.
And then there is Luiza Figueiredo of Sao Paolo, Brazil. In 2017, she was named a GWR-holder for owning the largest collection of jigsaw puzzles on record with 1,047 different sets. According to Guinness, Figueiredo began collecting in 1967 and by 2010 accomplished her first world record of 238 jigsaw puzzles, a record she later broke in 2012 with 502 puzzles.
But in November of that year, Georgina Gil-Lacuna of the Philippines broke the record with her collection of 1,028 puzzles. By July 2017, Figueiredo was back with her collection of 1,047 puzzles and she remains the current record-holder.
"One of the main criteria for all Guinness World Records titles is that they must be breakable. Every record title that is monitored is open to being challenged, which allows for all kinds of record-breaking opportunities all over the world," Kaitlin Vesper, records manager with Guinness World Records North America, says in an email.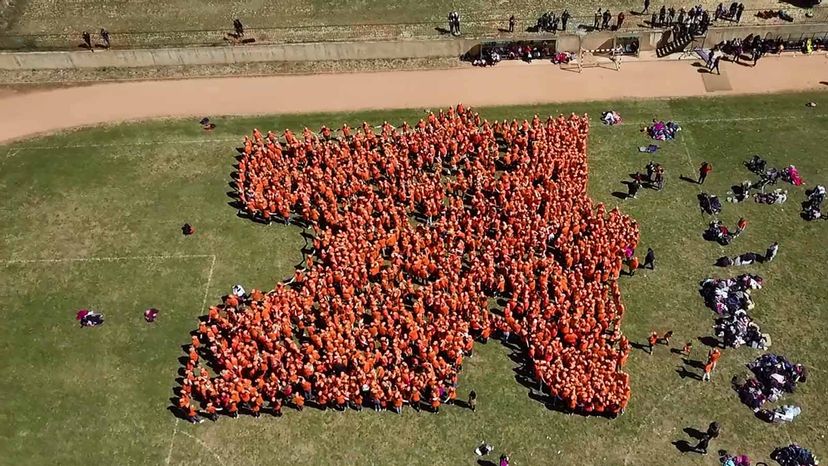 In March 2019, more than 1,700 people formed the largest human jigsaw puzzle piece on record to raise awareness for autism spectrum disorder.
Guinness World Records
Many puzzle records are held by companies, such as the record for the largest spherical jigsaw puzzle. It measured 15.7 feet (4.77 meters) in circumference. It was made by Unima Industrial Ltd., in Hong Kong and featured a scene from "Winnie the Pooh."
"The amazing thing about record breaking is that it's open to anyone; individuals, families, schools, companies and even entire communities," Vesper, says. "Brands and businesses come to us looking to harness the power of record breaking to commemorate anniversaries and celebrations or to highlight the launch of a new product."
Similarly, in March 2019, more than 1,700 people formed the largest human jigsaw puzzle piece on record — a first. The record raised awareness for autism spectrum disorder (the puzzle piece is the symbol for the Autism Speaks organization). But is it really a puzzle piece if there's no puzzle for it to fit in?
"Each Guinness World Records title has a set of guidelines that must be followed. The record for the largest human jigsaw puzzle piece is a great example to highlight. This is considered one of our 'largest human image' categories, and the idea is to have a group of people gathered together to form a recognizable image," Vesper says. "We define a jigsaw puzzle piece as an oddly shaped, interlocking and tessellating piece, designed to be part of a larger picture. The human image to be created would need to be instantly recognizable as a puzzle 'piece' and not an entire puzzle. This record title can be broken if another group creates the same image with a larger group of people."
Anybody up for the challenge?
HowStuffWorks earns a small affiliate commission when you purchase through links on our site.