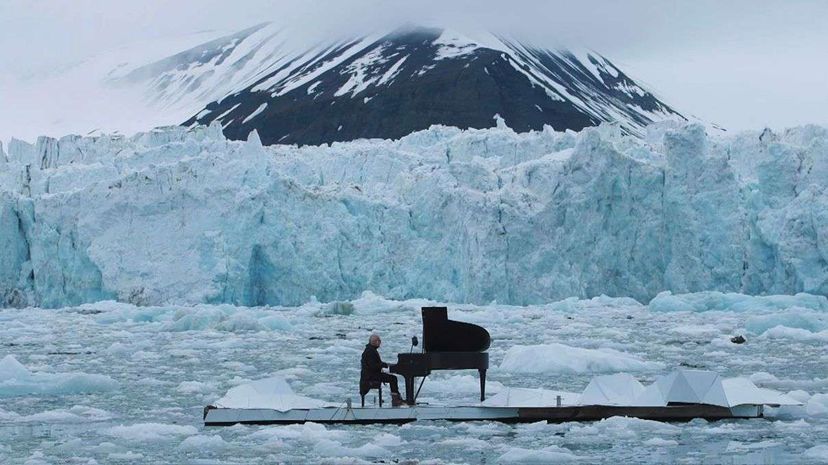 As part of a campaign to raise awareness about Arctic ice melting, the environmentalist group Greenpeace took experimental Italian pianist and composer Ludovico Einaudi to the frosty northern reaches of Svalbard, Norway. There Einaudi performed his somber composition "Elegy for the Arctic" while floating atop the frigid water against the backdrop of the crumbling Wahlenbergbreen glacier.
Einaudi and the Greenpeace team traveled there aboard the ship Arctic Sunrise, timing their visit with a meeting of the OSPAR Commission, the legislative body that regulates environmental protection in the region. 
Greenpeace hopes to urge OSPAR to adopt new rules that could protect up to 10 percent of the Arctic Ocean, an area about the same size as the United Kingdom. Greenpeace says that regional countries and corporations have an interest in preventing the protection, primarily for access to its oil resources.
"Arriving here is an incredible experience because you can feel the pureness and fragility of this area," Einaudi says in the video.
While sea levels and Arctic ice have fluctuated over the millions of years the earth's oceans have existed, the Industrial Revolution has quickened the pace, with rates of global sea level change and Arctic melting over the past century. Arctic ice melting into seawater has a significant impact on the water temperatures around the world; while ice reflects 80 percent of sunlight back into the atmosphere, dark ocean water absorbs 90 percent of direct sunlight, then is carried around the globe by ocean currents.
"What happens here in the Arctic is related to the rest of the world," says Einaudi. "There is a danger now because as the ice is melting the industries are taking advantage and they move in and exploit the territory, the area. We should stop this process and save this area."
The video above features a brief interview with Einaudi and a few samples of "Elegy for the Arctic," but you can watch a longer version of the performance below: