Position: Shortstop
Teams: New York Yankees, 1941-1942, 1946-1956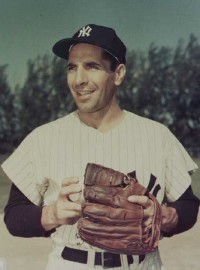 Phil Rizzuto played on Yankees teams
that won 10 pennants and eight
world championships.
Phil Rizzuto spent 13 years in the major leagues and, using spirit that went well beyond his physical size, went to nine World Series. That explains as well as anything else why in 1994 the Veterans Committee voted the longtime Yankees shortstop into the Hall of Fame. His election, coming after years of waiting, finally gave voice to what baseball fans have long understood: Even on a team of power hitters and All-Star pitchers, someone must make the plays, move the runners, get the big base hit, and generally provide the chemistry that makes the whole thing work. "Scooter" did all of that.
As one testimony to his reliability and value, consider that he appeared in every World Series game from 1949 to 1953, when the Yankees set a record with five consecutive championships. One of the best bunters of his time, Rizzuto also ran well enough to reach double figures in stolen bases eight different years. All of this came in an era when the steal was not in vogue.
Philip Francis Rizzuto (born in 1917) was reared in New York and grew to a height of just 5'6". This lack of size led the Giants and Dodgers to dismiss him as being too small, but the Yankees took a chance. Rizzuto rewarded their foresight in 1941, when he broke in with a .307 batting average. In 1942, he hit .284 in the regular season and .381 in the World Series. He then lost three years to World War II.
In 1950, Rizzuto batted .324 with 200 hits, 92 bases on balls, and 125 runs scored. These stats earned him the American League MVP Award. He batted .320 in the 1951 World Series. By the time he finished his career in 1955, Rizzuto owned a .273 lifetime average and had been selected to the All-Star Team five times.
But Rizzuto wasn't through yet. He received a chance to stay close to the game -- this time in the broadcast booth. He had never played for any major-league club except the Yankees, and he became an unabashed rooter in the press box. His trademark was the phrase "holy cow," and he criticized with epithets no stronger than "huckleberry."

He developed a unique style behind the mike and created an entertaining partnership with Bill White, who eventually left to become president of the National League. Rizzuto sent out birthday and get-well greetings over the air, often forgetting the action on the field -- until the Yankees got something going. Rizzuto also good-naturedly endured teasing about his phobias, which included lightning and bugs. He was kidded about his habit of leaving the booth early so as to beat the traffic.
This high profile and good nature may well have helped him earn his long-delayed entry in Cooperstown. But none of that should ever obscure the fact that when it was time to help the Yankees win a game, Phil Rizzuto was all business.
Here are Phil Rizzuto's major league totals:
| | | | | | | | | | |
| --- | --- | --- | --- | --- | --- | --- | --- | --- | --- |
| BA | G | AB | R | H | 2B | 3B | HR | RBI | SB |
| .273 | 1,661 | 5,816 | 877 | 1,588 | 239 | 62 | 38 | 562 | 149 |
See more information on the Baseball Hall of Fame:
See the players in the Baseball Hall of Fame by position:
See the members of the Baseball Hall of Fame by team:
Advertisement