No father-son tandem has ever matched Tom Morris Sr. and Tom Morris Jr., who each won four British Opens in the early days of competitive golf.
Old Tom is still the oldest ever British Open winner, at 46 in 1867, and Young Tom is the youngest, at 17 in 1868. The two finished 1-2 in the 1869 British Open, with Morris Jr. prevailing.
When Old Tom was young, he served as an apprentice club maker and ball maker under Allan Robertson of St. Andrews, who was considered the best player of the day. The two formed a nearly unbeatable team in challenge matches against other Scottish duos.
Morris, however, split with Robertson in business when Morris was quicker to accept the replacement of the old featherie ball with the gutta percha. In 1851, Morris left St. Andrews to become the custodian of the new links at Prestwick (Young Tom was born that year).
In 1860, the Open Championship was begun to determine Scotland's best golfer. Old Tom was runner-up to Willie Park in the first Open, then won in 1861, 1862, 1864, and 1867. Morris Sr. returned to St. Andrews as pro and greenkeeper in 1865 and remained there until his death in 1908.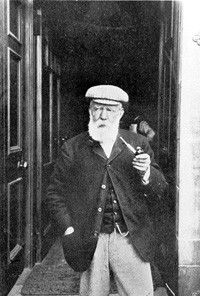 Young Tom, considered the most powerful player of the time, took the mantle from his father, winning the Open in 1868, 1869, and 1870, shooting a then-phenomenal 149 for 36 holes at Prestwick to win by 12 strokes the latter year.
Young Tom's third straight victory gave him permanent possession of the champion's belt, and there was no competition in 1871.
The next year, when the tournament resumed with a trophy as the prize (the same one awarded today), Young Tom won for the fourth straight time. Morris Jr. finished third and second in the Open in the next two years.
In 1875, his wife died during childbirth and the baby also did not survive. Young Tom never recovered from the shock, and he died three months later at age 24.