Embassy Pictures/Getty Images
When it comes to giant movie monsters, you have to start with the granddaddy of 'em all: Godzilla. Seen here in the original 1954 film "Gojira," the iconic monster began life as a radioactive, metaphorical destroyer. In time, he mellowed out into the Saturday morning, monster-battling good guy we all love.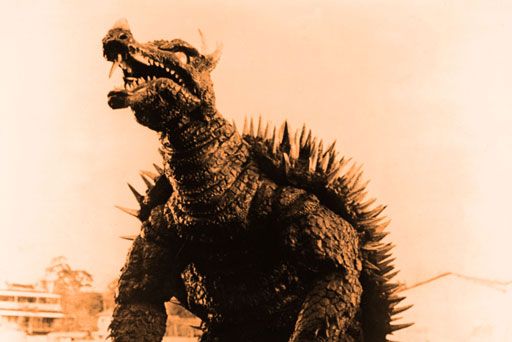 Warner Bros./Getty Images
Who did Godzilla battle? Why schmoes like this guy, Anguirus, from 1955's "Godzilla Raids Again." For close to 30 films, Godzilla would conquer foes that ranged from a giant octopus and a three-headed dragon to America's own King Kong.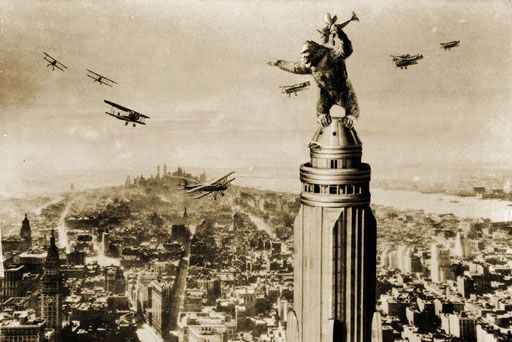 John Kobal Foundation/Getty Images
Speaking of King Kong, here he is lording it over the Manhattan skyline in the 1933 monster movie masterpiece. He wasn't quite a building-smasher like his Japanese counterparts, but boy could he climb a skyscraper!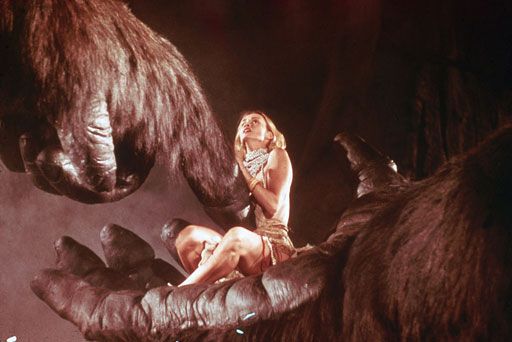 Paramount Pictures/Fotos International/Getty Images
Here's something to remember about Kong: He sure did love the ladies, even if the ladies were generally less enthusiastic about the relationship. Here Kong pokes and prods a palm full of Jessica Lange in 1976's "King Kong."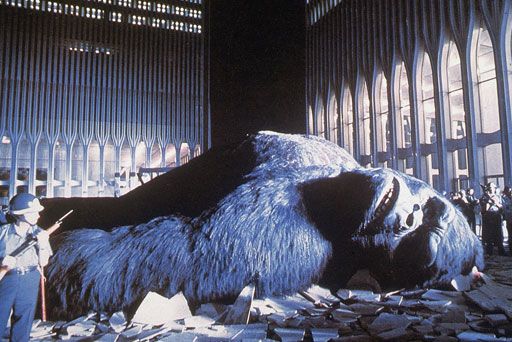 Paramount Pictures/Fotos International/Getty Images
In fact, if King Kong was guilty of anything, it was loving the ladies too much -- and possibly kidnapping and reckless endangerment. Here we see the fallen Kong from the 1976 film version, clearly devastated by his breakup with Jessica Lange.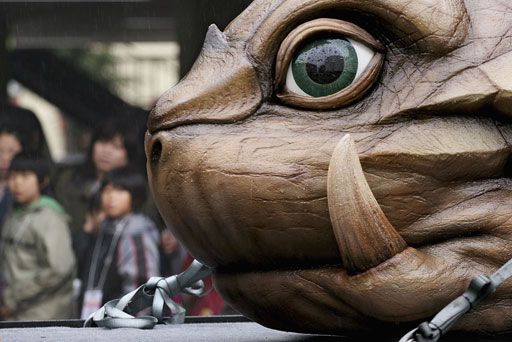 Koichi Kamoshida/Getty Images
Godzilla may be more famous, but there's no denying the lovable power of Gamera. Seen here in the excellent 2006 reboot "Gamera the Brave," the titanic, rocket-powered turtle is both a friend to children and a reluctant protector of Earth. You may know him best from episodes of "Mystery Science Theater 3000."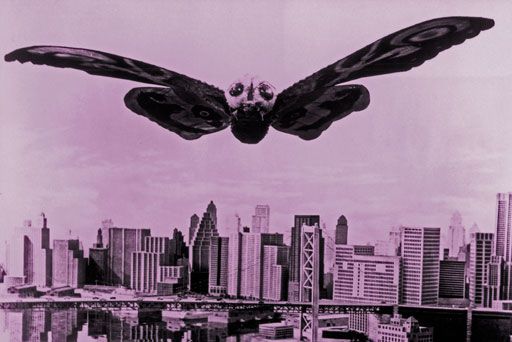 Hulton Archive/Getty Images
If you think giant monsterdom is a man's world, then meet one of the great female giant monsters of all time, Mothra. She first hit the big screen in 1961, but her roots are actually literary! Read all about her in "The Luminous Fairies and Mothra" by Takehiko Fukunaga, Shinichiro Nakamura and Yoshie Hotta.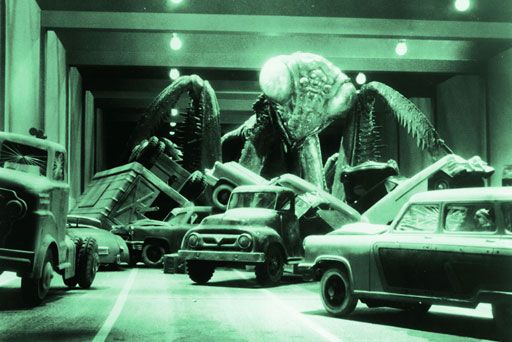 Universal Pictures/Getty Images
Half the time, giant movie monsters (especially giant B-movie monsters) are just regular animals blown up to ginormous size. Here we see an oversized, prehistoric praying mantis from 1957's "The Deadly Mantis." Say what you will, but that's one heck of a puppet!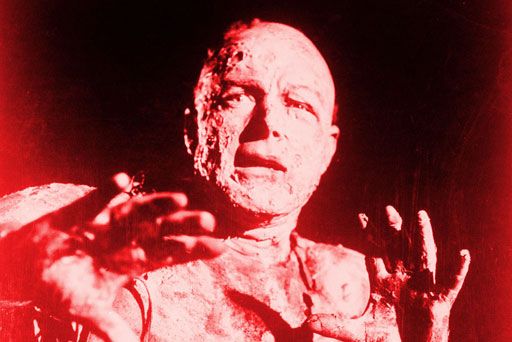 American International Pictures/Getty Images
But really, isn't man himself the greatest monster of them all? It's especially true if the man in question is Glenn Langan, grown 60 feet (18 meters) high due to accidental exposure to a radioactive blast. Langan terrorized Las Vegas in 1957's "The Amazing Colossal Man" and, in one particularly awesome scene, skewered a soldier with a giant hypodermic needle.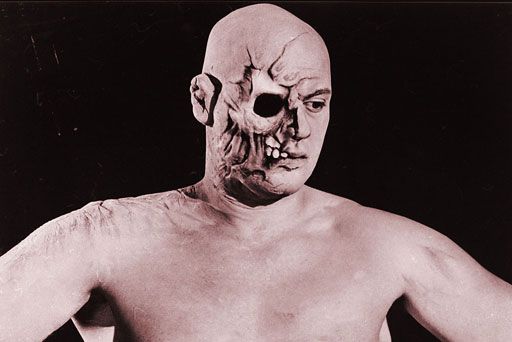 American International Pictures/Getty Images
Giant monsters have a hard time staying dead. Here, we see the Amazing Colossal Man (this time played by Duncan Parkin) back for more carnage in 1958's "War Of The Colossal Beast." While the previous film depicted a very human character, warped by atomic power, the sequel is just a straight-up monster flick. There's no more man, only beast.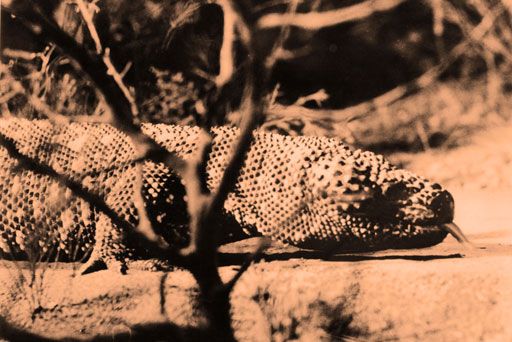 McLendon-Radio Pictures Distributing Company/Getty Images
Enormous animal puppets are great, but sometimes it's cheaper to just throw an actual animal at some toy trucks and call it a movie. Here we see just such a tactic from 1959's "The Giant Gila Monster."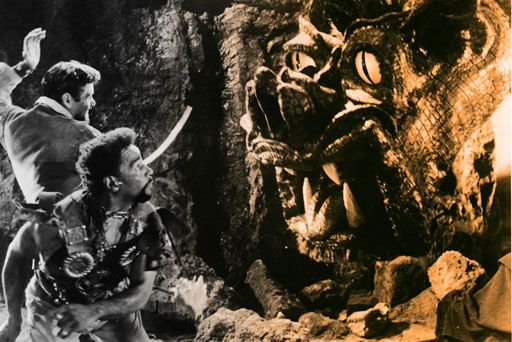 Hulton Archive/Courtesy of Getty Images
But hey, not all giant movie monsters are Atomic-Age horrors. Here we see classic Persian hero Sinbad the Sailor battling a giant dragonlike monster in 1963's "Captain Sindbad."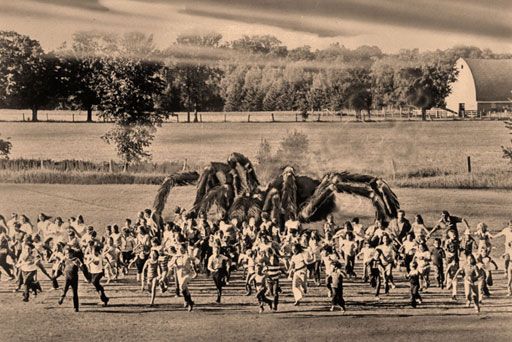 Group 1 International Distribution Organization Ltd./Getty Images
Massive spiders will always make for fantastic film fodder. You're probably spoiled by the computer-generated creepy crawlies in "The Lord of the Rings" and the "Harry Potter" films, but even old-school special effects worked wonders. This entire town is fleeing "The Giant Spider Invasion" of 1975.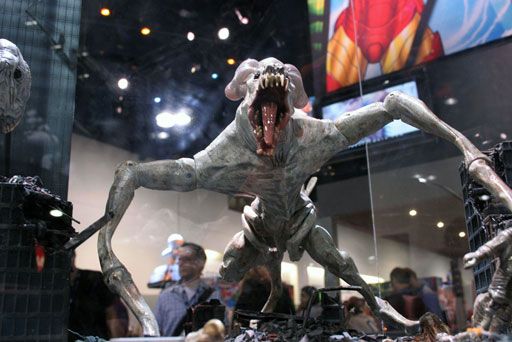 Jason Grey/Creative Commons
When it comes to modern giant movie monsters, you have to give credit to the amazing CGI "Cloverfield" monster -- even if the movie's shaky, handheld cinematography left you retching in the cinema bathroom. Here we see the gigantic beast in action figure form.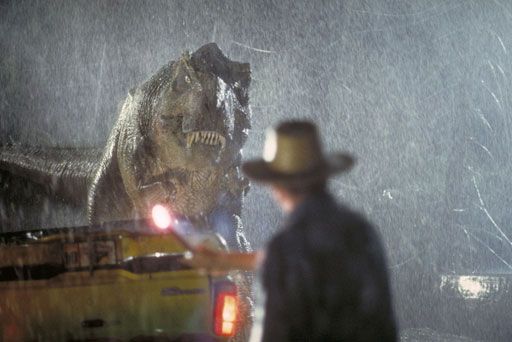 Murray Close/Getty Images
Some of our greatest giant movie monsters are based on some that actually used to rule the Earth. Here's Sam Neill acting opposite a CGI Tyrannosaurus rex in a scene from 1993's "Jurassic Park."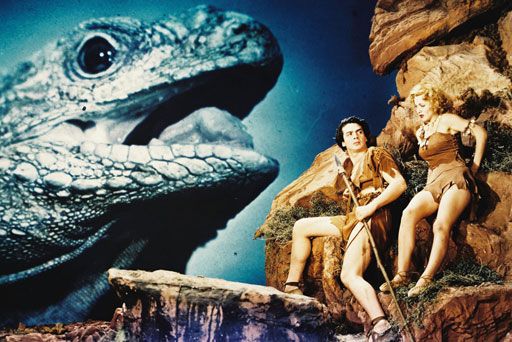 Silver Screen Collection/Getty Images
"Jurassic Park" certainly wasn't the first film to try to bring prehistoric monstrosities to life on camera, but the special effects certainly improved from what we saw in 1940's "One Million B.C."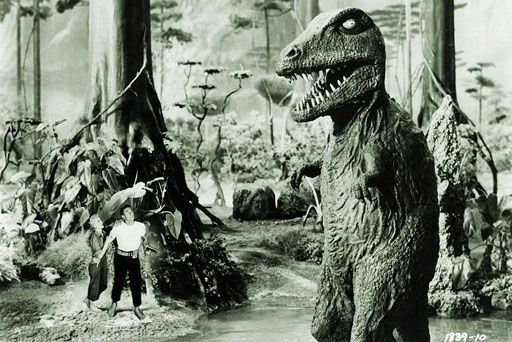 Universal Pictures/Getty Images
If your movie dinosaur can't look incredible -- or even credible -- then at least make it entertaining to watch. The lovely lizard from 1957's "The Land Unknown" looks like something from a Myrtle Beach miniature golf course, but you've gotta admit he has style.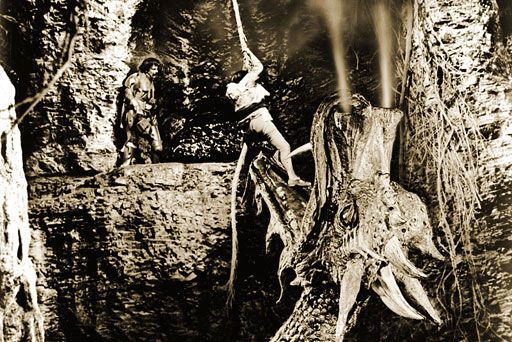 Ah, but before there were dinosaurs, there were dragons. Here's one from 1962's "The Wonderful World of The Brothers Grimm." That's comedian Buddy Hackett dangling from the rope, by the way.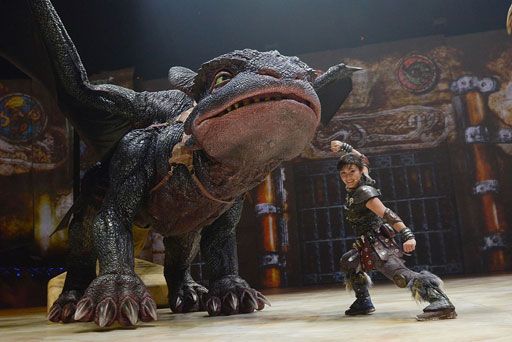 While 2010's "How To Train Your Dragon" treated audiences to a beautifully rendered CGI world of dragons, the "How to Train Your Dragon Live Spectacular" delivers the goods as well. Created by the makers of "Walking With Dinosaurs," these stage dragons look better than most of the giant monsters we see on screen.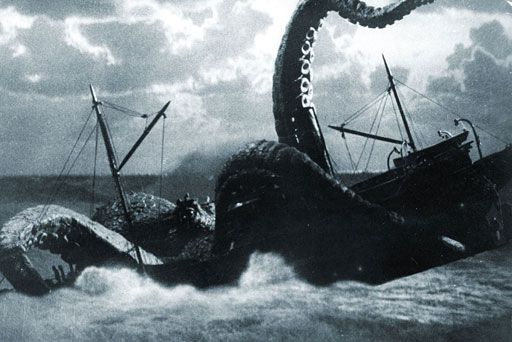 Columbia Pictures/Getty Images
Never forget the power of sea monsters to thrill an audience. Here we see a giant octopus devouring its favorite maritime snack in 1955's "It Came From Beneath The Sea."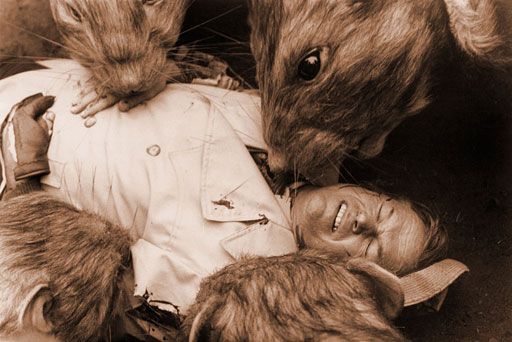 American International Pictures/Getty Images
Rodents of unusual size are always a terror to behold. Here, a pack of them chow down on Ralph Meeker in 1976's "The Food of the Gods." Hey, if nothing else, the film had an awesome title -- taken from H.G. Wells of course.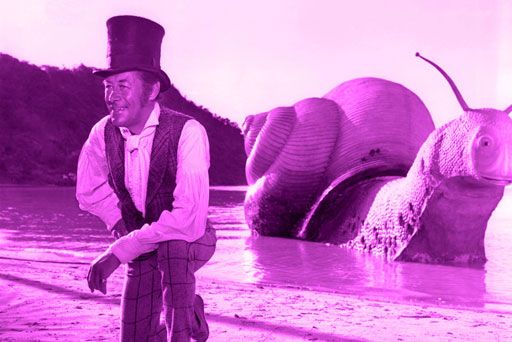 20th Century-Fox/Getty Images
Not all giant movie monsters are a menace. Here we see Rex Harrison as Doctor Dolittle and the Great Pink Sea Snail in the 1967 musical. Remarkably, the creature evolved to carry passengers inside its airtight shell. Even more remarkably, said passengers emerged each time slime-free.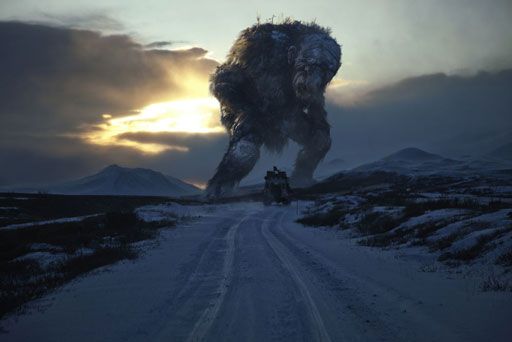 Ancient Scandinavian folklore collided head-on with modern found footage horror in 2010's "Trollhunter." The film follows a trio of university students, who in turn follow a mysterious hunter who -- you guessed it -- is himself following marauding trolls through Norway. Equal parts grotesque and comical, the fantastic beasties are some of the more imaginative giant movie monsters in recent years.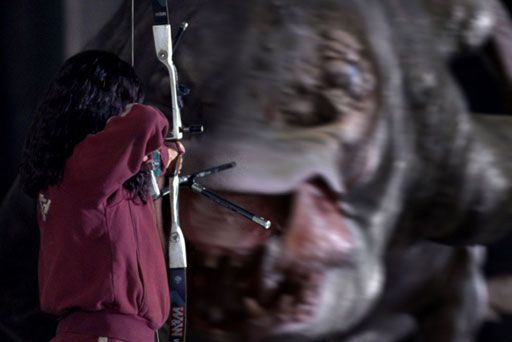 Most monster movies follow a simple rule: Don't show the monster until the end. It builds suspense, saves money and often prevents the unveiling of a rather lackluster monster until after all the teenagers are in full-blown make-out mode. South Korea's 2006 film "The Host" took a different approach, however, unleashing a memorably grotesque sewer monster in broad daylight rather early in the film.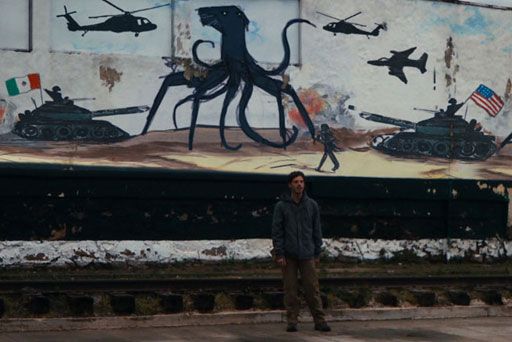 If you're making a giant monster movie on a budget, however, it's best to take the time-tested minimalist approach. That's exactly what 2010's "Monsters" did, sticking to brief glimpses, offscreen noise and background illustrations -- at least until later on in the film. Gareth Edwards directed, wrote and filmed the movie -- and did all the CGI effects. Not only was the film a success, it scored Edwards his next directing gig: another American Godzilla reboot.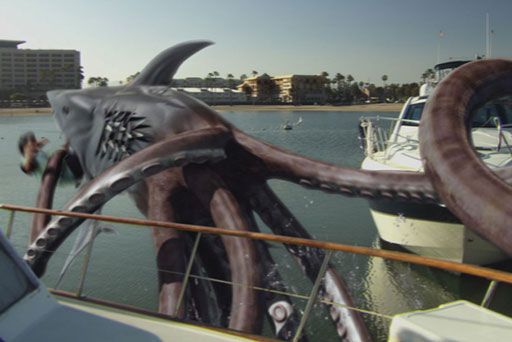 Finally, no discussion of contemporary giant monster movies would be complete without 2010's "Sharktopus," the Roger Corman-produced film about a shark-octopus hybrid with an appetite for beach vacationers. The CGI might not be on par with "Avatar," but the film captures the spirit of yesteryear's B-movie monster flicks.