If Morgan Gardner Bulkeley had been told in 1876 that he would one day have a plaque in the pantheon honoring the greatest contributors to the game of baseball, he probably would have shaken his head incredulously. He is without question the most obscure baseball personage in the Hall of Fame. yet he may also be its most estimable figure.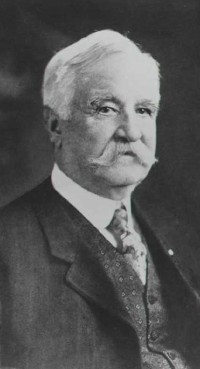 Bulkeley held the NL presidency
for only one year. He is an obscure
but estimable figure.
Bulkeley's lone significant connection with baseball is that in 1876, as a 39-year-old executive, he represented the Hartford Blues at the National League's first club owners' meeting. Previously, he had been a principal backer of the
Hartford
entry in the old National Association but had long since declared that baseball to him was a mere pastime; his true devotion was to the Aetna Life Insurance Company, which had been founded by his father Eliphalet.
It was Bulkeley's business background and sterling reputation that intrigued William Hulbert of Chicago, the National League's creator. Hulbert saw in Bulkeley the perfect man to serve as the loop's first president. For one, Bulkeley's impeccable credentials would give Hulbert's enterprise instant respectability.

Equally important, Bulkeley (1837-1922) was an Easterner and as such would act to counter the view that the National League was strictly the brainchild of maverick Westerners. Hulbert nominated Bulkeley for president and a drawing was conducted. Bulkeley's name was the first one chosen by lot, and by that stroke of luck he became the first president of the National League.
Bulkeley served just one year. At the postseason meeting in December he was not even present when Hulbert was named his successor. After the Hartford club moved to Brooklyn in 1877, Bulkeley's connection with baseball was severed. Named president of Aetna in 1879, he remained at that post for the rest of his life. He died on November 6, 1922.

In 1937, when all agreed that Ban Johnson as the first president of the American League should be among the original Hall of Fame enshrinees, it seemed only appropriate that the first National League president should be likewise commemorated. Hence Bulkeley earned a place in the Hall of Fame while William Hulbert, the true founder of the National League, wasn't voted in until 1995.

See more information on the Baseball Hall of Fame:
See the players in the Baseball Hall of Fame by position:
See the members of the Baseball Hall of Fame by team:
Advertisement