To this day, Mary Kathryn "Mickey" Wright is heralded as the best woman golfer of all time. Her record is proof of that.
It is usually the case that the greatest golfers do not swing by the "book," but succeed through guile and determination.
On the other hand, most of those who do make a smooth and elegant classic swing, with everything falling into the right places, never possess the intangibles to reach the greatest heights.
It follows then that if someone combines a perfect golf swing with an intense will to win, that someone is going to be very special. Such a person was Mickey Wright.
And thanks to film and video, golfers not born when Wright was in her prime are able to view and confirm for themselves her exquisite expression of the golfing art.
Wright was born in San Diego in 1935. At the age of nine, she played her first golf and "took to it like a duck," as Wright once recalled. Only two years later, after she broke 100 for the first time, her picture appeared in a San Diego newspaper with a caption: "The Next Babe?" "From that time on, I was determined to become a professional golfer," said Wright. Her first formal instruction was with Johnny Bellante, who also got Gene Littler started.
When Wright was 14, she broke 70 for the first time and also won the Southern California Girls' Junior championship. The pro at the venue for that event was Harry Pressler, a highly regarded teacher, and Wright began taking lessons from Pressler. It was he who was mainly responsible for shaping the Wright swing.
But Wright, an inveterate student of the golf swing, would also work with Stan Kertes (who taught Babe Zaharias to play) and Texas pro Earl Stewart. So she found the best teachers, to which she added her own intelligence and natural physical gifts.
A tallish woman, with a slender and neatly proportioned figure, she had a long swing arc and the powerful hand action at impact associated with men players. Both were sources of her considerable length off the tee. And, with her uncomplicated swing pattern, she was also very accurate -- not to mention consistent.
As an amateur on the national level, Wright won the 1952 U.S. Girls' Junior and the 1954 World Amateur. She was also the low amateur in the 1954 U.S. Women's Open. She attended Stanford University for a year, at the insistence of her father, but was not happy. She just wanted to play golf, professionally.
Her father could not ignore her accomplishments and relented. He gave Mickey $1,000 to get started, and the great odyssey began. Wright turned pro in 1955 and won her first LPGA tournament in 1956. She won thrice in 1957, but in that year's U.S. Open made, in retrospect, an incredibly poor showing with rounds of 79-82-81-80. The next year, she made up for it in a major way.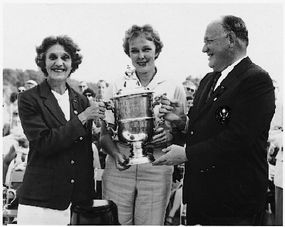 In 1958, Wright won three regular Tour events plus the LPGA Championship and the U.S. Open. In the latter, she became at 23 the youngest winner of the championship. She led after every round, finished five shots ahead of Louise Suggs, and set a new Open scoring record with a 2-under-par 290 -- one better than Babe Zaharias scored in 1954. The question asked in the photo caption in the San Diego newspaper 12 years before was answered.
The next year, Wright defended her U.S. Open title and broke her own scoring record by three shots. She would win the Open four times and claim a total of 13 majors.
Wright's competitive record is filled with striking achievements: second in all-time LPGA victories with 82; winner of three majors in one season -- the 1961 U.S. Women's Open, LPGA, and Titleholders; twice recorded four consecutive victories on the LPGA Tour (1962 and '63); and won 13 times in 1963, a stratospheric record in the Byron Nelson class that many feel will never be equaled.
Wright did all her marvelous playing from 1956-69, then stopped playing regularly owing to some real and, some would say, self-designed reasons: She had developed a growth on her left foot, and after an operation played all her golf in tennis shoes.
She also suffered from sheer exhaustion; sponsors threatened to cancel tournaments if she didn't appear, and in acceding for the good of the circuit she played more than anyone should. She also claimed an adverse reaction to the sun, as well as an aversion to flying (which became necessary as the LPGA Tour grew, thanks in good part to her).
Finally, Wright had an abiding modesty that never allowed her to enjoy her celebrity. A quiet, introspective woman with a range of interests outside of golf (literature, music, fishing, the stock market), she became something of a recluse in Florida.
In 1979, however, Wright competed in the Coca-Cola Classic and got into a five-way playoff that was eventually won by 22-year-old Nancy Lopez. Wright, at 44, hadn't competed consistently for a decade, but she outhit Lopez off the tee and outplayed the three others in the overtime play before losing on the second extra hole to a birdie -- if "losing" is the right word for it.