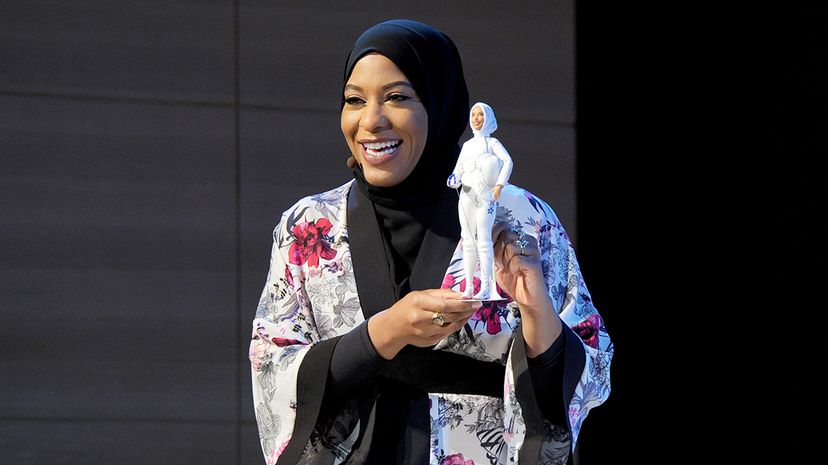 Having the most famous face in the toy aisle isn't easy. After all, Barbie, Mattel's long-standing plastic icon, has dealt with her fair share of highs and lows since she debuted in 1959. Some have hailed her a pioneering Jill of all trades (after all, she's been a vet, gymnast, game developer and President of the United States, to name a few). But others consider Barbie a negative influence on girls, with unrealistic body measurements and major materialistic tendencies.
But whichever side of the Barbie debate you're on, it's hard to deny that the doll has made significant strides over the past few years. She's taken on three new body types, and paid tribute to "Sheroes" like director and screenwriter Ava DuVernay and Misty Copeland, the first African American female principal dancer with New York City's prestigious American Ballet Theatre. Now the influential toy is paying homage to another groundbreaking female and making history in the process.
On Nov. 12, 2017, Mattel honored Ibtihaj Muhammad, the first American Olympian to compete while wearing a hijab, with her very own one-of-a-kind Barbie in her likeness. That means that not only is Muhammad a trailblazer — she won the bronze medal in team sabre fencing at the 2016 Summer Olympics in Rio — but her Barbie is too; it's the first time the iconic doll has ever donned the hijab worn by many Muslim women around the world.
"It's something I wear like I wear a shirt or I wear pants," Muhammad told the New Yorker, saying she hopes kids will "take it off and try it on their other Barbies."
As a renowned athlete recognized as one of TIME magazine's "100 Most Influential People" of 2016, Muhammad has broken boundaries in the sports world and beyond; she launched her own line of modest clothing called Louella after noting a gap in the marketplace.
"Barbie is celebrating Ibtihaj not only for her accolades as an Olympian, but for embracing what makes her stand out," Sejal Shah Miller, vice president of global marketing for Barbie, said in a press statement. "Ibtihaj is an inspiration to countless girls who never saw themselves represented, and by honoring her story, we hope this doll reminds them that they can be and do anything."
The magazine world agrees: Muhammad officially met her Barbie at the Glamour Women of the Year LIVE Summit, an annual event honoring influential female leaders in a variety of fields.
"Ibtihaj Muhammad has challenged every stereotype — which to me is the definition of a modern American woman," Glamour Editor-in-Chief Cindi Leive said in a press release. "Last year, she was the first athlete from the U.S. to compete in the Olympics wearing a hijab, and today we are thrilled to celebrate Ibtihaj as the first hijab-wearing Barbie. She will play a tremendous role in ensuring that girls of the future see themselves represented fully and beautifully in our culture."
Whether you're a Barbie devotee or simply want to commemorate Muhammad's achievements, you can get your hands on the doll next year. "When I think about my own journey, me being a Muslim girl involved in the sport of fencing, there were people who made me feel like I didn't belong," Muhammad said during a visit to the Mattel factory. "For all those people who didn't believe in me, this Barbie doll is for you."