Position: Umpire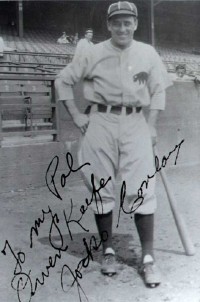 Jocko Conlan, known for his trademark
polka-dot bow tie, was the first umpire
from the modern era to be selected
to the Baseball Hall of Fame.
Jocko Conlan was the first umpire from the modern era to be selected to the Hall of Fame. Known for his trademark polka-dot bow tie, he had a quick wit and a sharp tongue, and was one of the most respected umpires of all time.
John Bertrand Conlan (1899-1989) was born in Chicago. The son of a policeman, he played baseball on the sandlots in the shadow of Comiskey Park. He was the envy of other South Side boys when he served as a Sox batboy. He was a good outfielder and played in the minors from 1920 to '33, reaching Triple-A but never getting a call to the bigs.

He retired before the 1934 season. In 1934, however, the White Sox had lost several outfielders to injury and signed Jocko to fill in. He did well enough to be invited back in '35 as a reserve.
Umpire "Red" Ormsby suffered heat prostration during a doubleheader in St. Louis in 1935, and Jocko, sitting out the game with a sprained thumb, volunteered for duty on the bases. There were only two umpires a game then, and Browns manager Rogers Hornsby surprisingly agreed to let Conlan work the second game. He worked the game in his White Sox uniform, and he even called teammate Luke Appling out trying for a triple. Jocko did such a good job he decided to make it his only job.
After four years in the minors as an ump, Conlan returned to the bigs in 1941. He established his authority quickly, ejecting 26 men in that first season. Conlan had a favorite target for ejection: Leo Durocher. In 1961, Durocher kicked dirt on Conlan after an ejection, and the two got into a kicking match. Jocko was wearing shin guards and steel-toed shoes, however. Durocher said, "Every time Jocko kicked me, he raised a lump on my shins; every time I kicked him I bruised my toes."
Jocko was struck in the larynx by a foul tip, and although the other National League umpires used inside chest protectors, afterwards he was allowed to wear the outside chest protector to protect his throat. He officiated for 27 seasons, arbitrating six All-Star games, six World Series, and four playoffs before retiring in 1967. Jocko was inducted into the Hall of Fame in 1974.
See more information on the Baseball Hall of Fame:
See the players in the Baseball Hall of Fame by position:
See the members of the Baseball Hall of Fame by team:
Advertisement