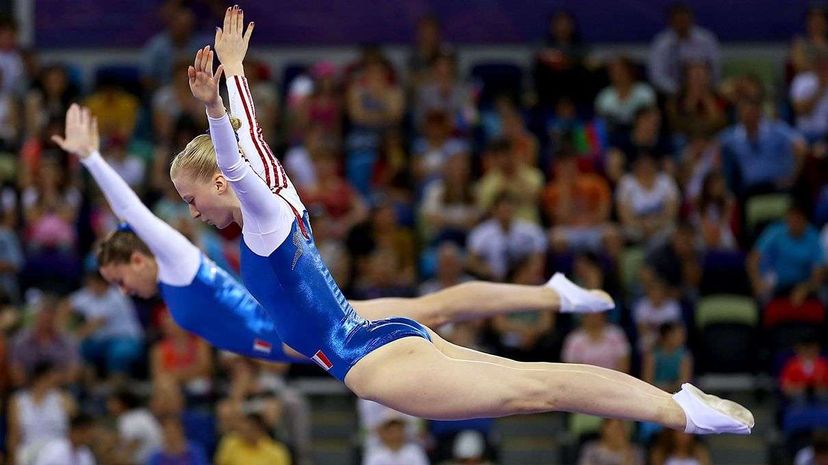 Ever wonder what sport you'd go for if you were to become an Olympic athlete? If you based the decision on the amount of pure joy the sport gave you, you might choose trampoline gymnastics.
"You feel that you're on top of the world. You never see a human being jumping 30 feet in the air," gymnast Hunter Brewster says in an interview with AP.  
Height, of course, is key. The higher the jump, the more time the gymnast has to execute moves like a cody (a backward somersault from the front), a fliffis (a double somersault with a twist) or even a quadriffis (a quadruple somersault with a twist).
All those high jumps mean that whatever venue hosts the trampoline event has to have a minimum ceiling height of 8 meters (26.2 feet), according to the sport's regulating body, the International Gymnastics Federation (FIG).
Olympic judges rate the gymnasts on flight time, execution and difficulty. The athletes get dinged for stuff like not sticking the landing or for jumping without performing a trick. Every jump is critical. After the judge gives the signal, the gymnast has up to a minute to begin their routine, which consists of 10 bounces for showing off their moves.
The Olympics only feature individual routines for men and women, but there are other competitive events for trampoline, too, such as synchronized trampoline and double mini trampoline.
Trampoline gymnastics first popped up at the 2000 Sydney Olympics, but it's been around since the 1930s. George Nissen, a former gymnastics champ, diver and physical education teacher dreamed it up after being inspired by circus trapeze artists, according to FIG. He'd eventually form Nissen Trampoline Company, too, and live to see the sport debut at Sydney.
China's dominated this event so far, with eight medals earned by the likes of male gymnast Dong Dong and others (three golds, one silver and four bronze). Karen Cockburn single-handedly bounced and leapt her way to an impressive trio of medals for Canada (two silvers, one bronze; six total for the country). Russia has chalked up four, two of which came courtesy of the high-flying Alexander Moskalenko.