Position: Pitcher
Teams: Philadelphia Athletics, 1912-1915; Boston Red Sox, 1915-1922; New York Yankees, 1923-1933; Boston Red Sox, 1934

Herb Pennock was another of Connie Mack's discoveries, a terrific left-hander who eventually became the best-remembered pitcher of Babe Ruth's Yankees. Hailing from affluent Kennett Square, Pennsylvania, Herbert Jefferis Pennock (1894-1948) went directly from prep school to Connie Mack's Athletics in 1912 when he was just 18 years old. Mack arranged for Herb to pitch on the semipro level during his school vacations.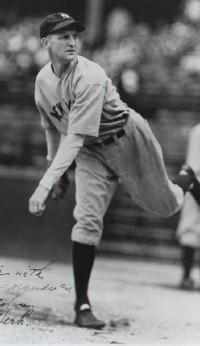 Herb Pennock had trouble overcoming
the weakness of bad teams but
was able to fully take advantage
of good teams.
Pennock was involved in two of baseball's historical fire sales. In 1915, Mack, trying to fend off the assault of the Federal League, sold Pennock to Boston, where the gentlemanly Pennock first met Ruth. The two became friends despite their different temperaments. In 1923, Boston owner Harry Frazee continued his piecemeal sale of the Red Sox and sent Pennock to join Ruth on the Yankees.
While with the A's, Herb didn't receive the opportunity to pitch much until 1914, when at age 20 he was 11-4 with a 2.79 ERA. With Boston in 1915 and '16, he again was not a front-line pitcher, and the Red Sox farmed him out both seasons. After a mediocre 1917 season, Herb was in the Navy during World War I and missed the 1918 campaign. Back in the Hub in 1919, Pennock finally became a starter, posting ordinary numbers from 1919 to 1922.
Herb was 29 years old and barely a .500 pitcher when he arrived in the Bronx, but in his first season there he led the league in winning percentage at .760 (19-6). He went on to two 20-win seasons for the Yankees and a 162-90 record in 11 seasons.
"The Knight of Kennett Square" was known for his smooth, effortless delivery, his finesse, and his guile. Ruth believed Pennock was the smartest of all left-handers. He amassed a 240-162 career record, with a 3.61 ERA. Pennock was a perfect 5-0 in World Series competition.
He appeared briefly for the 1914 Athletics, and in 1923 he won two games and saved a third as the Yankees finally overcame two previous disappointments against John McGraw's Giants. In the 1927 Series, Pennock retired the first 22 batters he faced and pitched a three-hitter in the Yankee sweep. In 1932, 18 years after his first World Series, he saved two games.

Pennock made a final stop with Boston in 1934 before retiring. He coached with the Red Sox for five years before becoming the supervisor of their farm system. He became the Phillies general manager in 1944 and held the position until his death in 1948, the year of his induction into the Hall. He will always be associated with the Babe and with New York, where he notched many big-game victories.

Here are Herb Pennock's major league totals:

| | | | | | | | | | |
| --- | --- | --- | --- | --- | --- | --- | --- | --- | --- |
| W | L | ERA | G | CG | IP | H | ER | BB | SO |
| 240 | 162 | 3.61 | 617 | 248 | 3,558.1 | 3,900 | 1,427 | 916 | 1,227 |
See more information on the Baseball Hall of Fame:
See the players in the Baseball Hall of Fame by position:
See the members of the Baseball Hall of Fame by team:
Advertisement