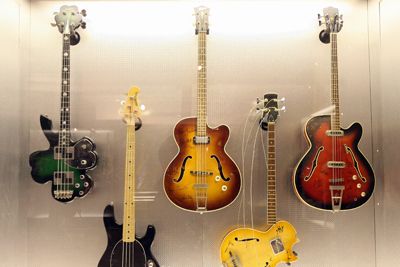 JOHN D MCHUGH/AFP/Getty Images
The electric guitar is the most famous instrument ever to come out of the United States. The next picture shows many guitars with famous owners.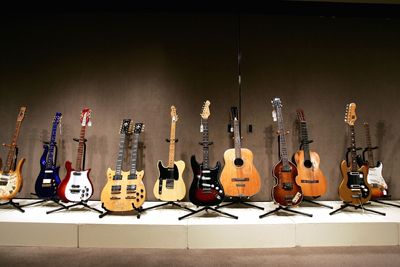 Spencer Platt/Getty Images
Guitars, once owned and used by a litany of entertainers, stand on display.
Jeff Gentner/Getty Images
After substantial flooding in Nashville, Tenn., caused one billion dollars of damage, workers rummage through salvageable goods. Here, at the Soundcheck storage facility, Brent Ware examines a 1952 Gibson Les Paul guitar valued at $100,000. The musician in the next photo is quite famous. Over 2,000 artists have done covers of his songs.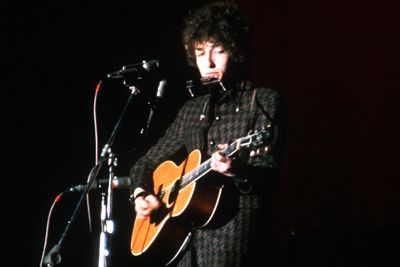 Alice Ochs/Michael Ochs Archives/Getty Images
Bob Dylan plays a Gibson acoustic guitar as he performs on stage.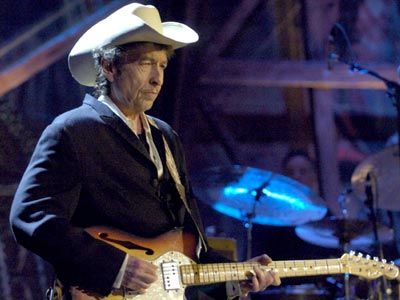 Photo by Lester Cohen/WireImage for NBC Universal Photo Department
Here, Bob Dylan performs at Willie Nelson and Friends: Outlaws & Angels. The next musician helped bring grunge music into the mainstream.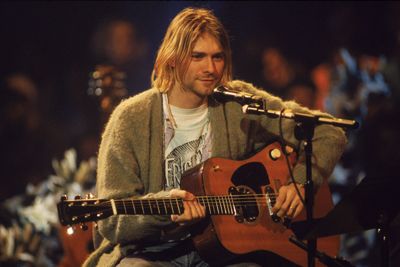 Frank Micelotta/Getty Images
American singer and guitarist Kurt Cobain performs with an acoustic guitar. The next musician got his first guitar at age 15.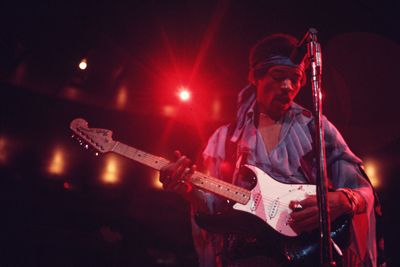 Walter Iooss Jr./Getty Images
Jimi Hendrix, one of the one of the greatest rock guitarists, never had guitar lessons or learned how to read guitar chords. Take a look at a guitar owned by Hendrix in the next picture.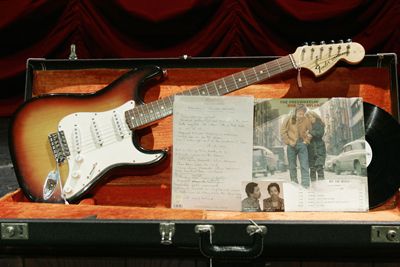 STAN HONDA/AFP/Getty Images
A 1968 Fender Stratocaster guitar in sunburst finish owned by Jimi Hendrix, estimated price of USD 80,000 to 120,000. The next musician's black horn-rimmed glasses are his trademark.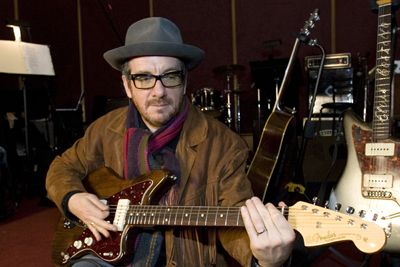 Kimberly White/Getty Images For Fender
Elvis Costello plays his signature model Fender Jazzmaster guitar. In the next photo is Rolling Stone's 15th greatest guitarist of all time.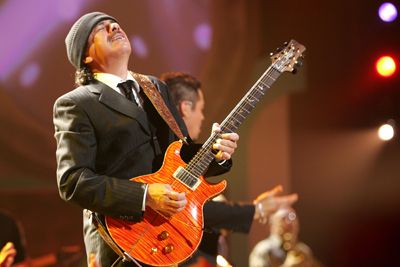 Frank Micelotta/Getty Images
Carlos Santana has endorsed a lot of musical equipment throughout his career. He currently endorses PRS Guitars.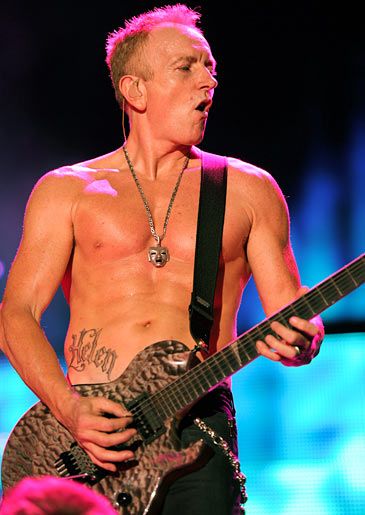 Phil Collen is the lead guitarist in Def Leppard. What guitarist is well known for his long curly hair and top hat? Find out next.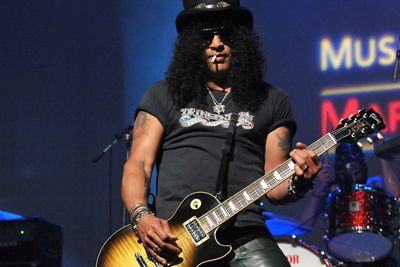 Former Guns 'N' Roses guitarist Slash owns over 250 guitars.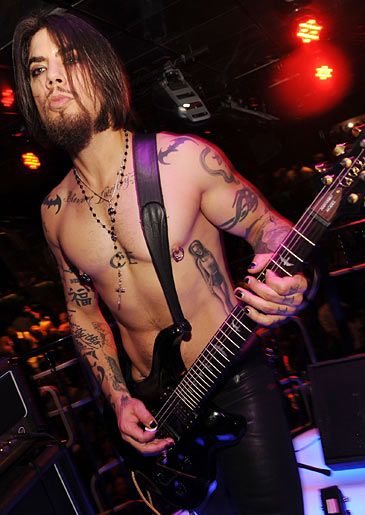 Denise Truscello/WireImage
Dave Navarro performs as guitarist for Jane's Addiction. The guitarist in the next picture is said to have owned and played nearly 1,500 different guitars!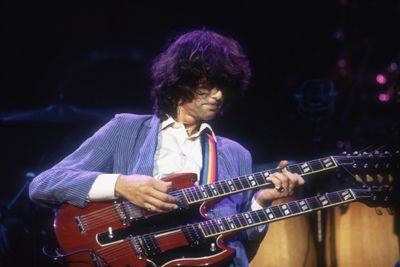 Dave Hogan/Hulton Archive/Getty Images
English guitarist Jimmy Page plays a double-necked, six- and twelve-stringed guitar during a Led Zeppelin concert. The owner of the guitar on the next page has been inducted into the Rock and Roll Hall of Fame three times.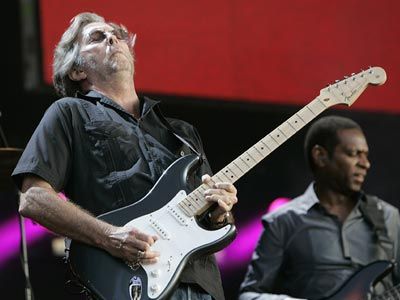 Photo by Jo Hale/Getty Images
Eric Clapton performs at the Hard Rock Calling Festival on June 28, 2008 in London, England.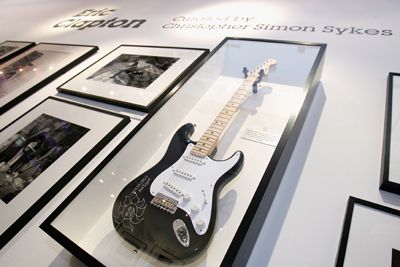 Chris Jackson/Getty Images
An electric guitar owned by Eric Clapton. He is number four on Rolling Stone's Top 100 Guitarists of All Time.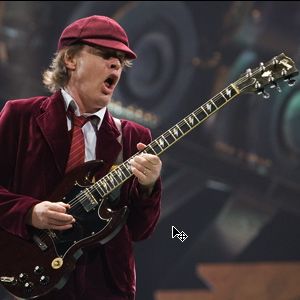 Photo by Joey Foley/FilmMagic/Getty Images
Guitarist Angus Young of AC/DC performs at Conseco Fieldhouse on Nov. 3, 2008 in Indianapolis, Ind.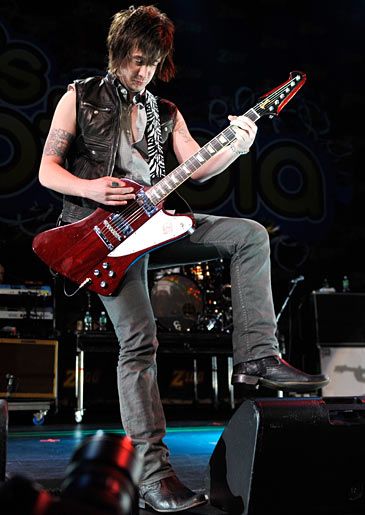 Kevin Mazur/WireImage for Clear Channel Radio
Nick Wheeler is the guitarist of the All-American Rejects. Not all guitarists play rock-and-roll. Learn about one legendary jazz guitar player next.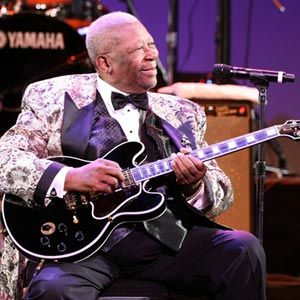 Photo by Alexandra Wyman/Getty Images for Thelonious Monk Institute
B.B. King onstage during the Thelonious Monk Institute of Jazz Honoring B.B. King event at the Kodak Theatre on Oct. 26, 2008 in Los Angeles, Calif.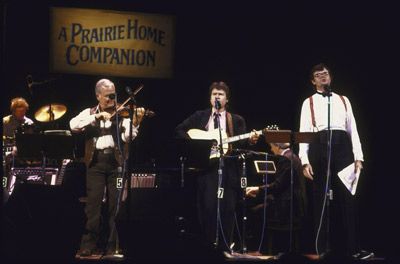 Kevin Horan/Time & Life Pictures/Getty Images
Garrison Keillor (R), the host of "A Prairie Home Companion," sings with country fiddler Johnny Gimble and guitarist Peter Ostroushko. Next, learn about a guitar-keyboard hybrid.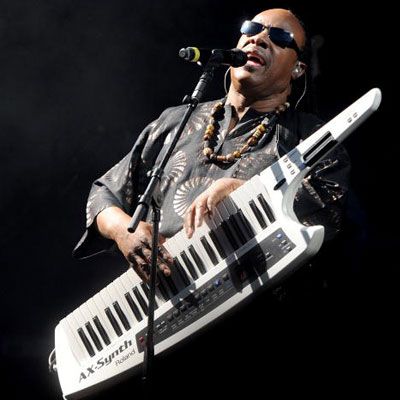 Shirlaine Forrest/WireImage/Getty Images
Musicians like Stevie Wonder find the keytar -- a combination of a keyboard and guitar -- appealing due to its low weight, high mobility, and "rock out" potential. The guitar on the next page is the world's first guitar with robotic technology.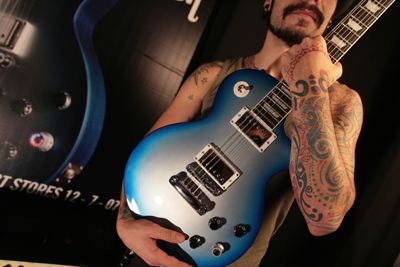 PIERRE-PHILIPPE MARCOU/AFP/Getty Images
The Gibson Robot Guitar can automatically tune itself thanks to an onboard computer. Next, learn who's behind post-production.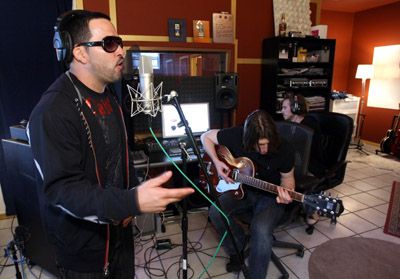 John Shearer/WireImage/Getty Images
Many recording engineers start out as musicians. Singer Malverde, standing, rehearses with engineer Eric J. Dubowsky, playing guitar. Next, see a video game modeled after the musical instrument.
Charley Gallay/Getty Images for Media Placement
Actress Leighton Meester checks out the new Guitar Hero III after its release. Next, get tips on learning to play guitar yourself.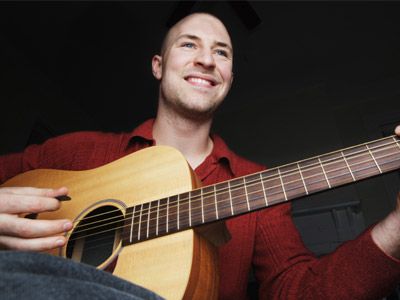 © iStockphoto.com/bjones27
Learning to play guitar can be a fun and relaxing activity. Learn more with How Acoustic Guitars Work.