The Recording Academy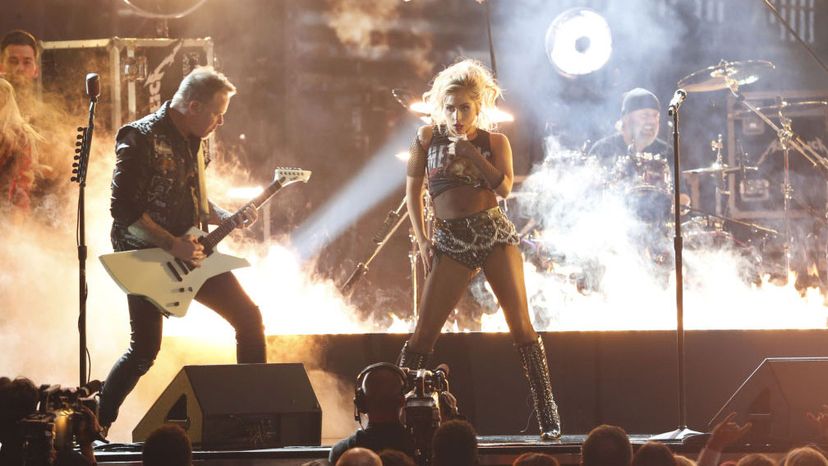 Lady Gaga and Metallica perform during the 59th Grammy Awards. Unlikely — and one-time — musical pairings, like this, are one of the reasons viewers tune in to watch the Grammy show.
Monty Brinton/CBS via Getty Images
The Grammy Awards are a product of the National Academy of Recording Arts and Sciences, or the Recording Academy. Founded in 1957, the Recording Academy is a professional music organization. All of its members are creative or technical music professionals, such as singers, composers, producers, art directors and engineers. The Recording Academy has two membership levels — associate and voting. All voting members must have been producers, performers or engineers on six or more tracks of a commercially released album (or 12 or more digital tracks). As a result, the Grammys remain the only award presented to peers, by peers to recognize recording industry excellence. The awards represent excellence from the previous year, so for instance, the 1970 Grammy Awards represented accomplishments for 1969.
In addition to organizing the Grammys, the Recording Academy works with musicians and lawmakers on legal issues like digital music downloading. The Recording Academy has also organized the Grammy Foundation for music awareness as well as the MusiCares Foundation, which provides emergency assistance and addiction recovery programs for people in the music industry. Recent years and decreased funding for arts education has also led the group to advocate for the continued development of our next generation of musicians [source: Grammy].
However noble these pursuits are, the Recording Academy is most famous for its annual awards, which bring the stars front and center and often set tongues a-wagging.