Show Production
When casting the show, the producers sought an interesting dichotomy between the two competitors. Smith wasn't found through the ad -- the producers called a jiujitsu school looking for MMA fighters, and it happened to be the school Smith worked at. He was available and set up a phone interview with show creator Amy Rapp. She liked him well enough to schedule an in-person audition along with five other experienced mixed martial artists. It wasn't his fighting skill that landed him the job, though. Smith says:
"One of the reasons I got it, I think, is because I talked about everything but fighting. Fighters often talk about how tough they are. I knew this was Discovery Channel and that's not necessarily what they're after. A fighter's mentality doesn't always work for TV. We're programmed differently, so I had to consciously stay away from that kind of thing."
Anderson submitted an audition tape that the producers thought was amusing. Show producer Chuck Smith says, "Doug was kind of out of left field. He sent in a tape that was really funny. We liked him immediately." His inexperience and street-wise toughness was a good match for Smith's veteran savvy. Smith says:
"I think it really works for the show. The way we see fighting is totally different. Doug's attitude is so different than mine, I think it worked and you got two contrasting sides on everything."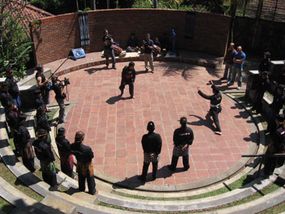 Doug, Jimmy and the camera crew observe a sparring session.
Discovery Channel
With the two fighters cast and game for anything, the producers then had to select the countries and fighting styles they wanted to explore. The selections were based on how interesting the local fighting style was and the exoticism of the country. The producers wanted to stick to a format where they split the pair up -- one to train in the city, one in the country. No country turned down their request to film, although some had to be avoided because of civil unrest. All of the master teachers, even the legendary instructors in Japan, were open to the show's concept. It was a chance to showcase an art form that's vital to their culture. The locations and fighting styles were as follows:
China - sanda

Philippines - kali

Japan - Kyokushin karate

Mexico - boxing

Indonesia - pencak silat

France - savate

South Korea - hapkido

Brazil - jiujitsu

Israel - krav maga

San Francisco - kajukenbo
­
Once the locations were picked, Smith and his team assembled a five-person crew from New York and lined up a local sound technician and "fixer" in each country. The fixers acted as liaisons to help coordinate the shoot and minimize the language barrier. The crew arrived two days early to each country to shoot additional "B-roll" shots and stayed an additional day to relax and prepare for the journey stateside. They spent a total of 12 days in each spot with two weeks off in between for Anderson and Smith to heal and recharge. Smith adds:
"The two weeks we had at home was pretty much enough to rehab yourself. Put ice on whatever hurts, stay in bed, take anti-inflammatories -- just in time to get up and do it again."
Originally Anderson and Smith were going to fight each other at the end of each episode. After an initial sparring session, the producers changed their minds. Smith says, "I'm way more experienced than Doug and to see me beat him up every week would not have been good. Plus we got along so well, it didn't make any sense."
In the next section, we'll look at the 10 fighting methods explored on "Fight Quest."