Equipment Manager's Duties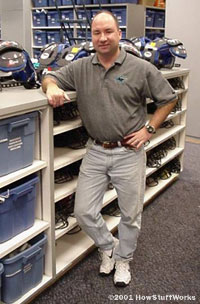 Jackie Miles, equipment manager for the Panthers
The role of equipment manager has become an extremely important one for every NFL team. The equipment manager has two big areas of responsibility:
Protecting the players - First and foremost, an equipment manager's job is to fit each player on the team with a customized array of equipment that will provide maximum protection against injury.

Managing the logistics - The equipment manager must handle the tons of equipment the team uses on a daily basis, keep all of it repaired and in stock and move it around for all of the road games.
These twin responsibilities have made equipment management both a science and an incredibly demanding role on any NFL team. For the Carolina Panthers, the job of equipment manager falls on the shoulders of Jackie Miles.