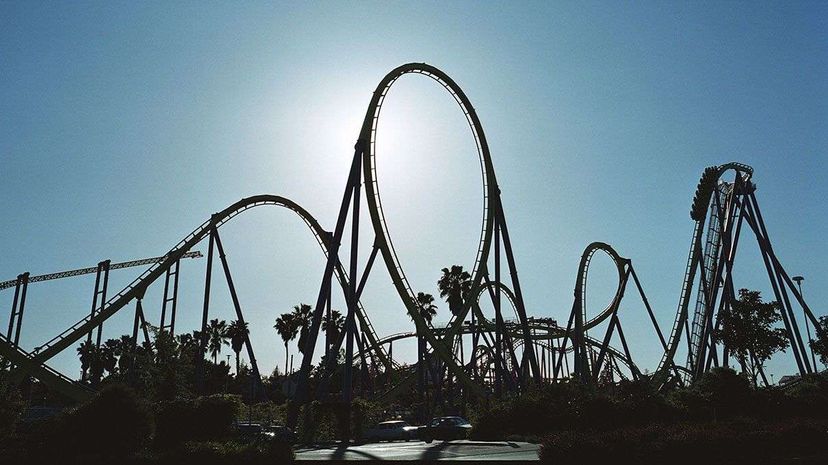 If you only had months to live, would you rather wither away in a hospital bed or go out on the ride of your life? That's the concept behind the euthanasia coaster, a most extreme thrill ride.
A Lithuania-born engineer, artist and former amusement park employee, Julijonas Urbonas made headlines in 2010 with his provocative design for a euthanasia coaster, a roller coaster expressly designed to thrill and then kill its riders.
"Current euthanasia machines are medicalized, secularized, sterilized," said Urbonas in a video about his death coaster. "It's a euthanasia machine in the form of a roller coaster, engineered to — humanely, and with euphoria and pleasure — kill a human being."
Urbonas built the coaster's scale model, which at full size would send riders plummeting down a 1,640-foot (500-meter) near-vertical drop before entering the first of seven consecutive (and consecutively tighter) loops. The incredible speed of the drop coupled with the rapid inversions would subject riders to sustained 10 G-forces for a full minute. The excessive gravitational forces would rush blood to the extremities, starving the brain of oxygen. After losing consciousness, brain death would quickly follow.
"At first, what was designed was just the fatal falling trajectory with no purpose but one: to kill the rider pleasurably and elegantly," he told the publication Ladbible in 2021. "It was a sort of a designed thought experiment of what the ultimate roller coaster would be like and what possible usages it would be open to ... [like] an alternative death ritual appealing to both the individual and the mourning public."
Urbonas also told Ladbible that the hypothetical euthanasia machine was engineered with the help of scientists and experts from areas like aerodynamics. His intention was not to convince people that it would be built but rather that it could be built. "It makes the public immerse themselves in the narrative and forces them to think about such sensitive issues," he said.
Interestingly, this wasn't Urbonas' first roller coaster (although hopefully the first to intentionally kill someone). He worked as a ride designer at several Lithuanian amusement parks before moving to London to pursue a Ph.D. in design interactions.
A TikTok video explaining the euthanasia coaster went viral in 2021, sparking renewed interest. But as of the time of this publication, the euthanasia roller coaster remains just a concept.