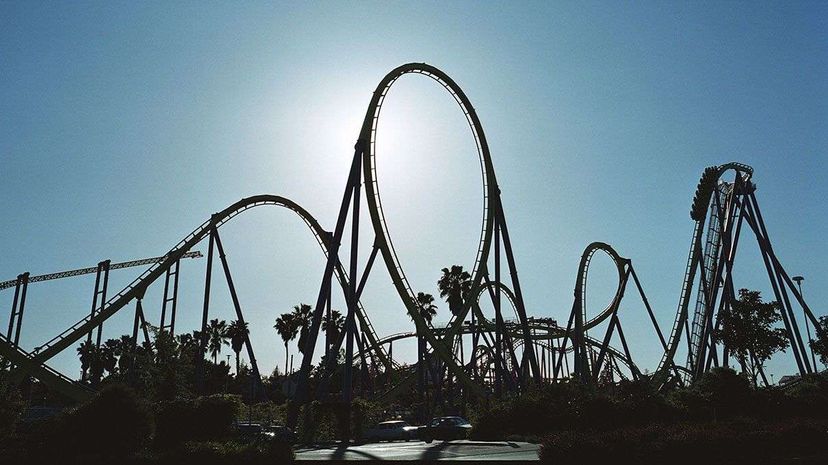 If you only had months to live, would you rather wither away in a hospital bed or go out on the ride of your life? That was the question director Glenn Paton wanted to answer with his short movie, "H Positive" about a man building a euthanasia coaster — one so powerful, it causes cerebral hypoxia, thus suffocating the brain but ensuring a euphoric death.
There is a real-life precedence for this. Lithuanian-born engineer and artist Julijonas Urbonas made headlines in 2010 with his provocative design for a euthanasia coaster, a roller coaster expressly designed to thrill and then kill its riders.
"Current euthanasia machines are medicalized, secularized, sterilized," says Urbonas in a video about his death coaster. "It's a euthanasia machine in the form of a roller coaster, engineered to — humanely, and with euphoria and pleasure — kill a human being."
Urbonas built a scale model of the euthanasia coaster, which at full size would send riders plummeting down a 1,640-foot (500-meter) near-vertical drop before entering the first of seven consecutive (and consecutively tighter) loops. The incredible speed of the drop coupled with the rapid inversions would subject riders to sustained 10 G-forces for a full minute. The excessive gravitational forces would rush blood to the extremities, starving the brain of oxygen. After losing consciousness, brain death would quickly follow.  
Interestingly, this isn't Urbonas' first roller coaster (although hopefully the first to intentionally kill someone). He worked as a ride designer at several Lithuanian amusement parks before moving to London to pursue a doctorate in design interactions. Designs for the euthanasia coaster have made the rounds of European museums and galleries, which is where filmmaker Paton encountered the macabre thrill ride.
"It was unbelievable!" says Paton, who first saw a poster-size image of Urbonas' model coaster in a London gallery. "I'm quite into death, you see. I remember looking at my girlfriend and saying, 'This would be an amazing short film.' "
At the time, Paton was working as a TV director for advertising agencies, but he was looking to break into movies. The death coaster struck him as the perfect idea for a high-concept short film.
Paton got Urbonas' blessing to make the film, but he still needed cash. Like any good boot-strapped filmmaker, Paton launched a Kickstarter campaign, which went on to raise more than 20,000 pounds ($29,243). Even for a short film, that's an ultra-tight budget, but Paton was able to leverage his production connections to afford an on-location shoot at an amusement park in Madrid, Spain, and even some slick CGI.
"H Positive," Paton's six-minute film, is a disturbing portrait of a man who seemingly has everything — money, power, success — when he is confronted with a terminal diagnosis. Unwilling to relinquish control, even to death, he commissions the construction of an elaborate machine to take his life and seal his worldly fame. 
"He's basically a complete a--hole," jokes Paton. "He's doing it purely out of selfishness. He wants to become famous in a unique way.
"Maybe I'm extremely selfish as well," he continues. "I remember saying to my girlfriend at the art exhibit, 'If I ever had a prolonged terminal illness, I'd rather go out with a bang ... I'd rather people remember me being 'fun Glenn,' not this guy in the hospital slowly withering away."
"H Positive" is an official selection at several high-profile film festivals and was honored as a Vimeo Staff Pick. You can see the movie in its entirety below:
In the meantime, the questions originally raised by Urbonas' radical coaster continue to resonate. Physician-assisted suicide remains illegal in all but a handful of European countries and five U.S. states. Even in those places, patients must be in the final stages of a terminal illness and prove that they are suffering unbearable pain. While Urbonas' euthanasia coaster is an extreme case, it points toward a day when humans might be free to end their lives — in a killer rush.