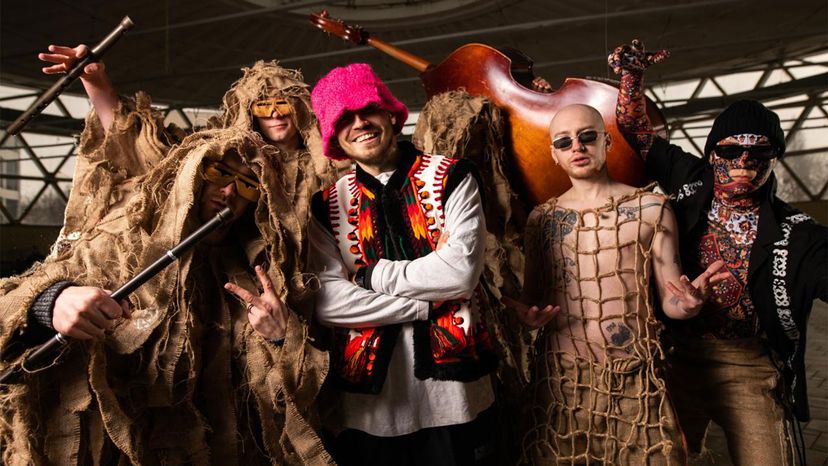 This year's Eurovision Song Contest — an annual celebration of pop music in which nations compete to win the votes of judges and the public — takes place May 14 in Turin, Italy. And Ukraine is overwhelmingly the favorite to win.
While the latest odds first and foremost reflect the widespread sympathy throughout Europe for besieged Ukraine, it certainly helps that the Ukrainian entry, Kalush Orchestra's "Stefania," hits the right notes when it comes to Eurovision. Combining traditional folk sounds with modern hip-hop, the song is sentimental and upbeat at the same time.
Originally penned as an ode to the lead singer's mother, "Stefania" has since become an anthem for the nation at war.
Sung entirely in Ukrainian, it showcases historical costumes and traditional instruments in a firm stamp of Ukrainian identity, while also effectively merging a melodic chorus with the global rhythms of hip-hop. Overall, the song reflects something of Ukraine's resilient attitude in the face of Russian aggression as well as its pro-Western cultural leanings. Indeed, one member of Kalush Orchestra declared: "Our country will not only win the war, but also win the Eurovision."
Russia was intent on competing this year as well. In February, however, the European Broadcasting Union, the organization behind Eurovision, banned Russia from the competition, under mounting pressure from other participating countries over the invasion of Ukraine.
I have long studied Eurovision as a cultural and political event. If Ukraine does win, I believe it will continue Eurovision's ongoing legacy of marking the boundaries of the liberal West. Despite the popular and ephemeral nature of its songs, the event has, since its inception, reflected the political culture and geopolitical realities of Europe.