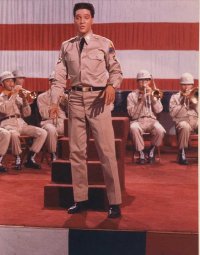 Elvis Presley performs in an Armed
Forces show in G.I. Blues.
In
G.I. Blues
, his first musical comedy, Elvis Presley stars as lady-killer
Tulsa
MacLean, an Army sergeant stationed in
West Germany
.
Tulsa
and his buddies hope to make enough money to open a small nightclub upon their return to civilian life. At the urging of his pals,
Tulsa
accepts a bet with a group of G.I.s to win the heart of Lili, a beautiful cabaret dancer at the Cafe Europa. Lili, played by dancer Juliet Prowse, has a reputation for resisting soldiers, so
Tulsa
's finesse with females is required to break through her cool exterior.
Just as
Tulsa
realizes that he is in love with Lili, she finds out that she has been the target of a wager. Lili manages to overcome her anger to help
Tulsa
out during a troublesome night of babysitting for a friend's infant son. At a rehearsal for an Armed Forces show, Lili discovers that
Tulsa
has called off the bet, proving he truly loves her.
Behind the Scenes of G.I. Blues
G.I. Blues marks the debut of the new Elvis Presley. Taking advantage of the good publicity Elvis received for serving his tour of duty in the Army, the Colonel launched a new, more clean-cut image for Elvis after his discharge. Film critics and movie magazines alike noticed the differences in Elvis' image, including changes in his personal appearance and attire. Gone were the sideburns the press had found so offensive, and gone was the flashy, hip attire. The new look was more conservative -- befitting Hollywood's latest leading man.
As produced by Hal Wallis, G.I. Blues borrowed some details from Elvis' personal life to flesh out his character, Tulsa MacLean. This was nothing new for Wallis and his production team. They had used a similar strategy in Elvis' pre-Army features, particularly Loving You but also in King Creole. The intent was to attract Elvis' legion of fans who were already familiar with Elvis' life. In G.I. Blues, Tulsa MacLean is an entertainer soon to be released from the Army. Tulsa is stationed in West Germany and is a member of a tank division, just as Elvis had been.
The character of Tulsa MacLean is a
member of a tank division, just as
Presley himself was.

Despite borrowing tidbits from Elvis' own life, the film differed a great deal from the singer's previous efforts. The major change was in terms of genre: His pre-Army films had been musical dramas;
G.I. Blues
was a musical comedy. His pre-Army films were based on previously published novels or stories;
G.I. Blues
was specifically written for the screen and followed a simpler, more formulaic story structure.
Elvis' management team and the film's production team also attempted to soften the singer's screen image. His character is older and more mature, and in one sequence he sings "Wooden Heart" to a group of children at a puppet show; in another he baby-sits an infant.
Other notable differences included toning down Elvis' controversial performing style in hopes of capturing a family audience, not just teenage fans. In
G.I. Blues
, Elvis no longer swung his hips when he sang, long-legged costar Juliet Prowse did it for him. Even though some of the songs in
G.I. Blues
are fast-paced, they lack the hard-driving sound, emotional delivery, and sexual connotations of his pre-Army recordings. "Mean Woman Blues" had given way to "Pocketful of Rainbows."
A great deal of publicity was generated during the production of G.I. Blues, much of it designed to showcase the new Elvis. Visiting dignitaries from other countries were paraded through the set at a rapid rate. Elvis met the King and Queen of Nepal as well as Princess Margrethe of Denmark, Princess Astrid of Norway, and Princess Margaretha of Sweden. Elvis met so many foreign notables during the film's production that he had difficulty getting the protocol straight. He once asked, "Is this another of those highness deals?"
The changes in terms of image and film genre do not mean that G.I. Blues was an inferior film, which many Presley biographers have implied. It remains a well-crafted musical comedy with a number of solid songs and a strong female costar. The only negative result of the film was that Elvis would be discouraged from making other types of movies. G.I. Blues is considered the prototype for the other Presley musicals, which, unfortunately, declined in quality as the decade progressed.
Cast of G.I. Blues

Character

Actor

Tulsa MacLean
Elvis Presley
Lili
Juliet Prowse
Cookey
Robert Ivers
Tina

Leticia Roman
Rick

James Douglas
Marla

Sigrid Maier
Sergeant McGraw

Arch Johnson
Jeeter

Mickey Knox
Captain Hobart

John Hudson
Mac

Ken Becker
Turk

Jeremy Slate
Warren

Beach Dickerson
Mickey

Trent Dolan
Walt

Carl Crow
Papa Mueller

Fred Essler
Harvey

Ronald Starr
Trudy

Erika Peters
Puppet Show Owner

Ludwig Stossel
Musicians

Scotty Moore and DJ. Fontana
Songs Featured in G.I. Blues

What's She Really Like
G.I. Blues
Doin' the Best I Can
Frankfort Special
Shoppin' Around
Tonight Is So Right for Love
Wooden Heart
Pocketful of Rainbows
Big Boots
Didja Ever
Credits for G.I. Blues

Paramount Pictures
Produced by Hal B. Wallis
Directed by Norman Taurog
Screenplay by Edmund Beloin and Henry Garson
Photographed in Technicolor by Loyal Griggs
Music by Joseph J. Lilley
Vocal accompaniment by The Jordanaires
Choreography by Charles O'Curran
Released November 23, 1960
To learn more about Elvis Presley, see: