Live a Little, Love a Little
In an attempt to keep up with the changing times, the producers of
Live a Little, Love a Little
created a slightly different Elvis Presley film.
Live a Little, Love a Little
featured a franker approach to sex than previous Elvis comedies. It also made use of kookier characters who were devoid of the sentimentality of his earlier films, and it included a psychedelic-type production number called "Edge of Reality."
Elvis stars as photographer Greg Nolan, who earns his living by working for two very distinct clients. Mike Landsdown, played by Don Porter, owns and operates Classic Cat Magazine, a girlie publication that features titillating photos. Louis Penlow, played by Rudy Vallee, owns a tasteful advertising agency that prides itself on its classy photography. Neither client knows Greg is working for the other. When Greg is not hopping back and forth between photo assignments, he is trying to get freewheeling and free-loving Bernice, played by Michele Carey, out of his hair.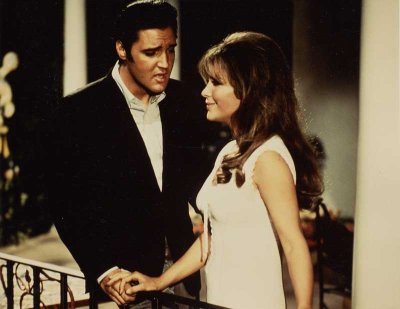 Although Michele Carey and Elvis share a bed, it's all kept innocent
with a bed divider.
Behind the Scenes of Live a Little, Love a Little
Elvis' management team, as well as the producers at MGM, were aware that the singer's image had not kept pace with the fast-changing 1960s. Producer Hal Wallis had chosen not to renew Elvis' contract when it expired in 1967 because, as Wallis noted, "It's not so much that Elvis is changing, but that the times are changing. There's just not the market for the no-plot musicals that there once was."

Billed as a comedy rather than a musical comedy, Live a Little was fashioned after the hip sex farces of the 1960s, such as The Swinger and A Guide for the Married Man. Though not as wild as some films from the era, it did feature Elvis's character swearing. Also, the script makes clear that the character of Bernice had been sexually active prior to meeting Greg; near the end of the film, Greg and Bernice sleep together without benefit of marriage. Though the story ends with a marriage proposal, the franker attitude toward sex was a surprise to some critics and audience members.
Cast of Live Little, Love a Little

Character

Actor

Greg Nolan
Elvis Presley

Bernice

Michele Carey
Mike Landsdown

Don Porter
Louis Penlow

Rudy Vallee
Harry

Dick Sargent
Milkman

Sterling Holloway
Ellen

Celeste Yarnall
Delivery Boy

Eddie Hodges
Robbie's Mother

Joan Shawlee
Miss Selfridge

Mary Grover
Receptionist

Emily Banks
Art Director

Michael Keller
1st Secretary

Merri Ashley
2nd Secretary

Phyllis Davis
Perfume Model

Ursula Menzel
Robbie

John Hegner
Sally, the Mermaid Model

Susan Henning
Newspaper Employees

Red West, Sonny West
Songs Featured in Live a Little, Love a Little

Wonderful World
Edge of Reality
A Little Less Conversation
Almost in Love
Credits for Live a Little, Love a Little

Metro-Goldwyn-Mayer
Produced by Douglas Laurence
Directed by Norman Taurog
Screenplay by Michael A. Hoey and Dan Greenburg
Photographed in Metrocolor and Panavision by Fred Koenekamp
Music by Billy Strange
Choreography by Jack Regas and Jack Baker
Released October 23, 1968
To learn more about Elvis Presley, see: