Position
: Manager
Team
: Baltimore Orioles, 1968-1982, 1985-1986
Highlight films do not serve the memory of Earl Weaver well. Too many times we have seen his embarrassing displays as he verbally assaulted umpires and extended his childish behavior as far as throwing bases.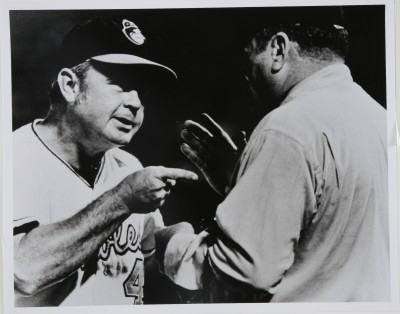 Earl Weaver, whose run-ins with umpires became legendary, ranks eighth all-time
in managerial winning percentage.
Weaver was ejected from more games than anyone else in history, and deservedly so. Yet behind that boisterous facade was the keen baseball mind of a very successful manager. Only Joe McCarthy compiled more 100-win seasons than Weaver.

Earl Sydney Weaver was born in St. Louis in 1930. His feistiness as an infielder impressed the Cardinal scouts enough to sign him in 1948, but he never reached the majors, spending nine seasons in the minors. He got his first chance to manage in 1956 in Knoxville of the Sally League. He built his store of baseball knowledge and his managerial reputation over the next 11 seasons, finishing first or second in eight of his last nine minor-league seasons.

In 1961, at the age of only 31, Weaver designed a program of instructional techniques and fundamentals for the entire Oriole organization that became known as "the Oriole way." Years later, when general manager Harry Dalton heard Weaver called a "pushbutton manager," he scowled in response: "Weaver built the machine and installed all the buttons."

Weaver was called up to replace Hank Bauer as Oriole manager in mid-1968, and the team finished second. Weaver then reeled off three consecutive first-place finishes, winning 100 games or more each time. Undefeated in those three LCS, Weaver's team could manage only one world championship -- in 1970.

After the O's finished third in 1972, they again won division titles in 1973 and '74 but were defeated in the LCS both times. Another post-season appearance in 1979 resulted in another Series defeat.

Weaver despised one-run strategies, saying "If you play for one run, that's all you're likely to get." He preferred to maneuver his platoons to create lefty-righty advantages and the three-run homer. Then he relied on superb pitching and solid defense to hold the lead. He specialized in finding the perfect spots for role-players and getting the most from his pitchers (his hurlers won six Cy Young Awards).

When his Orioles finished second in two of the next three years, Weaver retired after the 1982 season. His successor, Joe Altobelli, took Weaver's men to the world championship the next year.

Weaver returned in 1985 but quit for good after his 1986 team was his first major-league gang to finish below .500. Weaver ranks eighth all-time in managerial winning percentage. He was elected to the Hall in 1996.

Here are Earl Weaver's major league managing totals:

| | | | | |
| --- | --- | --- | --- | --- |
| W | L | T | PCT | G |
| 1,480 | 1,060 | 1 | .583 | 2,541 |
See more information on the Baseball Hall of Fame:
See the players in the Baseball Hall of Fame by position:
See the members of the Baseball Hall of Fame by team: