Position
: Pitcher
Teams
: Los Angeles Dodgers, 1966-1980, 1988; Houston Astros, 1981-1982; Milwaukee Brewers, 1982-1984; Oakland A's, 1985; California Angels, 1985-1987
In his 23-year career, Don Sutton (born 1945) won 20 games only once, captured but a single ERA title, and never led his league in strikeouts. But his remarkable durability and consistency earned him a place among baseball's immortals. Indicative of his style was that although he never won a Cy Young Award, he finished in the top five in Cy voting five years in a row.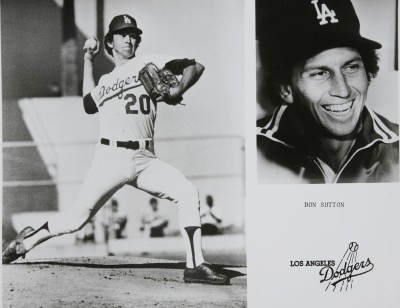 Though he won 20 games only once, Don Sutton was often dominating during his
16 years with the Dodgers. In 1972, he fired a league-leading nine shutouts as
hitters batted just .189 against him.
Foremost among Sutton's statistical credentials were his 324 victories, which tie him with Nolan Ryan for 12th most in history. Only Ryan, with 23, has ever recorded more than Sutton's 21 consecutive seasons with 100 or more strikeouts.

Sutton was never on the disabled list. During his career, he defeated every major-league team. At the time of his retirement, he was among career leaders in losses (sixth all time), games started (756, second), strikeouts (fourth), innings pitched (sixth), and shutouts (58, eighth).

Sutton was The Sporting News Rookie Pitcher of the Year in 1966, when his 209 strikeouts were the most by a National League first-year hurler since Grover Cleveland Alexander in 1911. A supremely confident competitor, Sutton's repertoire included a fastball, a curve, a slider, a screwball, and -- many charged -- an illegal pitch.

Sutton used the perception as a psychological weapon -- at least. He once said of meeting pitcher Gaylord Perry: "He gave me a jar of Vaseline. I thanked him and gave him a piece of sandpaper." Commentator Tim McCarver said of control master Sutton, "He paints corners like Monet painted impressions."

On June 28, 1986, Sutton, pitching for California, faced Cleveland's Phil Niekro. It was the first time 300-game winners had faced each other since Tim Keefe and Pud Galvin nearly a hundred years earlier.

Known as a "money pitcher," Sutton started and was named Most Valuable Player of the 1977 All-Star Game. He notched two victories over the Pittsburgh Pirates in the 1974 National League Championship Series. The Milwaukee Brewers obtained his services one day before the trading deadline on August 30, 1982, to bolster their pennant rush. Sutton defeated Jim Palmer on the final day of the season to put the Brewers into the postseason for the first time in their history.

In total, Sutton pitched in five LCS and four World Series with four different teams. He was inducted into the Hall of Fame in 1998.

Here are Don Sutton's major league totals:

| | | | | | | | | | |
| --- | --- | --- | --- | --- | --- | --- | --- | --- | --- |
| W | L | ERA | G | CG | IP | H | ER | BB | SO |
| 324 | 256 | 3.26 | 774 | 178 | 5,282.1 | 4,692 | 1,914 | 1,343 | 3,574 |
See more information on the Baseball Hall of Fame:
See the players in the Baseball Hall of Fame by position:
See the members of the Baseball Hall of Fame by team:
Advertisement