The legacy that Charles "Chick" Evans left through his golf will continue to bear rich fruit for as long as the world remains civilized. It will far outdistance his achievements as a champion golfer, as superb as they were.
Evans was born in 1890 in Indianapolis. When he was three, the family moved to Chicago, and this city would be identified with Evans for the rest of his long life.
He began in golf as a caddie at the Edgewater G.C. on Chicago's north side, where in time he would become an honored member.
Tall and slender, he soon developed a fine golf swing noted for its economy of movement, and by the age of 16 he was clearly marked for high achievement at the game.
In 1906, Evans qualified for the prestigious Western Amateur for the first time. He would take the title eight times, the first coming in 1909.
In 1910, Evans reached another, higher level as a champion. He won the Western Open -- in that era, one of golf's major titles -- defeating the best professionals in the game in doing so. No amateur would win this event again until 1985.
In 1911, he won another highly regarded event, the North and South Amateur, and in that year added the French Amateur to his record. In 1914, Evans came within inches of tying Walter Hagen at the U.S. Open when his pitch shot on the last hole just missed.
In general, his annual quest for the national championships, the U.S. Open and Amateur, were invariably frustrating. A brilliant striker of the ball, especially with his irons, Evans was at best an erratic putter.
In one event, before the club limitation rule was effected, he carried four putters in his bag.
An extrovert with a bright smile, Evans liked being the center of attention. But for some reason he was hampered in his earlier days by a certain nervousness in the nationals.
No less a figure than Harry Vardon once said Evans was the best amateur he had ever played with in the United States, yet the sandy-haired, freckle-faced Chicagoan could not get past the semifinals of the U.S. Amateur.
Finally, in 1916, the "uncrowned amateur champion" broke through. In June of that year, Evans won the U.S. Open at the Minikahda G.C. in Minneapolis with a record-setting score of 286, 2-under-par, that would hold up for the next 20 years.
Then in September, at age 26, he defeated defending champion Bob Gardner in the final of the U.S. Amateur, at the Merion Cricket Club outside Philadelphia, to become the first player to win both national titles in one year.
He would win the Amateur again in 1920, when he survived a 41-hole marathon in round three before trouncing the legendary Francis Ouimet in the finals.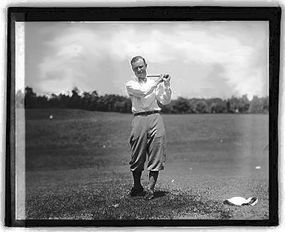 With World War I underway in Europe, Evans used his celebrity in 1917 and 1918 to help raise funds for the Red Cross. To that end, he traveled some 26,000 miles to 41 cities playing exhibitions.
But his social consciousness and sense of responsibility would reach their highest point beginning in 1930, when the Great Depression was beginning to take hold of the nation.
Evans's fame had brought him many offers to endorse products and earn appearance money. Dedicated to amateurism (he quit caddying before his 16th birthday to preserve his amateur status, as the Amateur Code demanded in those days), he turned all money offers down.
However, he was allowed to use monies received from the sale of his golf instructional phonograph records for the establishment of a caddie scholarship fund instituted in his name. It was meant for young male (and later, female) caddies who could not afford a college education but qualified for one with good grades in high school.
The first two Evans Scholarship recipients entered Northwestern University in 1930, and since that time the program has accounted for more than 5,000 college and university graduates from over 30 different schools around the country.
The program has long been administered by the Western Golf Association, which raises the funds (over $5 million a year) through individual contributions and the Western Open.
Many Evans Scholars have gone farther in life than they might have otherwise, because Evans never forgot his own rather humble beginnings and an appreciation of learning he inherited from his mother.
Evans formally retired from national competition in 1939. However, in 1962 he made an honorary 50th appearance in the U.S. Amateur, and he continued to compete in local Chicago tournaments.
In the latter, he would appear with a thin golf bag over his shoulder containing 10 clubs (a number he advocated as enough, on the notion that more people could then afford to play golf), all of them extra long. In this, he was some 20 years ahead of the vogue for longer-than-standard clubs.