Position: Outfielder; First Baseman
Team: Boston Red Sox, 1961-1983

A great hitter for several seasons and a very good hitter for many years, Carl Yastrzemski performed the impossible: replacing Ted Williams.

Carl Michael Yastrzemski (born in 1939) grew up in Southampton, New York, the son of an amateur baseball player. Carl played shortstop beside his third baseman father on the local team, and when Carl was age 18, he was pursued by several pro teams. He spurned them to attend Notre Dame in 1958, but after one year he decided that he wanted to turn professional. He visited a Yankees tryout camp and felt that he wasn't treated well, so he signed with the Red Sox.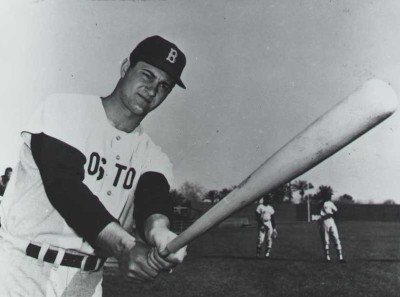 Carl Yastrzemski was the last player to win a Triple Crown.
In 1959, he led the Carolina League with a .377 batting average, and in 1960 he led the American Association with 193 base hits.
Ted retired after the 1960 season, and Yaz was moved into his left field spot. He batted .266 in his first season in '61 and improved to a .296 batting average and 94 RBI in his second year. He won his first batting title in 1963 with a .321 average, and showed good power and a keen eye. In 1965, he led the AL with a .536 slugging percentage and 45 doubles, and in '66 he led the loop with 39 doubles.
The Red Sox, a ninth-place team in 1966, won the pennant on the last day of the 1967 season, in the tightest race in American League history. Yaz won the Triple Crown that year (the last man to do so), hitting .326 with a career-best 44 homers and 121 RBI. He hit .522 with five home runs in the final two weeks of the season. He was devastating in the final series against the Twins, going 7-for-8 and playing stellar defense. He was named the AL MVP. In the World Series, he hit .400 with three homers, but the Sox lost in seven.
In 1968, Carl won the batting title with the lowest average ever, at .301. In 1969 and 1970 he hit 40 homers. Aside from his Triple Crown season, he only hit as many as 28 one other time. He had an upright, distinctive stance, his bat almost straight up-and-down. Ted Williams said that Yaz "reminded me of myself at that age -- I mean he positively quivered waiting for that next pitch." Yaz swung a potent bat for 23 seasons, patrolling left field expertly for the Red Sox as the master of the Green Monster.
Yastrzemski is the only AL player to get over 3,000 hits and 400 home runs, and when he retired, he had more at bats than any player other than Pete Rose. Carl was inducted into the Hall of Fame in 1989.
Here are Carl Yastrzemski's major league totals:
| | | | | | | | | | |
| --- | --- | --- | --- | --- | --- | --- | --- | --- | --- |
| BA | G | AB | R | H | 2B | 3B | HR | RBI | SB |
| .285 | 3,308 | 11,988 | 1,816 | 3,419 | 646 | 59 | 452 | 1,844 | 168 |

See more information on the Baseball Hall of Fame:
See the players in the Baseball Hall of Fame by position:
See the members of the Baseball Hall of Fame by team:
Advertisement