Position: Pitcher
Teams: New York Giants, 1928-1943
Carl Hubbell was a winner. He had to be to earn a nickname like "The Meal Ticket." In his 16 years with John McGraw's Giants, Hubbell won 253 games and lost 154, while posting a remarkable 2.97 earned run average.
Carl Owen Hubbell (1903-1988) grew up on a pecan farm in Oklahoma. He started pitching for an oil company team after high school and pitched well enough to get signed by Cushing of the Oklahoma State League in 1923. He made it to Oklahoma City of the Western League by 1925, going 17-13. Hubbell threw a screwball, breaking toward lefty batters, unlike a curve, which broke away from lefty batters.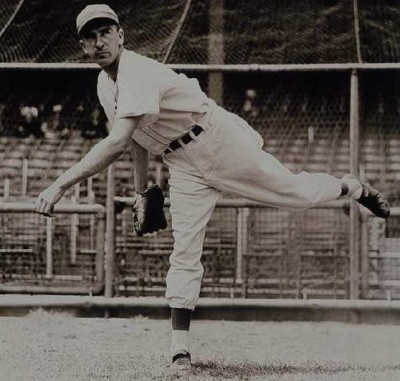 Hubbell's famous pitch was his wicked screwball. Expected to take a quick toll
on his arm, it instead enabled him to hurl until he was past age 40.
Carl was sold to the Tigers in 1925, who did not permit him to use his screwball, fearing it would ruin his arm. His performance was inferior, he was optioned to the minors, and his confidence collapsed shortly thereafter.
After two seasons of mediocre pitching in minor-league ball, Hubbell received his outright release from Detroit in 1928 and began pitching in the Texas League. Giants scout Dick Kinsella was a delegate to the Democratic national convention in Houston that year and took in a Texas League game. He discovered Hubbell, and Giants skipper John McGraw paid $30,000 for the hurler, a record for that loop.
Hubbell put the league on alert, tossing the league's only no-hitter in 1929, but his big years didn't begin until 1933. He registered five straight 20-plus victory seasons starting in 1933. That season, King Carl pitched a record 18-inning shutout against the Cardinals, won two games in the World Series, pitched 20 Series innings without allowing an earned run (he tossed a Series-record 11-inning shutout), and was chosen the league's MVP.
The following season, he had his most famous moment. In the second All-Star Game in 1934, Hubbell fanned Babe Ruth, Lou Gehrig, Jimmie Foxx, Al Simmons, and Joe Cronin in succession, electrifying the fans and prompting fellow All-Star Gabby Hartnett to call down to the AL dugout, "We gotta look at that all season."
Hubbell won the MVP Award again in 1936 when he turned in one of the best pitching records in history at 26-6. The Giants returned to the World Series that year and in 1937, losing to the Yankees both times. Hubbell had finished 1936 with 16 straight wins, and he won his first eight in 1937, for a 24-game winning streak.
Throwing his screwball for so many years had turned his left arm around, and he underwent elbow surgery after the 1938 season. He never was the same, although he won 11 games each from 1939 to 1942. Carl was inducted into the Hall of Fame in 1947.
Here are Carl Hubbell's major league totals:

| | | | | | | | | | |
| --- | --- | --- | --- | --- | --- | --- | --- | --- | --- |
| W | L | ERA | G | CG | IP | H | ER | BB | SO |
| 253 | 154 | 2.97 | 535 | 258 | 3,589.1 | 3,463 | 1,184 | 724 | 1,678 |
See more information on the Baseball Hall of Fame:
See the players in the Baseball Hall of Fame by position:
See the members of the Baseball Hall of Fame by team: